Australia School Blasted for Having Students Make Anti-Police, White Supremacy Signs: 'White Lives Matter Too Much'
Australian education officials announced on Tuesday they would conduct an internal review of a primary school after it was discovered that students had created and displayed posters denouncing police and white supremacy.
"Any teacher found to be politicising a classroom will face disciplinary action," New South Wales (NSW) Education Minister Sarah Mitchell said in a statement announcing the investigation, according to The Australian. "Political activism has no place in a school."
The posters were hung in classrooms at an alternative school in NSW, Lindfield Learning Village, featuring phrases such as "white lives matter too much," "stop killer cops," and "Pigs out of the country."
News of the posters immediately prompted rebuke from local leadership, who saw the signs as "nothing short of indoctrination," South Wales Police Minister David Elliott said on Tuesday to Sunrise.
"[Education] can't be biased, it's got to be apolitical," the minister added. "NSW police have to operate in an apolitical manner, so how about the education department start behaving in an apolitical manner?"
According to Elliott, students creating these posters is "the sort of education that you want to avoid" amid a time when young people need to learn how to trust the police to keep them safe.
"The police are the people to trust, the police of the people to go to, and this sort of this sort of indoctrination is going to scare these children away from, from the policing and will put their lives in danger," Elliott said. "I don't want to see taxpayers money going into an alleged education when children are going to walk away thinking that police are somehow racist."
Elliott went on to rebuke "left-wing academics" who are eager to claim "that's not our war" when Australian soldiers are sent abroad, but who are bringing racial justice issues from overseas into NSW classrooms.
Elliott and Mitchell's reactions come as a verdict was announced on Tuesday in the trial of Derek Chauvin, who was found guilty on all three charges for the death of George Floyd, a Black man who died in Minnesota police custody last year. Floyd's death spurred a heightened period of racial justice protests and awareness across the U.S. and garnered global attention for the Black Lives Matter movement.
But to Elliott, "We don't have a race problem here in Australia," so political topics like the Black Lives Matter movement are not appropriate for students. Meanwhile, the BBC reported that the Black Lives Matter movement has shed light on Australia's own policing and incarceration of Indigenous people. Thirty years ago, an official inquiry was made into aboriginal deaths in police custody, but the BBC reported the reality has only grown worse over time.
According to The Guardian's database tracking aboriginal deaths in police custody from 2008 to 2021, Indigenous Australians are 13 times more likely in the country to be incarcerated that non-Indigenous people. Sixteen percent of deaths in police custody from July 1, 2018 to June 30 2019 were Indigenous people.
The royal commission into deaths of Indigenous people in dusty found that Australian police exhibited "less dedication to the duty of care owed to persons in custody" when they were aboriginal, according to the BBC, which also reported that aboriginal people have the highest incarceration rate in the world.
"The system is continuing to kill us, and no one's doing anything about it," Paul Silva said at a rally this month. Silva is the nephew of David Dungay Jr., an aboriginal man who died in a Sydney prison cell in 2015 after officers restrained him in a case that echoes Floyd's death.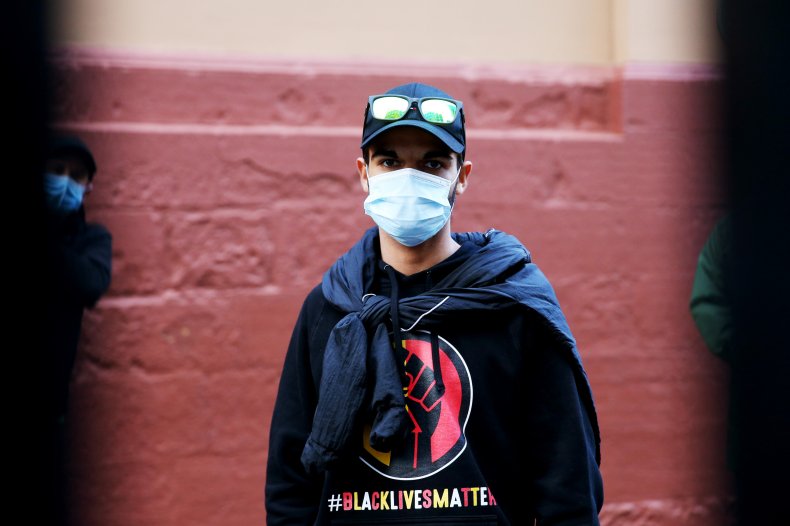 Elliott went on to tell Sunrise that a record number of Indigenous men and woman make up the NSW police force, which is "built in the best traditions of Westminister democracy" and is overseen by a civilian-led, independent law enforcement conduct commission. To make children skeptical of NSW's police force would be a public safety threat, he said. According to The Guardian's data, New South Wales ranked the fourth-highest for deaths in custody, with 29 recorded custody deaths since 2008.
Lindfield Learning Village was established in 2019 and the school's "innovative educational model is designed to create independent, resilient learners who possess the learning dispositions required for success in their life within and beyond school," according to the school's website. For example, students are grouped together based on learning needs, rather than age, The Sydney Morning Herald reported.
The school's official vision reads: "We enable the voice of each member of the community and nurture imagination & creativity. We are not limited by boundaries, we will break stereotypes, forging new educational pathways to inspire and equip our community members to be a positive change in our world."
Newsweek has reached out to Lindfield Learning Village, Elliott and Mitchell for comment, but did not receive a reply by publication time.