Australia's Scott Morrison Forces Angry Local to Shake Hands During Visit to Fire-Ravaged Town
Beleaguered Australian Prime Minister Scott Morrison was forced to hastily leave a visit to a fire-ravaged town on Thursday, as local residents furious at his handling of the wildfires crisis unleashed their anger.
Morrison traveled to the town of Cobargo on Thursday in the southeastern state of New South Wales, where major wildfires have destroyed more than 900 houses and burned more than 9.9 million acres of land.
Cobargo residents fled advancing fires on Tuesday. Three people in the town were killed while many others lost homes, businesses and farms, The Sydney Morning Herald reported. The town's main street was left badly damaged, with multiple buildings destroyed.
But Morrison—who has been accused of climate change skepticism and criticized for his lackluster response to the fires—soon wrapped up the visit in the face of furious residents, who told the prime minister he was not welcome in the town.
At one point, Morrison held out his hand to a woman, expecting a handshake. When one was not forthcoming, the prime minister took the woman's hand and forced her into one even as she demanded more funding for local services.
Footage of the terse exchange captured by Nine News showed the woman saying, "I'm only shaking your hand if you give more funding to our [Rural Fire Service]," as Morrison forcibly shook her hand regardless. "So many people have lost their homes," she added.
Another man then stepped in between the woman and the prime minister, trying to shield Morrison from further comments. "We need more help," the woman said after Morrison patted her on the back and walked away.
Other residents were more direct. "You won't be getting any votes down here buddy. You're an idiot," one resident shouted, while another declared, "You're not welcome."
Nine News' video showed Morrison retreating to a vehicle as locals shouted after them.
Morrison—whose center-right coalition won May's federal elections with 41 percent of the vote—was widely criticized for taking a family vacation to Hawaii while wildfires ravaged communities across the country. Seventeen people have so far been confirmed killed, with at least an equal number missing.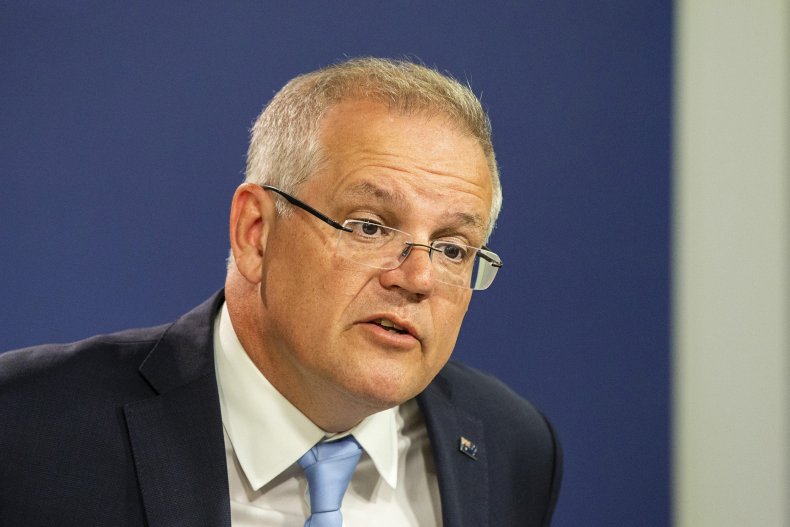 On Thursday, the prime minister asked Australians "to be patient" as his government responds to the crisis.
Morrison has dismissed suggestions that the fires are a direct result of climate change and subsequent record-breaking temperatures. The prime minister has resisted calls to move away from fossil fuels, arguing that such steps would be disastrous for the national economy.
"Let me be clear to the Australian people, our emissions reductions policies will both protect our environment and seek to reduce the risk and hazard we are seeing today," he said Thursday, according to the Guardian. "At the same time, it will seek to make sure the viability of people's jobs and livelihoods, all around the country."
"What we will do is make sure our policies remain sensible, that they don't move towards either extreme, and stay focused on what Australians need for a vibrant and viable economy, as well as a vibrant and sustainable environment."