Funeral Service Stopped Midway After Venomous Red-bellied Black Snake Appears in Dug Grave
A snake stopped proceedings halfway through a funeral service in Australia when it appeared in the grave where the deceased was about to be lowered into.
Mourners were left stunned at the emergence of the red-bellied black snake in the fresh grave at Leppington Cemetery, south-west of Sydney on Wednesday, News.com.au reported.
The funeral director spotted the serpent and contacted the firm Reptile Relocation Sydney.
Snake catcher Cory Kerewaro arrived at the site and started digging around the grave to find the serpent. He spotted it at the bottom of the ladder going into the ground.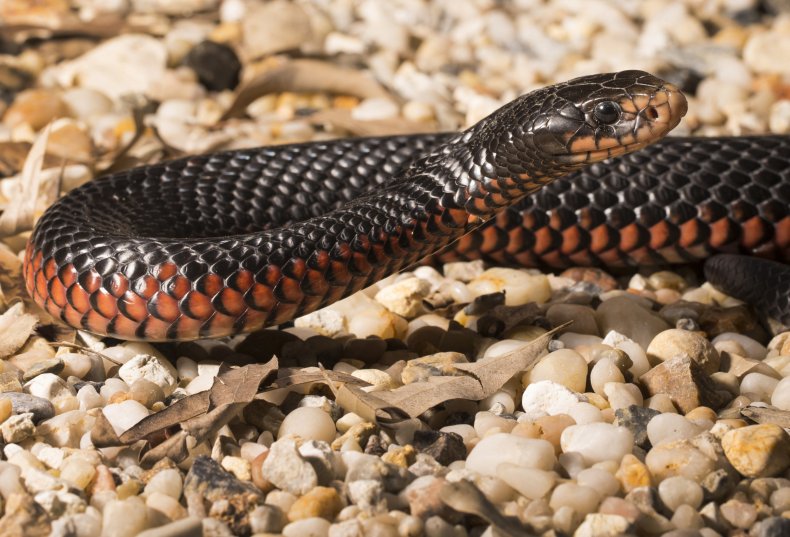 Stepping in, he grabbed the serpent by the tail and held it away from him before putting it into a bag so the service could proceed as normal. It was then released into nearby bush land, 7 News reported. Footage of the incident has been widely shared.
"I received a phone call from the funeral saying there was a snake," Kerewaro told Daily Mail Australia. "They were in a service and they had already began lowering the casket but had to pull it back up. It certainly held the service up for a little bit."
Sharing images on Facebook, he described the incident as an "interesting red bellied black snake removal from the local cemetery"
Found mostly on the east coast of Australia, red-bellied black snakes proliferate at this time of year because it is mating season. The average adult size is between five and seven feet, with males growing slightly larger than females. They are drawn to water sources such as streams and rivers.
Last month, residents in suburban Brisbane were left concerned after a larger than usual version of the species was discovered in Belmont.
Its venom can cause illness but it is less poisonous than other Australian snakes and has not caused any deaths. Many bite victims experience only mild symptoms but some can be hospitalized, according to Australian museum.net.
There are an estimated 140 species of land snakes in Australia, 100 of which are venomous, although only a dozen have the potential to kill.
One of them is the tiger snake which bit an Australian wildlife handler in the state of Victoria earlier in October. Jamie Lind told The Courier he was bitten during a callout at a rural property in Ararat and thought he was about to die.
Lind, who runs a wildlife education business said it took five minutes for the venom to affect him and he started to pass out. He called his wife to say farewell because he believed he could die.