Australia Swimmer Ariarne Titmus Threatens Katie Ledecky's 400 Freestyle World Record
Australian swimmers Kaylee McKeown and Ariarne Titmus set new records during the Adelaide Olympic Trials, closely trailing one of American Katie Ledecky's world records.
McKeown swam the 100-meter backstroke in 57.45 seconds, breaking the previous world record by just 0.12 seconds. The record was previously set by American swimmer Regan Smith at the Gwangju World Championships in 2019.
"We've been revving up for the whole year to finally get myself onto that Olympic team it's a dream come true it really is opening swim on night two, I couldn't have asked for much more," McKeown said, according to Swimming World Magazine.
Ledecky's 400-meter freestyle record time of 3:56.46 was nearly broken by Titmus on night two of the Australian trials. Ledecky became the world record holder at the Rio de Janeiro Summer Olympic Games in 2016.
Titmus became the world's second-fastest in the category with a time of 3:56.90. For the first eight laps, Titmus timed ahead of Ledecky's record splits, but fell 0.45 seconds short in the final lap. The narrow miss still lamented Titmus as the record-holding swimmer for the Commonwealth and Australia, breaking national records.
"That world record is outstanding and to be close to that this close to the Olympics, I'm very excited," Titmus said. "[Ledecky] is not going to have it all her own way I guess...I can't control what she does, I can only control myself."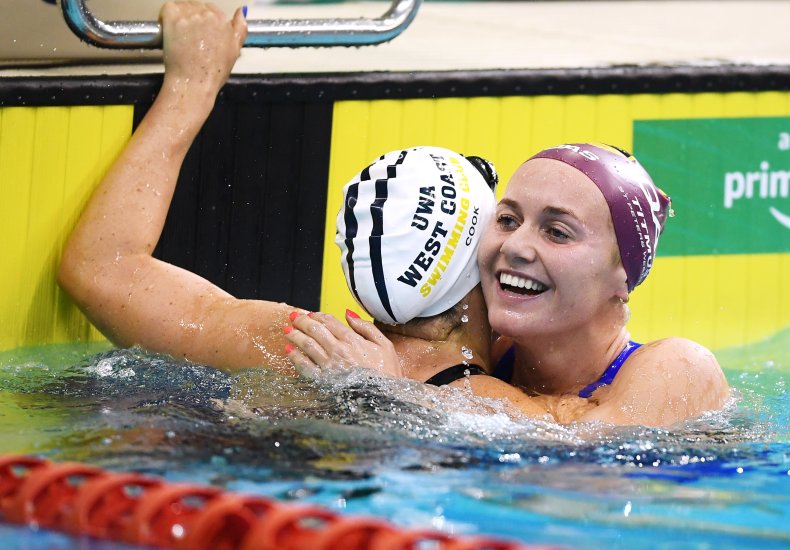 Both McKeown and Titmus have qualified for the Australian Women's Olympic Swim Team, according to The Australian. The Women's 100-meter backstroke Olympic qualifying time was set at 59.10, and the Women's 400m freestyle Olympic qualifying time at 4:07.10.
The second wave of the U.S. Olympic Trials for swimmers began Sunday in Omaha, Nebraska. Six swimmers—the top two in each event—will earn a spot on the 2021 Tokyo Olympic team.
Ledecky is gearing up to race in Omaha this week in several events, including the 200, 400, 800 and 1500-meter freestyles. The five-time Olympic gold medalist is favored to advance in all four events, ESPN reported.
"My focus is on Omaha. It's not on anything else," Ledecky said. "The medals aren't given this week, so I don't think we have to get too caught up in what times people are going here versus anywhere else in the world right now," Ledecky said on Saturday.
Smith is also among the competitors in Omaha looking to make the team. With her world record broken, the semifinals for the 100-meter butterfly is a highly anticipated event, The Star Tribune reported. The 19-year-old swimmer from Minnesota qualified for the semifinals with the fifth-fastest time on Sunday morning.
The U.S. Olympic Trial swimming finals air at 8 p.m. EST June 13-17, 9 p.m. EST on June 18-19 and 8:15 p.m. on June 20.