Australia Cricket Captain Quotes Conspiracy Theorist David Icke Thinking He's Citing Winston Churchill Instead
The Australian test cricket team captain's attempts at fighting talk ahead of the upcoming series against England have fallen flat after it was revealed the quote he attributed to Winston Churchill belonged to a conspiracy theorist instead.
On the eve of the first of a five-test series in England, Tim Paine addressed the media and was eager to point out his team will let his actions do the talking.
Australian cricket has endured a turbulent 14 months, after former captain Steve Smith, David Warner and Cameron Bancroft were found guilty of ball-tampering during a test match against South Africa in Cape Town.
Smith and Warner were banned for 12 months, while Bancroft was suspended from playing cricket for nine months. Unsurprisingly, Paine, who replaced Smith as captain, has had to repeatedly answer questions over his team's conduct.
With the trio now reinstated in the test team, Paine insisted a corner had been turned.
"We've spoken a little bit about this in the last 12 months," he said during his press conference on Wednesday.
"Our guys understand what's expected of them. They are role models not just for Australian people but all around the world.
"There's been a quote hanging around the changing room this week from Winston Churchill and that's that 'behaviour doesn't lie'. We can talk all we like about how we're going to behave. You guys will see how we behave and can judge for yourselves."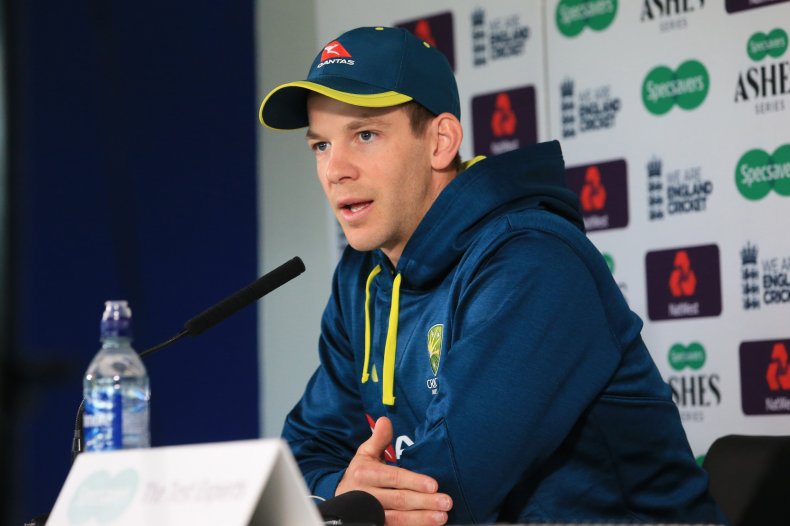 Unfortunately for Paine, however, Churchill never uttered such words.
The full quote credited to the former British prime minister is: "I no longer listen to what people say, I just watch what they do. Behaviour never lies."
Even more embarrassingly for the Australian captain, according to iNews his quote can instead be attributed to sports broadcaster turned conspiracy theorist David Icke.
Smith and Warner received a torrid reception from England fans throughout the recently concluded World Cup and more of the same can be expected during the upcoming Ashes series, which begins on Thursday at Edgbaston Cricket Ground, Birmingham.
Played alternatively in England and Australia at least once every two years, the Ashes have been contested between England and Australia since 1882 and are widely considered to be the pinnacle of this format of the game.
Australia currently hold the urn—the trophy presented to the winner—after trouncing England 4-0 in the 2017-18 series but have not won an Ashes series in England since 2001.