Australia Voted for Change With New Prime Minister | Opinion
There is an undeniable shift in Australia following the election of new Prime Minister Anthony Albanese. The Australian Labor Party was voted in, forming a majority government, following almost 10 years of a federal Liberal Party government. Voters set in train a number of firsts: Senator Penny Wong is the first foreign-born foreign minister, Senator Linda Burney is the first female minister for Indigenous Affairs and there are an unprecedented number of first time federal candidates who represent cultural diversity at a time when border closures, damaging rhetoric on refugees, a lack of inclusiveness and a growing national security threat from China has blighted Australia's political environment.
Australia's 31st prime minister was born and raised in a public housing commission home in Sydney by his single mother. Albanese, known as "Albo," has spoken on numerous occasions of the great respect and appreciation he has for his mother, who raised him with only a disability pension to rely upon. His mother remained in the same home until her death in 2002.
Albanese's acceptance speech kicked off with a unifying clarion call. He acknowledged the original, traditional owners of Australia, then asserted that Labor was committed to the Uluru Statement from the Heart, which was the culmination of a 2017 convention of Indigenous leaders, the majority of whom agreed upon a petition to government for constitutional recognition and a formal voice within parliament.
The Aboriginal and Torres Strait Islander social justice commissioner June Oscar explained, "The Uluru Statement recognises the need for an entrenched constitutional voice on the one hand whilst maintaining the long term aspirations of our peoples for a treaty on the other. The Uluru Statement carves out a path for change and we need that to be embraced by our fellow Australians and our political leaders."
The Australian Greens Party won a number of seats that had previously been held by Liberals, and the raft of professional women standing as independent candidates in previously safely held Liberal seats proved that voters were prepared to put their faith in candidates making a strong case for urgent climate action and gender equality.
Albanese has championed the women in his cabinet. Senator Wong, Senator Burney and Senator Katy Gallagher have been at the forefront of photo opportunities and media presentations.
Albanese flew to Tokyo after being sworn in on May 23 with Senator Wong for the Quad leaders' meeting between Australia, Japan, India and the United States. Wong has affirmed Labor's dedication to climate change action, and their package for the Pacific and Southeast Asia, including major regional aid. It is a refreshing attitude, redolent of unity and solidarity rather than the blunt weapon of war.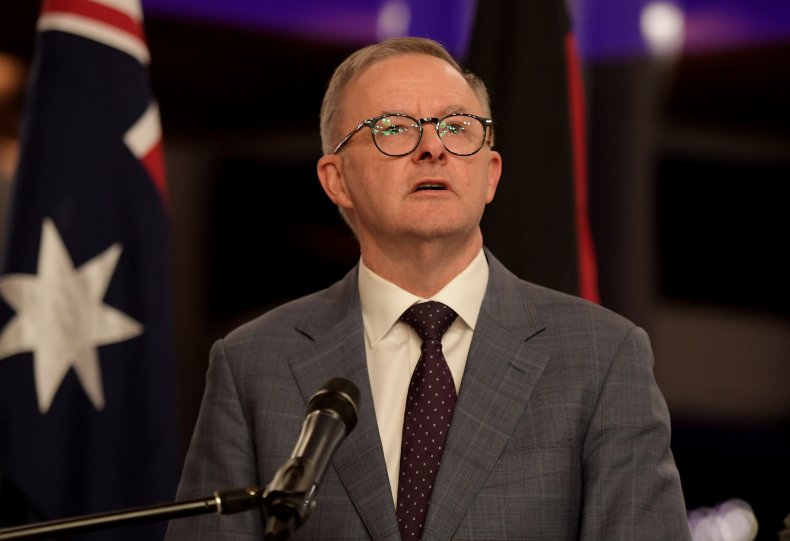 Hopefully, this attitude of listening, open discussion and mutual respect is welcomed by the Pacific Island leaders, who are caught in a power battle between Australia, the U.S. and China. Only days after being sworn in, Senator Wong flew to Fiji for a meeting with Prime Minister Frank Bainimarama. Unlike the language used by the Liberal government (referring to the Pacific as Australia's "back yard"), Senator Wong was focused on "standing shoulder-to-shoulder," and remaining "a partner."
The focus on family was elemental to Wong's speech at the Pacific Islands Forum Secretariat.
"I've come here on day four because I wanted to say in person, and in the Pacific, on behalf of the new Australian Government how deeply we value being part of the Pacific family," she said. "And to our Pacific brothers and sisters – I want to say thank you. We feel a profound sense of kinship with the Pacific, of wanting to connect with the Pacific as part of one family."
Both in the focus on the Uluru Statement and Senator Wong's dedicated and thoughtful presentations and interactions with the Pacific Island leaders, the new Labor government has demonstrated a desire for healing long-standing rifts that threaten peace both domestically and internationally.
There are other pressing domestic economic and social challenges that Albanese can't fix easily. The rising cost of food is being felt globally due to the war in Ukraine and subsequent shipping costs, freight and logistics pressures. The increased cost of fertilizer and fuel is markedly raising the costs for farmers and consequently, consumers. The cost of housing has been exacerbated by higher interest rates, demand outstripping supply and a growing gap between the high earners and the minimum wage earners.
The Albanese government has proposed both an increase in the minimum wage and a Shared Equity Housing Scheme (proposing that the federal government will pay up to 40 percent of the property price for first-time homebuyers), which experts claim will do little to improve housing accessibility. Albanese has also made commitments to mental health, promising that taxpayer-subsidized telehealth psychiatry and psychology appointments will be reinstated to regional Australia as they were during the pandemic.
Following three years of disaster floods in New South Wales and Queensland and bushfires in New South Wales and Victoria, Albanese has also pledged $38 million to Disaster Relief Australia and insisted that he has a plan to heal the crisis in aged care by ending the neglect of older adults and stopping workers from leaving the sector.
Whether Albo is capable of succeeding in his stated goals is a matter of circumstances and conviction, but the son of a single mother pensioner in public housing has just been voted into the highest office in Australia. He's evidently capable of achieving the seemingly impossible.
Cat Woods is a freelance journalist based in Melbourne, Australia. She has written for The New York Times, The Sydney Morning Herald, The Age, Marie Claire, The Guardian and The Observer. She is on Twitter as @catty_tweeter.
The views expressed in this article are the writer's own.