The start of the new year has been a very difficult time for numerous families in Australia, with more than 1,200 homes lost in New South Wales since January 1 because of the wildfires.
The blazes have been particularly devastating this fire season, as they're being fueled by record-breaking drought conditions. Firefighters have been battling them since September, and without significant rain, officials cautioned, they could continue for months.
American and Canadian firefighters have joined the firefighting efforts in Australia, and Michelle Moore, a fire program specialist for the Bureau of Indian Affairs, told Newsweek there were "fires as far as you can see." Moore, who completed her 30-day assignment on January 6, said there wasn't enough retardant "in the world" to put the fires out, so the firefighters' mission was point protection.
"It's on such a scale that you really don't focus on putting it out," Moore said. "You focus on protecting people's homes and protecting infrastructure."
On Monday, the New South Wales Rural Fire Service (NSW RFS) reported that 1,246 homes have been destroyed since January 1. That's more than half the total number of homes that were destroyed since the fire season began in September.
"This figure is likely to increase as teams continue to work through the area," the NSW RFS wrote on Twitter.
Daniel Gorham, a research engineer with the Insurance Institute for Business and Home Safety in the United States, told NPR that embers, not a "wall of flames," were to blame for igniting homes. Strong winds enable embers to travel miles outside the fire perimeter, causing additional fires to spark.
Justin Leonard, a research leader in bushfire urban design at the Commonwealth Scientific and Industrial Research Organization, told NPR it was important to focus on building and landscape design that's resistant to embers. However, moderated regulations and standards are applicable only to new construction, so Leonard said many of the buildings lost in the fires wouldn't have benefited from improved regulations.
At least 27 people have been killed in the fires, according to the Associated Press, including a father and son who died trying to fend off the flames in Cobargo. They were identified as Robert Salway, 63, and Patrick Salway, 29. A police spokeswoman told The Sydney Morning Herald they stayed behind to defend the home and farm equipment.
"They are one of the tightest, close-knit families you'll ever come across," dairy farmer Daniel Cochrane told the Sydney Morning Herald. "They are some of the most generous people.... They would do anything to help anybody at any time."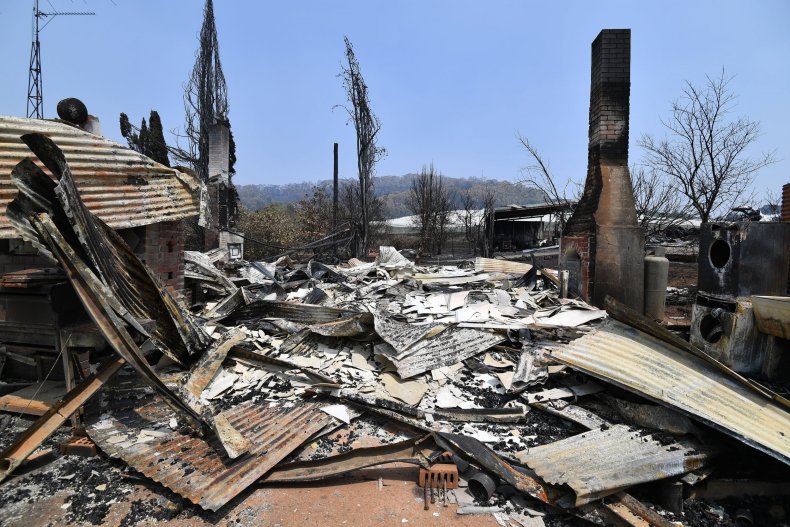 On Monday evening, 105 brush and grass fires were burning across the southeastern state, according to the NSW RFS, and 38 weren't contained. Fortunately, none of them were an immediate threat to properties, and more than 2,550 personnel were working to "make sure that remains the way overnight," the fire service said.
Along with destroying human homes, the wildfires have ripped through millions of acres of wildlife. New South Wales Environment Minister Matt Kean told ABC News that initial assessments indicated that the habitat of brush-tailed rock-wallaby populations was burned.
"The wallabies were already under stress from the ongoing drought, making survival challenging for the wallabies without assistance," Kean said.
To help the animals survive the aftermath of the fires, the New South Wales government dropped into the area more than 4,000 pounds of food, primarily carrots and sweet potatoes, Kean said it was one of the most widespread relief efforts to help the wallabies.