Australia Wildfire Map: Fires in New South Wales Expected to Spread With 'Erratic and Dangerous' Behavior
Firefighters in New South Wales, Australia, expect flames to spread on Friday, and they cautioned residents that fire behavior would be "erratic and dangerous."
On Sunday and Monday, light rain provided some relief to the firefighters, but any respite they had was short-lived. High temperatures and strong winds returned in the following days, and the deteriorating weather conditions meant even more Australian territory could be swept up in the flames.
The New South Wales Rural Fire Service (NSW RFS) posted a map on its website that indicates where the fires could spread.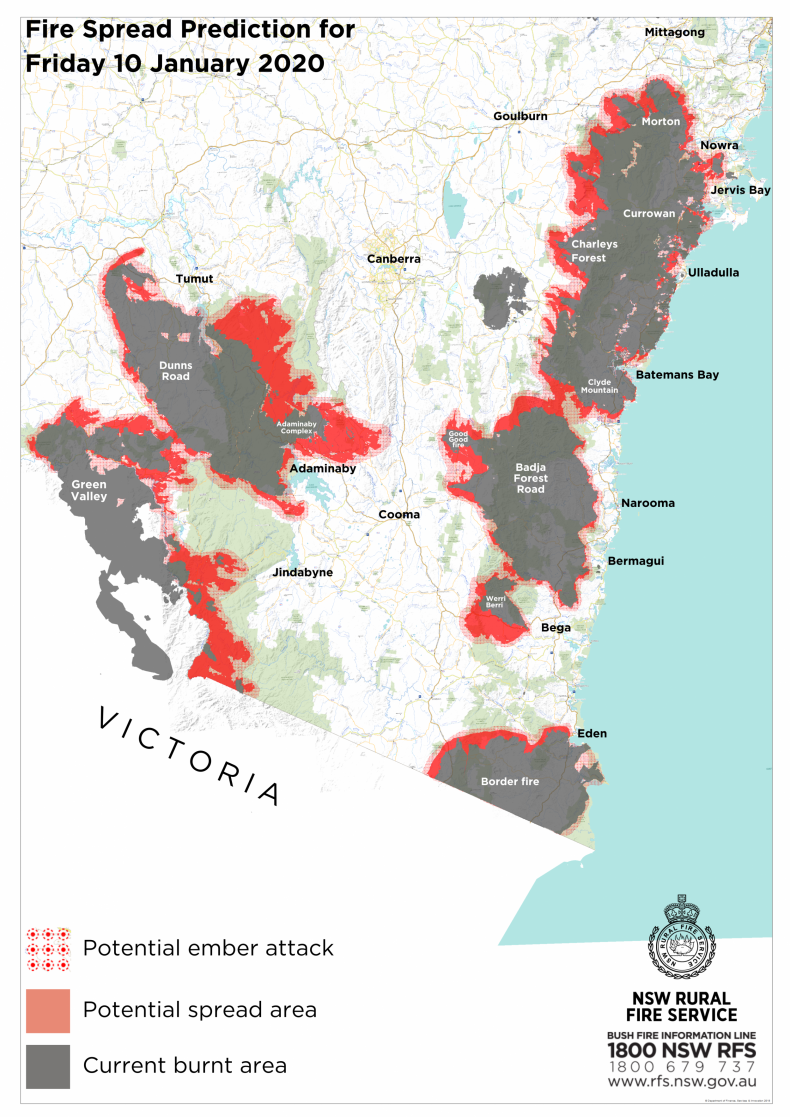 Among the blazes that were expected to spread were the Border, Green Valley, Dunns Road, Badja Forest Road, Currowan and Charleys Forest fires. As of 12:30 a.m. local time, 132 fires were burning in the eastern Australian state and 55 were still not contained, NSW RFS reported.
Residents in areas where the fires were expected to spread were advised to remain alert and monitor conditions, and to know what to do ahead of time if a fire threatens their safety. Those within a potential ember attack area, indicated on the maps with red and white dots, were still at risk, according to the NSW RFS.
Those who planned to leave or weren't prepared to protect themselves were advised to stay away from potential ember attack areas on Friday, as new fires can start and spread quickly.
Wildfires in Australia have burned through 20 million acres of land, according to The Guardian. The country's Bureau of Meteorology (BOM) issued several warnings ahead of the looming weather conditions. Extreme fire danger was expected in Southern Slopes, and severe fire danger was forecast in Monaro Alpine, Southern Ranges, Eastern Riverina and Australian Capital Territory.
Very high fire danger was also expected in the Illawarra/Shoalhaven, Far South Coast, Central Ranges, North Western and Northern Riverina regions, according to the BOM.
Those living in an area that could experience severe fire danger were advised to finalize plans and leave early. Those who planned to stay should not only ensure that their home is well prepared but that they are as well, in terms of the emotional, physical and mental impact of protecting their property.
The wildfires have claimed the lives of at least 26 people, including a father and son in Corbago, a town in the southeastern part of NSW. NSW police deputy commissioner Gary Worboys told BBC News that the two men were trying to "do their best with the fire as it came through" the town.
Given the scope of the fires, it's unlikely firefighters will be able to extinguish the flames without the help of multiple and significant rain showers. Although rainfall was expected to improve in the next two months and temperatures should fall as the season changes, officials warned that the fires could continue burning for months.