Australia Wildfire Map Update: High and Very High Fire Danger Forecast as Thunderstorms Might Hamper Containment Efforts
Australia is set for another hard week as damaging severe weather hits Western Australia and New South Wales is forecast to experience high to very high fire danger.
According to the Bureau of Meteorology, inland Gascoyne and northern Goldfields are forecast to experience a "moist and unstable air mass" due to a surface trough. It is predicted that thunderstorms will be most likely to impact the region, producing "damaging winds and heavy rainfall." The Bureau of Meteorology warns that this weather could lead to flash flooding and large hailstones over the next several hours.
Locations that will be affected include Meekatharra, Mount Magnet, Leonora, Laverton, Leinster, Mount Augustus, Wiluna and Yalgoo, in Western Australia, according to the weather warning. The weather service says that storms could cause damage to homes and property, and while this type of weather pattern is not unusual for the time of year, people need to be prepared.
The Department of Fire and Emergency Services advises that people should:
If outside find safe shelter away from trees, power lines, storm water drains and streams
Close curtains and blinds, and stay inside away from windows
Unplug electrical appliances and do not use landline telephones if there is lightning
If there is flooding, create your own sandbags by using pillow cases filled with sand and place them around doorways to protect your home
If boating, swimming or surfing, leave the water
Do not drive into water of unknown depth and current
Slow down and turn headlights on when driving
Be alert and watch for hazards on the road such as fallen power lines and loose debris
If it is raining heavily and the driver cannot see, pull over and park with the hazard lights on until the rain clears
In midweek, New South Wales will see "a wetter than average week" especially in the northern parts of the state. According to the Sydney Morning Herald, a series of stormy days forecast towards the end of the week could pose new risks to the bushfires.
Speaking to the newspaper, Anthony Badstreet, a New South Wales Rural Fire Service (NSW RFS) spokesman said that thunderstorms could be a "double edged sword."
"Whilst some rainfall [is] useful and helpful ... it does come with its own risks particularly around falling trees [that pose] a significant hazard and a danger to firefighters," he explained to the newspaper.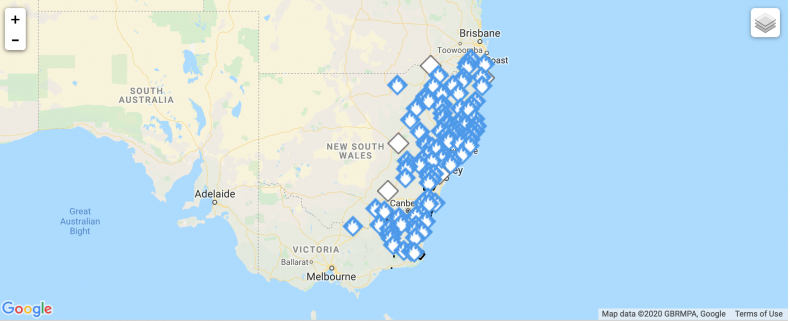 The below graphic for Thursday for New South Wales shows precipitation activity for the majority of the state.
The Bureau of Meteorology also warns that tomorrow and Wednesday will see "high to very high" fire danger in the state. Issued at 4:15 p.m. AEDT today, the fire danger forecast says that areas such as the Australian Capital Territory, Southern Ranges and the Southern and Northern Slopes need to be aware of potential fire danger.
Warnings are also available through television and radio broadcasts, the Bureau's website at www.bom.gov.au or call 1300 659 210.