Man Whose Uninsured Home Was Destroyed in Australia's Wildfires Wins Lottery: 'This Is a Miracle'
A man who lost his family home in the fires ravaging Australia has received some good news, becoming a millionaire after his lottery numbers came up.
The man's uninsured property in northern New South Wales was among the thousands claimed by fires across the country during the devastating wildfire season.
But the man is now the lucky recipient of a AUS $1 million ($690,000) windfall, which he says will allow him to rebuild his destroyed home.
Picking what he described as his wife's "special numbers," he was the only Division 1 winner in Australia's Gold Lotto draw.
"This is amazing. This is a miracle. This really has come at the most incredible time," the lucky winner, who chose to remain anonymous, said.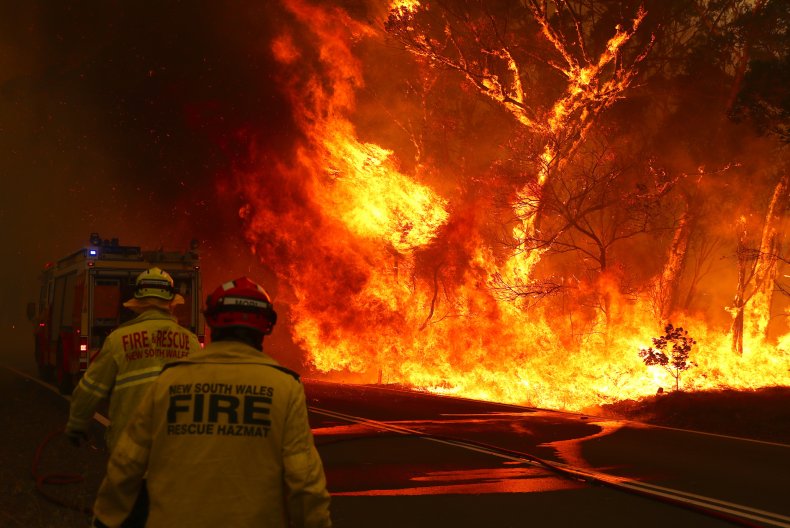 "My family just lost their home in the bushfires," he said, "and it wasn't insured."
"All that was left of the home was a few charred teacups," the anonymous lucky winner, who hails from Mount Cotton in Redland, south of Brisbane, added, according to 9 News.
Lauren Cooney from the country's lotteries brand, The Lott, said that when she told the man he had won, he became incredibly emotional.
"He said he couldn't have imagined more impeccable timing, which meant that he could use his prize to rebuild their family home," Cooney said, according to Australia's ABC News.
Meanwhile, the state of Victoria has declared a state of disaster amid a forecast of "dangerous" conditions in a wildfire zone.
Warnings remain in place for New South Wales and South Australia, where there is a "severe fire danger" forecast for Lower Eyre Peninsula, Mid North, Mount Lofty Ranges, Yorke Peninsula, Kangaroo Island and Lower South East, according to the country's Bureau of Meteorology (BOM).
A total fire ban has been issued for Kangaroo Island, with the Country Fire Service (CFS) warning people there not to carry out "any risky or unsafe behavior, that could cause more fires to start."
"Firefighting operations will continue for some days on the island. All areas in the vicinity of the fire zones on Kangaroo Island are considered to be dangerous to people and we urge them to keep out of harm's way and heed the warnings," CFS fire chief Mark Jones told reporters, according to 9 News.
A number of global celebrities have stepped up to donate funds to help tackle the blazes. Donations have gone over the $AUS 100 million mark, according to ABC News, after mining magnate Andrew Forrest pledged $AUS 70 million.
Singer Elton John got a standing ovation at his concert in Sydney when he said he would donate $1 million to the bushfire relief fund, ABC News reported. Rock band Metallica ($750,000) and singer Pink ($500,000) are among other celebrities who have given generously.