Australia Wildfires Map: At Least 140 Fires Still Burning as Rain Brings Some Relief to Firefighters
Days of rain will bring some much-needed relief to Australia's firefighters, but it won't be enough to fully alleviate the threat of more than 140 fires that were still burning.
For months, firefighters in Australia have been battling wildfires during some of the harshest drought conditions on record. The magnitude of the tragedy of fires burning through more than 15 million acres meant that firefighters were working primarily to save homes, infrastructure and other critical resources because putting the flames out would require rainfall.
On Wednesday local time, rain began to fall in New South Wales (NSW) and Victoria, two of the states hit hardest by the wildfires. Although difficult to forecast the heaviest rainfall totals, the Bureau of Meteorology meteorologist Sarah Scully said the storms were likely to be slow-moving, creating a dose of rainfall that would last through the weekend.
On Friday morning, there were 79 brush and grass fires burning in NSW, according to the Rural Fire Service (RFS). All of the fires were "advice" level incidents, indicated by a blue diamond on the map, meaning that a fire has started, but there is no immediate danger.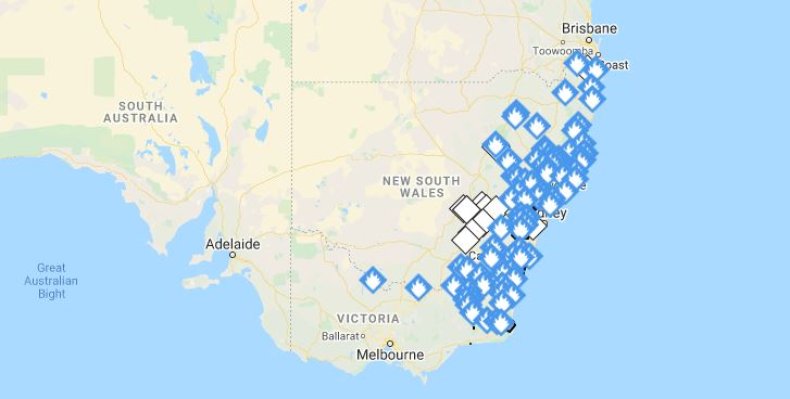 This was a decrease from the previous morning's total of 85 brush and grass fires and the NSW RFS posted on Twitter that rain was proving beneficial.
"Relief is here for a number of firefighters working across NSW," the NSW RFS wrote in the tweet on Thursday local time. "Although the rain won't extinguish all fires, it will certainly go a long way towards containment."
From Wednesday morning until 9 a.m. Thursday morning local time, Linden and Faulconbridge received the most rain in NSW at 48 millimeters, or almost two inches. Most parts of the southeastern Australian state fell within the 0.2 millimeter- to 9 millimeter-category or the 10 to 24 millimeter-category.
Scully predicted that the heaviest rainfall totals in eastern NSW between Thursday and Sunday, where many of the fires were burning, would be between 30 and 80 millimeters, the equivalent of about an inch to three inches.
In Victoria, a state south of NSW, 68 brush fires were burning on Friday morning local time, according to VicEmergency.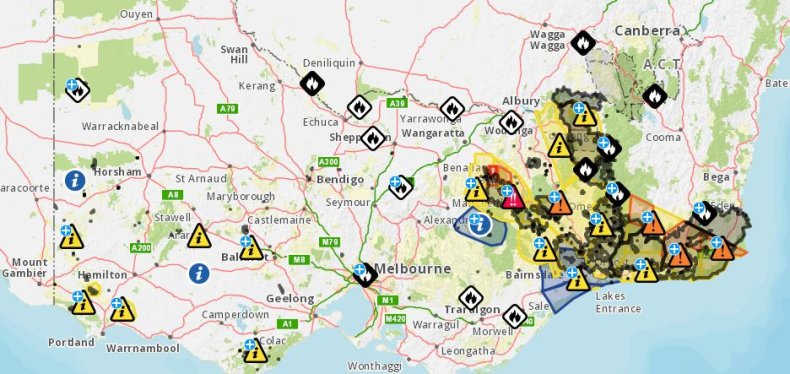 Most of the fires were at the "advice" level, but six were listed as "watch" and "act", meaning there was a heightened level of threat and residents in the area should start taking action to protect themselves and their families. Buffalo River, Merriang South and Nug Nug were under an "emergency" warning, the highest threat level. People were urged to leave immediately and if they couldn't leave, to shelter indoors in a room that has two exits.
"You must take shelter before the fire arrives. The extreme heat is likely to kill you well before the flames reach you," the warning stated. "If your home catches on fire and the conditions inside become unbearable, you need to get out and go to an area that has already been burnt."
From Wednesday morning to Thursday morning at 9 a.m. local time, most parts of Victoria received rainfall that fell within the 0.2 millimeter- to 9 millimeter- category or the 10 to 24 millimeter-category. Multiple areas received more than 30 millimeters, though, and Trentham received 43 millimeters, equivalent to about one and a half inches.
Although rain is crucial to firefighting efforts, it also could also cause a new natural disaster to threaten residents.
"It's a bit of a double-edged sword as heavy rainfall and gusty thunderstorms bring the potential for flash flooding particularly in the burnt-out areas of New South Wales and Victoria, which are now vulnerable to landslips and trees coming down," Scully said.