Australia Wildfires Map: More Than 100 Fires Still Burning, Father and Son Confirmed Dead
Wildfires ravaged Australia as 2020 was ushered in, with thousands of firefighters battling more than 100 blazes across much of the country. In Victoria and New South Wales, five people were missing, three were killed in the fires, and thousands of people fled the flames uncertain whether their homes would still be standing when they returned.
The weather is expected to shift in favor of firefighting efforts and bring significant rainfall to the area in the next few weeks for much-needed relief. Officials warned that when the dust cleared, there could be significant devastation to parts of the country.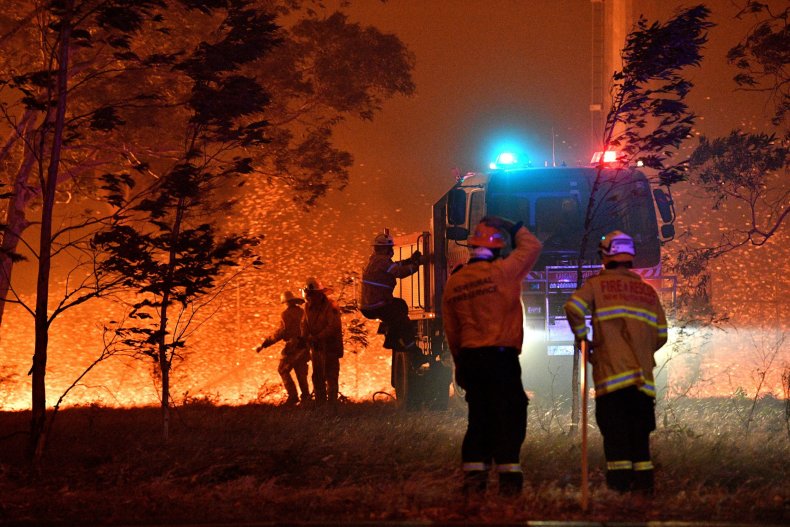 Victoria Fires
In Victoria, a state south of New South Wales, thousands of people fled to the beach to escape a fire that hammered the coastal town of Mallacoota, according to The Guardian. Victoria state Premier Daniel Andrews told the Associated Press that there were plans to evacuate people from the beach by sea.
Andrews added that four people were missing and officials couldn't confirm their whereabouts.
More than 200,000 hectares, the equivalent of 494,210 acres, have been burned in Victoria's fires, state Emergency Management Commissioner Andrew Crisp told CNN. Crisp explained that food packs and other supplies were being sent to some communities that had been isolated by the flames.
On Monday, 70 new fires started in Victoria, according to CNN, and 20 are still active as of Tuesday morning.
New South Wales Fires
Thousands of firefighters in New South Wales (NSW), located on the southeast part of the country, were battling 120 fires as of 6 p.m. local time on New Year's Eve. The NSW Rural Fire Service (RFS) reported 68 fires were not contained and eight Emergency Warnings were in place.
On Tuesday, NSW police deputy commissioner Gary Worboys confirmed to The Guardian that two men, identified as a father and son, passed away in a house west of Cobargo, located in the southern part of the state. A third man, who was near the town of Belowra, is still unaccounted for.
"They were obviously trying to do their best with the fire as it came through in the early hours of the morning," Worboys told the Associated Press. "The other person that we are trying to get to, we think that person was trying to defend their property in the early hours of the morning."
On Monday evening, a volunteer firefighter was killed near Jingellic, west of Cobargo, according to the NSW RFS.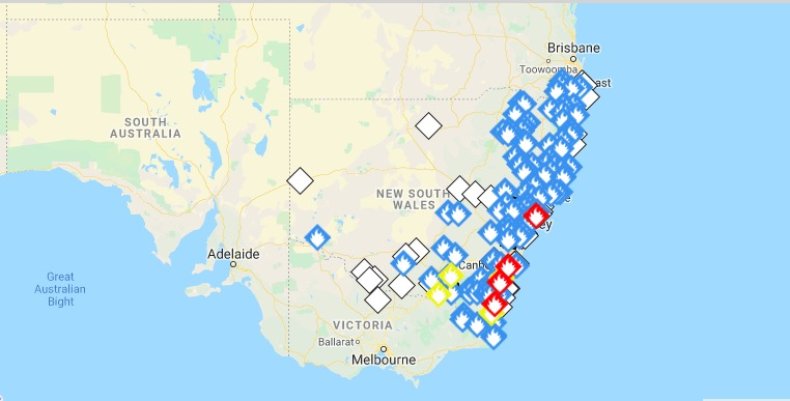 Thousands of people along the NSW coast evacuated their homes on Tuesday and more than 900 homes have been destroyed since the start of the fire season, according to CNN.
More than 280,000 people signed a Change.org petition calling for the iconic Sydney fireworks to be canceled. Among those supporting a halt to the festivities was Deputy Premier of NSW John Barilaro. He posted on Twitter that the risk was "too high" and people needed to respect the "exhausted RFS volunteers."
"If regional areas have had fireworks banned, then let's not have two classes of citizens. We're all in this crisis together," Barilaro wrote.
Sydney Lord Mayor Clover Moore wrote on Twitter that she appreciated calls to cancel the event and said the decision to continue with the firework show wasn't made "lightly." As Australia's "biggest public event," Moore said during a press conference that preparations began 15 months ago and the budget was already allocated.
Instead of canceling the fireworks, she said the city was using the event to bolster relief efforts for communities that were impacted by the fires. A donation link was broadcasted onto the Sydney Harbour Bridge and ABC was expected to promote a donation link multiple times during the broadcast.