Australia Wildfires Map: New South Wales Fires 'Out of Control,' Nearly 100 Fires Still Burning
Firefighters continue to fight devastating blazes across Australia, and while conditions are expected to ease, significant relief could still be weeks away.
Wildfires have been burning on the continent for more than two months, and dry conditions and little rainfall have only added fuel to the flames. At least nine people have lost their lives, including two firefighters; hundreds of homes have been destroyed; and more than 11,500 square miles, larger than Massachusetts, have burned, according to The Wall Street Journal.
Along with the danger of the flames, smoke is causing potential health problems for residents in parts of the continent. In Sydney, views of the Harbour Bridge and the Opera House, two iconic sights, have been obscured by the smoke, and health officials urged residents with respiratory conditions to stay inside.
As of Monday evening local time, more than 100 fires were burning in New South Wales (NSW) and South Australia.
New South Wales
As of 10 p.m. local time, 94 fires were burning across NSW, a state on the eastern part of the continent, according to the NSW Rural Fire Service (RFS). Nearly 60 of the fires had yet to be contained, but firefighters planned to take advantage of Tuesday's "easing conditions" to work on strengthening containment lines.
The flames destroyed at least 100 homes in NSW, and Gladys Berejiklian, the premier of NSW, told The Guardian there was "not much left" of Balmoral, which is about 70 miles from Sydney. On Saturday, the Green Wattle Creek fire tore through the town, and RFS Commissioner Shane Fitzsimmons told The Guardian about 100 buildings in Balmoral may have been lost.
"It was a privilege to talk to residents from the Balmoral and Buxton areas today. Some have lost everything, some have received news their properties have been saved, & others are still waiting to find out. Their common message was deep gratitude for our amazing firefighters," Berejiklian tweeted on Saturday.
While battling the flames in Balmoral, firefighters ran out of water, village RFS brigade captain Brendan O'Connor told The Guardian. Desperate for more water, a member of another brigade spoke to his boss about quickly getting a truck to the firefighters in Balmoral. O'Connor said the action "saved a lot of homes."
"Praise the Lord," O'Connor said. "I'm not a very religious person. But the Lord looked after us. Twenty years fighting fires, I've never seen anything like this. Not when you're being hit from two flanks at the same time. They just closed in and clashed us in the middle."
As of 7 p.m. local time, the Green Wattle Creek fire was about 200,000 hectares large, the equivalent of about 494,210 acres, according to the RFS.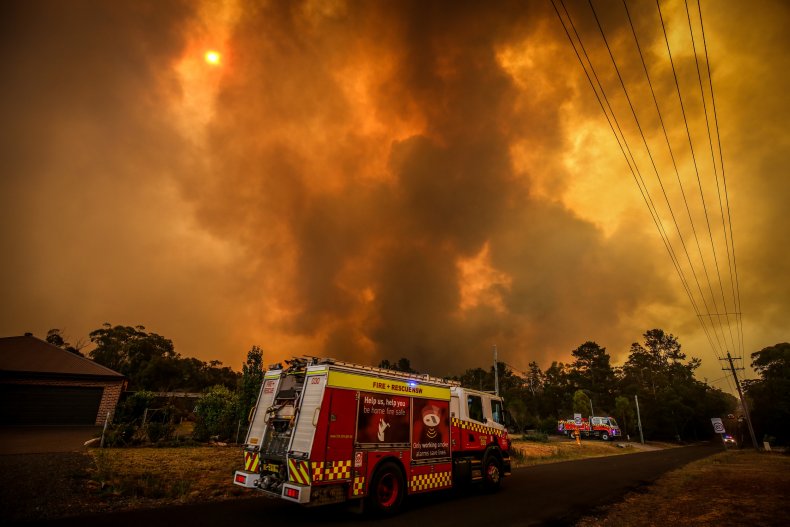 Another massive fire was burning in Wollemi National Park, about 170 miles north of Balmoral. It spanned more than 484,000 hectares, equivalent to about 1,195,990 acres. The RFS said that it was "out of control," and residents in the area were advised to learn what to do if the fire threatened their home.
Although the "relentless nature" of the fire season, as Fitzsimmons described it to The Guardian, was expected to give way to more favorable weather conditions, he said there's still a ways to go. Heavy rainfall needed to make an impact on the fires wasn't forecast to arrive until January or February.
Since the season began, at least six people have died and almost 800 homes have been destroyed in NSW, according to CNN.
South Australia
At least 86 houses were destroyed in the Adelaide Hills, and a third of South Australia's vineyards were in the "burnout zone," according to the BBC. The potential damage to the wine industry from the flames could exceed $100 million, the Adelaide Advertiser reported.
The South Australian Country Fire Service (CFS) issued a "watch and act" message for areas affected by the Cudlee Creek Fire, saying it was "uncontrolled." The agency informed residents that they could lose power, water and phone and data connections, and that those who planned to leave should leave. Those who stay should be prepared to protect themselves by moving to a place in a shelter with more than one exit and wearing protective clothing.
"There are still a lot of pockets of bush burning, there are a lot of trees that are hot and smoldering, and it's a very dangerous place to be," CFS deputy chief officer Andrew Stark told the Advertiser.
Ron Selth, 69, was killed in the Adelaide Hills fire as he tried to defend his property, and three more people are in the hospital with burns.
Fires also burned across Queensland, Victoria and Western Australia.