Australian Banned From Owning Pets After Biting Rat's Head Off on Facebook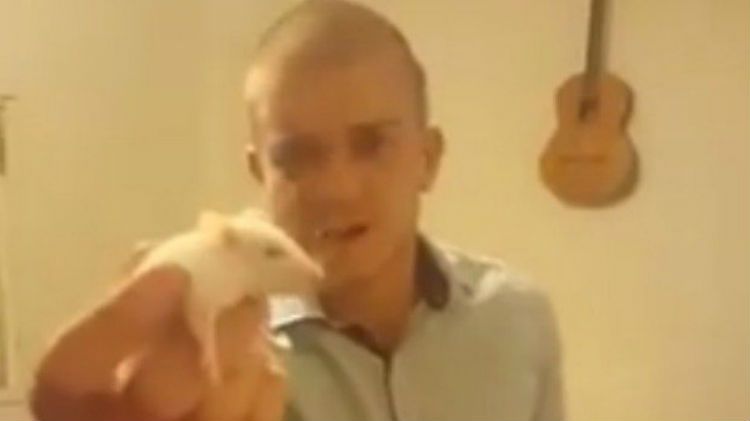 An Australian court has banned a man from owning pets for three years after he bit the head off a rat and posted the footage to Facebook.
Matthew Maloney, who calls himself "Mad Matt," said that he did not believe that his actions were "that bad," but pleaded guilty to one count of animal cruelty at Brisbane Magistrates Court. The judge also sentenced him to 100 hours of community service.
"The impulsive way in which you dealt with the rat was, as your solicitor says, ridiculous and embarrassing," Magistrate Suzette Coates said. "It indicates that it's rabid, narcissistic, attention-seeking behavior on your behalf."
Authorities charged the 25-year-old in January after RSPCA investigators were alerted to a Facebook video posted to the page "Mad Matt's vids" in which he bites the head off of the live rat and then downs three shots of vodka.
Two accomplices proceed to punch him in the face and hit him with a chair. Maloney then speaks to the camera, challenging viewers to "beat that." The video was viewed almost a quarter of a million times.
"I don't think it was that bad. There's a lot of worse stuff you could have done. Buy rat poison, all that stuff, rat traps. So, yeah, I just don't think how they made it out to be."
Replying to a reporter's question about the RSPCA saying the rat would have been in severe pain, Maloney said: "Who said it was in a lot of pain? [The RSPCA] said it was in 29 seconds of pain. I don't know how they could have proven that."
In response to comments on the video before authorities charged him, Maloney said: "That rat in the video was a feeder rat and was always going to die. I fed the body to my snake after the video and it wasn't wasted.
"I killed that rat ten-times quicker than the snake could of," he continued. "I'm sure 90 percent of you have rat poison and rat traps in your homes right now. So stop acting like a bunch of sissies and accept the food chain."
The RSPCA said that it was satisfied with Maloney's conviction. "I think that he was wanting attention from social media and I don't think he gave much thought as to what he was actually doing in terms of the pain and suffering that he was causing to that animal," RSPCA prosecutor Georgia Sakrzewski said.
Australian Banned From Owning Pets After Biting Rat's Head Off on Facebook | World