Drone Fishing for Giant Tuna in New South Wales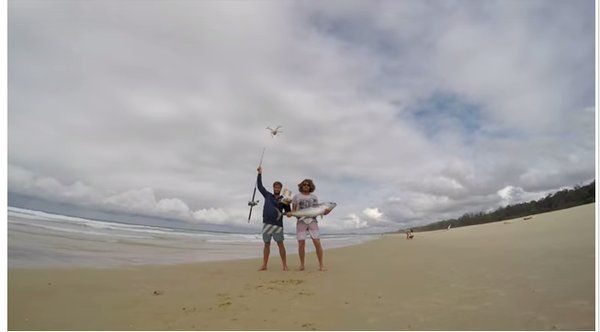 An Australian fisherman's recent catch has gone viral: 26-year-old Jaiden Maclean caught a 20-kilogram tuna—with a drone.
Near Tweed Heads in northern New South Wales in Australia, Maclean hauled in the longtail tuna, which was swimming about 350 meters offshore, The Times reported.
With some help from his friend Byron Leal, 36, Maclean controlled the drone, locating the tuna and dropping a baited hook, before Leal reeled it in. Maclean, who runs a drone business called Sea Ulcer Aerial Media, came up with the idea, according to Leal.
"My mate Jaiden has a drone and he was flying it around out the back of our house trying to film turtles," Leal said. "We stumbled across a school of tuna and wondered how we could get our bait out to the tuna and catch them.
"We were having a few beers and we made up this breakaway rig on the drone and flew the bait out. We dropped it next to the tuna and we got one at the first try."
The fishing duo posted a video on YouTube of the drone flying out to sea, tracking the entire process, which ends with the happy pair posing with a giant tuna. The three-minute clip quickly went viral with over one million views.
Maclean is hopeful about the prospects drones can offer to those who are unable to get out to sea, but still enjoy fishing. "I know there are people out there with disabilities and people who can't get out in a boat who would still love to catch big fish," he said.