Australian Health Care Workers Plead to 'Not Be Abused' After Nurse Punched In the Face While Wearing Uniform
Health care workers in Australia have recently released a statement pleading to "not be abused" following an incident where a nurse was punched in the face while wearing her nursing uniform.
"Please respect all nurses, midwives and other health workers as they go about their important work and also when they are traveling to and from work," [New South Wales] Nurses and Midwives Association (NSW) General Secretary Brett Holmes said in a statement. "Please do not treat nurses, midwives and other health workers like they are infectious. These trained professionals should be respected and must not be abused, spat on or assaulted as they move through our communities, to and from their workplaces."
The statement by the association comes just a few days after an off-duty nurse was verbally abused, coughed on and punched in the face by another woman. According to Internewscast.com, the nurse was in a store in Sydney, Australia when she was confronted by an older woman as she was leaving. The elderly woman is accused of deliberately coughing in the nurse's direction and verbally abused her. She then reportedly punched the nurse twice in the face and fled from the store.
The nurse reported the incident to the local police, who are still searching for the other woman.
This is not the only incident where someone purposely coughing on another person amid the coronavirus pandemic. According to new.com.au, a supermarket worker in New South Wales, Australia was purposely coughed on after she tried enforcing social distancing policies in the store.
Following the coronavirus-related violent incidents, New South Wales Police and Emergency Services Minister David Elliot released a statement urging people to stop, "this kind of dangerous behavior."
"It's potentially putting the lives of workers and their families at risk," he added. "This isn't a time to practice poor hygiene habits. For a disgusting act like this, you can find yourself charged with common assault and jailed for up to two years."
In addition to the coronavirus-related violence, in the statement released by the NSW, they note that they have experienced incidents of people stealing "vital resources from hospital wards."
"Unfortunately, we've heard of many instances where community members have been stealing bottles of hand sanitiser [sic], face masks, and other vital resources from hospital wards, leaving nurses and other hospital staff exposed. This is not acceptable behavior," the statement reads.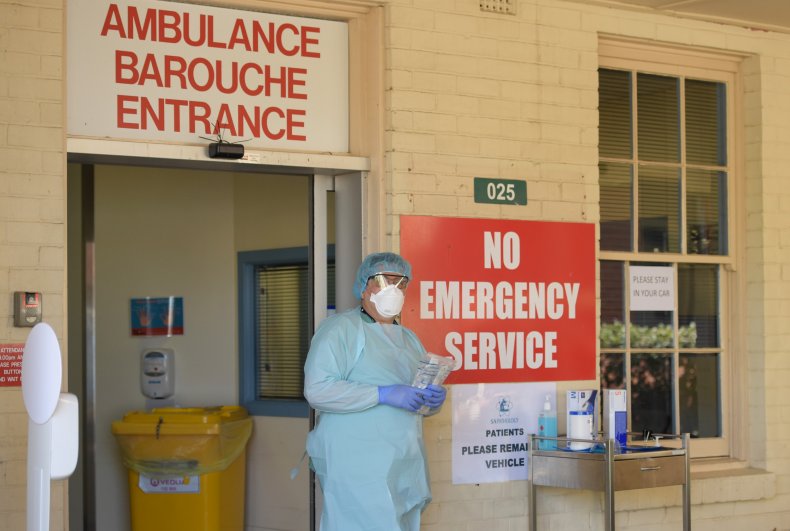 The novel coronavirus, which causes the respiratory disease COVID-19, originated in Wuhan, China but has continued to spread across the world. According to a tracker provided by Johns Hopkins University, there are over 491,600 confirmed cases worldwide and at least 22,169 deaths related to the virus. In Australia, there are over 2,800 confirmed coronavirus cases and 13 deaths.
On the other hand, according to the tracker, 172 people have recovered from the virus in Australia and over 118,000 have recovered across the globe.