Australian PM Malcolm Turnbull Mocks Trump for Having a 'Russian Guy'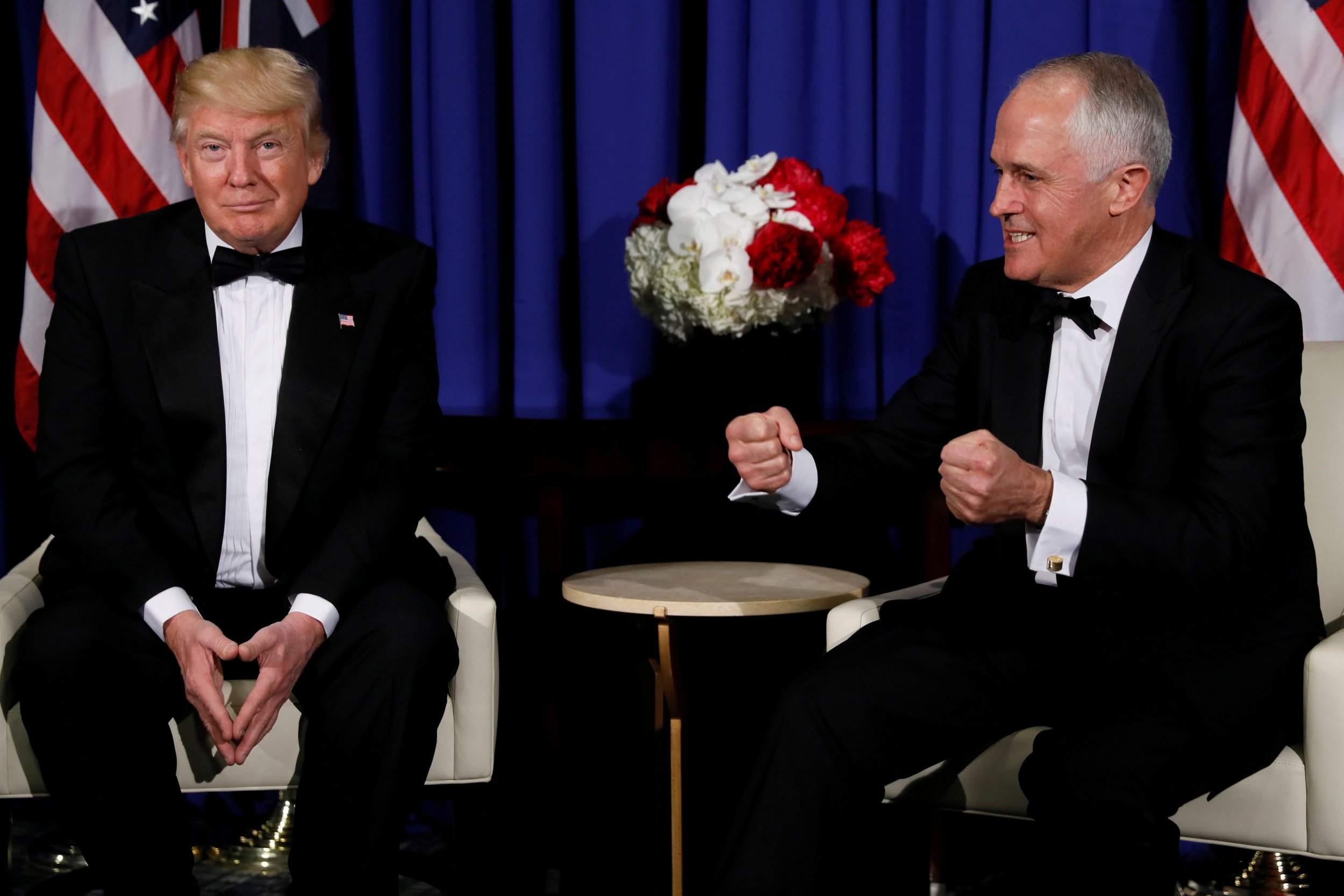 In leaked audio Australian Prime Minister Malcolm Turnbull mocks U.S. President Donald Trump's speaking style and talks about how he has a "Russian guy" that will help him rig online polls.
"The Donald and I, we are winning and winning in the polls. We are winning so much. We are winning like we have never won before," Turnbull is heard saying in the recording, mocking Trump's speaking style.
The audio is from Australian parliament's Mid Winter Ball in Canberra Wednesday night. Figures from Australian politics and national media regularly attend. The event is off-the-record, but a recording of Turnbull's speech was posted on Instagram and then leaked to the media.
Turnbull, who may be forced to call an election just two years into his three-year term, poked fun at how his party is polling.
"We're winning in the real polls. You know, the online polls," he said. "They are so easy to win. I have this Russian guy. Believe me it's true. It is true."
Read more: Trump appears to shove NATO leader to get to front of group
Turnbull defended his speech on Thursday, saying it was all in good fun. "The butt of my jokes was myself" not Donald Trump he told Australian radio station 3AW. "It's a stressful business politics. You've got to be cheerful."
The relationship between Turnbull and Trump got off to a rocky start early this year and the jokes may not smooth things over.
During a phone call early February soon after Trump's inauguration, the president accused Turnbull for attempting to export the "next Boston bombers" to the United States. Turnbull has asked the Trump administration to honor an agreement made under the Obama administration to take 1,250 refugees held by Australia.
Trump called it "the worst deal ever" and bragged about his electoral college win, which experts argue isn't as historically significant as he has claimed. The content of the call was revealed by anonymous senior U.S. officials who spoke to the Washington Post. They said the call became so heated that President Trump hung up.
The Trump administration disputes the characterization of the call. White House Press Secretary Sean Spicer called it "very cordial." The Australian PM's office said the same.
The U.S. Embassy in Australia issued a statement about the leaked audio. The embassy said it understands "last night's event is equivalent to our own White House Correspondents' Dinner" and "we take this with the good humor that was intended."