Australian Police Searching for Thousands of Anti-Lockdown Protesters: 'Very Selfish Boofheads'
Australian police said they are searching for thousands of "very selfish boofheads" who attended protests against COVID-19 lockdowns across Sydney and other major cities.
At least 3,500 protesters gathered in Sydney's Central Business District Saturday afternoon to protest government lockdown orders and mask mandates, with many carrying Australian national flags and signs calling for "freedom" and "the truth."
The demonstrations at times turned violent, with protesters throwing bottles, potted plants, and paint at police officers. In dramatic images shared online, one protester can be seen punching a mounted police horse, according to The Sydney Morning Herald.
By Saturday evening, police had arrested and charged 57 people and issued 90 fines.
New South Wales (NSW) Police Minister David Elliott said 22 detectives have now been assigned to track down the remaining "very selfish boofheads" who attended the rally.
"I'm hoping we issue 3,500 infringement notices, I'm hoping we have people before the courts," Elliott said, reported the Herald. "If you don't want to be in lockdown, obey the rules."
NSW Police Deputy Commissioner Mal Lanyon added that the actions of protesters were "absolutely disgraceful," amid reports that the coronavirus Delta variant is soaring across the country.
"This is not a time for people to be out of their homes. This was a disgraceful action today," Lanyon said, while encouraging people with photos or video footage of the protest to share them with police.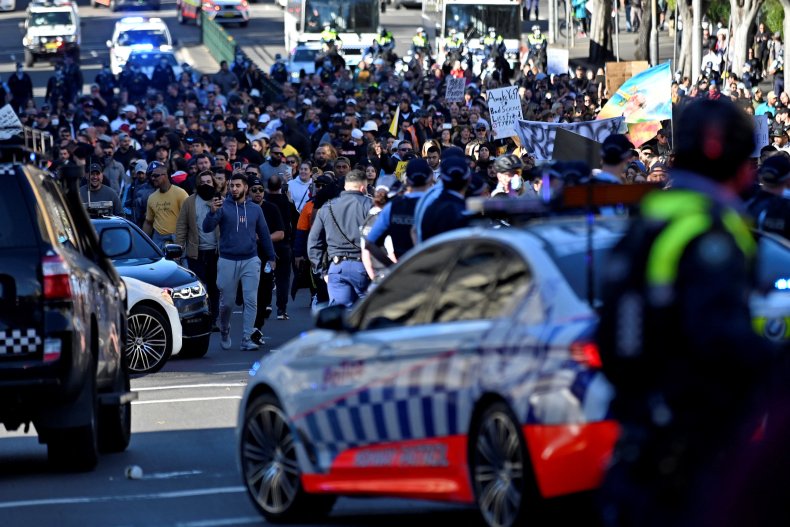 The protests came as COVID-19 cases reached a new record in NSW, with 163 infections reported on Saturday. The state has recorded more than 1900 cases and six deaths in the past five weeks, the Herald reported. The Delta variant is thought to be at least twice as infectious as other strains of COVID-19, and has caused cases and deaths to rise across much of the world.
The most recent outbreak has led authorities to issue a strict lockdown on Greater Sydney for the past four weeks, with residents only able to leave home for essential activities such as food shopping, exercise, or to seek medical attention.
State Health Minister Brad Hazzard said Saturday that while individuals have the right to protest, the demonstrations came at a time when new cases are rising.
"We live in a democracy and normally I am certainly one who supports people's rights to protest ... but at the present time we've got cases going through the roof and we have people thinking that's OK to get out there and possibly be close to each other at a demonstration," Hazzard said, according to the Associated Press.
In Melbourne, similar protests saw thousands of unmasked people take to the streets chanting "freedom" and holding signs that read "This is not about a virus it's about total government control of the people," the AP reported.
Australia has recorded a total of 32,594 cases and 916 deaths since the pandemic first began, according to Johns Hopkins University tracker. So far, only 15.4 percent of the nation's population aged 16 and above have received both doses of the COVID-19 vaccine.
However, Prime Minister Scott Morrison earlier this week expressed optimism in the country's vaccine rollout.
"We've turned the corner, we've got it sorted. We're hitting the marks that we need to make, a million doses a week are now being delivered," Morrison said, according to the AP. "We are well on our way to where we want to be by the end of the year and potentially sooner than that."
Newsweek contacted NSW Police for additional comment, but did not hear back in time for publication.