Australian Wildfires Are Impacting Close to Half a Billion Mammals, Birds and Reptiles: Report
While wildfires in Australia have destroyed homes and claimed lives, they are also taking a toll on the country's ecosystem, possibly wiping out entire species of plants and animals.
The University of Sydney estimated that 480 million mammals, birds and reptiles could be affected by the wildfires, according to News Corp Australia. That includes up to 8,000 koalas, a third of the New South Wales (NSW) mid-north coast population.
Australia's firefighters, many of whom are volunteers, have been battling wildfires since September during one of the worst wildfire seasons on record. At least eight people have been killed in the fires since Monday, and on Thursday morning, more than 130 blazes were still uncontrolled.
Nature Conservation Council ecologist Mark Graham told Science Magazine the future of the potoroo, a hare-size wallaby, was in "serious doubt." The potoroo population declined to a few hundred animals and when people surveyed the damage of fires in the Ngunya Jargoon Indigenous Protected Area, a spot with a healthy population, they found no sign of the animal.
It's possible, according to Graham, that the fires will also require NSW to reclassify the pouched or hip pocket frog from vulnerable to endangered. The silver-headed antechinus, a shrew-size marsupial and the regent honeyeater bird could face complete eradication from the country, as fires threatened the few hundred remaining animals of each species.
Escaping the touch of the flames won't guarantee an animals' survival, Science Magazine reported. Those that aren't killed could face food and shelter shortages, as the flames have burned more than 5 million hectares, including many animals' habitat.
"It's about the long-term cumulative impacts on breeding success, rather than death of individuals," Ross Crates, an ecologist at the Australian National University in Canberra told the magazine. "For a species already on the brink of extinction, it's not great."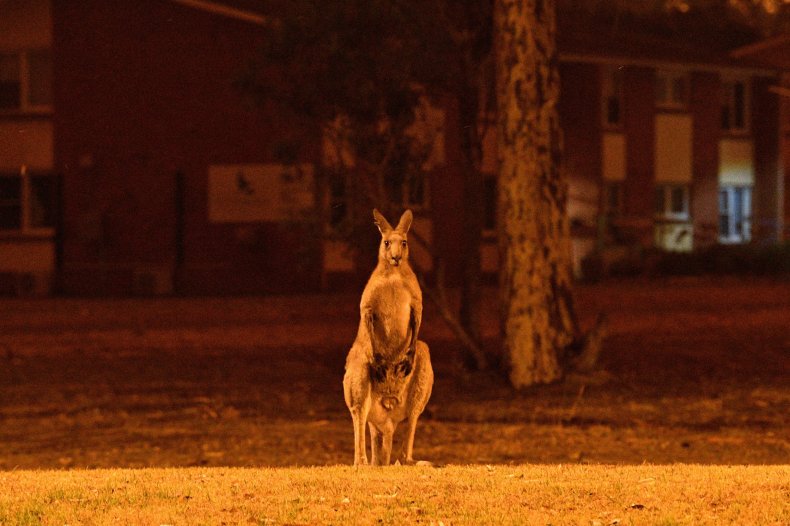 Federal Environment minister Sussan Ley told AM, a current affairs radio program, the western ground parrot and kangaroo have also been impacted by the fires, although she didn't cite the number of animals that could have been killed.
Ley explained that the full extent of the damage won't be known until the fires have calmed down and an assessment can be made.
Prime Minister Scott Morrison took flak for his response to the wildfires, including his going on a Hawaiian vacation while the flames ravaged the country, and failing to act on climate change. During a Thursday press conference, The Guardian reported, Morrison said climate change policies needed to "remain sensible" to maintain a "vibrant and viable economy" as well as " a vibrant and sustainable environment."
"Getting the balance right is what Australia has always been able to achieve," he said, according to The Guardian. "Right now, the focus as I said at the outset, is to fight these fires, and get people to safety.
Along with policies aimed at combating climate change, Morrison said it was time to look into "all contributing factors," including land clearing, zoning and planning laws.
Among those most impacted by current laws are koala bears, a lovable and particularly vulnerable Australian icon.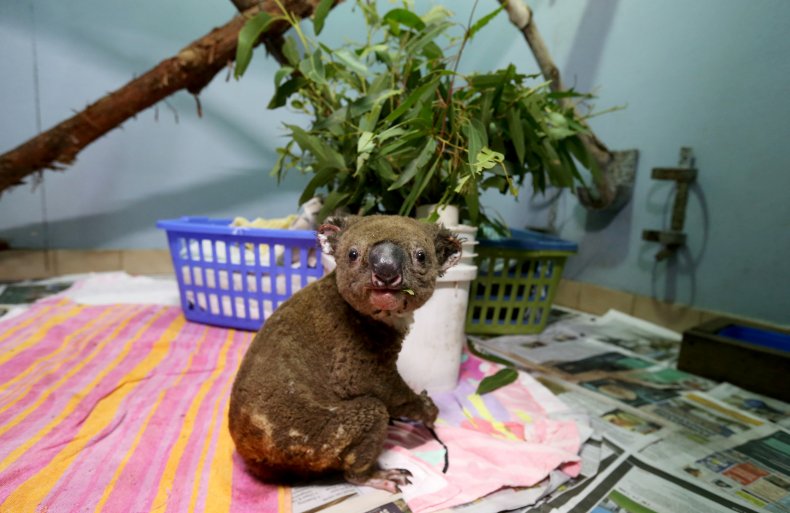 Cheyne Flanagan, the clinical director of the Port Macquarie Koala Hospital, told SBS News the current fire season was like "armageddon." She appeared before parliament members in December to discuss the damage to the koala population and lamented legislation for not protecting koalas, saying, "what was once a national treasure is now a national tragedy."
Graham, who also addressed parliament members, explained that koalas are particularly vulnerable to the flames because they don't have the ability to flee quickly and their food source, eucalyptus trees, are filled with oil and highly flammable.
The Port Macquarie Koala Hospital has received and tried to save dozens of koalas, including Ellenborough Lewis, a koala saved from an inferno by a woman. Lewis ultimately had to be put down, because he wouldn't recover from his burns, but others, such as Bilpin Janet and her joey named Jarrod, are expected to survive.
The koala hospital said on its Facebook page that they will take koalas from all over NSW and said they expect to see more patients in the coming months. While it would be reasonable to assume that more patients was a bad sign, Tracy Burgess, a volunteer at Wildlife Information, Rescue and Education Services (WIRES), told Reuters, the staff is more concerned that a lack of animals coming into their care meant they were killed in the fires.
Correction January 2, 2020: An earlier version of the story misstated the number of animals killed by the Australian wildfires. The 480 million mammals, birds and reptiles are estimated to be affected, not killed, by the fires.