Aboriginal and Torres Strait Islander readers are advised that the following editorial may contain images and voices of people who have died.
On August 2, 2014, Julieka Ivanna Dhu's partner violated an apprehended violence order.
The police duly showed up, where they arrested both Dhu and her partner. Dhu, they'd discovered, had not paid a $200 fine for failing to provide her personal details to police upon being found drunk in public, and additional penalties accrued for not paying on time. There was an outstanding arrest warrant for this harmless crime.
According to Australian Broadcasting Corporation reports, to pay off her debt, Dhu was ordered to spend four days in police custody in South Hedland, Western Australia. During the first two days, Dhu complained of pain. Hospital staff dismissed her complaints as likely drug withdrawal symptoms. By August 4, she told police she couldn't stand. Police officers accused her of faking her symptoms, carried her like a wounded animal to their van and took her back to the hospital. She was pronounced dead soon after arrival.
Had medical staff and police done their humane duty, they'd have done a thorough examination and realized, days earlier, that Dhu was suffering severe infections—sepsis and pneumonia—related to a violent attack by her partner months earlier that broke her ribs. She'd have lived if merely prescribed antibiotics.
The 11 officers that an internal investigation identified as failing to comply with regulations were given written or oral warnings. A coronial autopsy established that preconceived beliefs about Aboriginal people was the prime factor in Dhu's death. She was 22 years old.
It's astonishing that seven years later there are still so many deaths of Indigenous and Torres Strait Islander people while in police custody. Australia's high rate of Aboriginal youth in custody—58 percent—is shameful enough (often for petty crimes) but the fact many die while awaiting interview or court is abominable.
A royal commission report into deaths in custody in 1991 recommended over 200 changes to the criminal justice system, but since then 474 Indigenous people have died in police and prison custody. There have been five additional deaths since March. The majority of those who died in custody were either in protective custody, being arrested, or were pursued by police. The majority of those who died suffered medical issues and evidence proved that medical care is much slower to arrive—if at all—for Indigenous people due to institutional racism.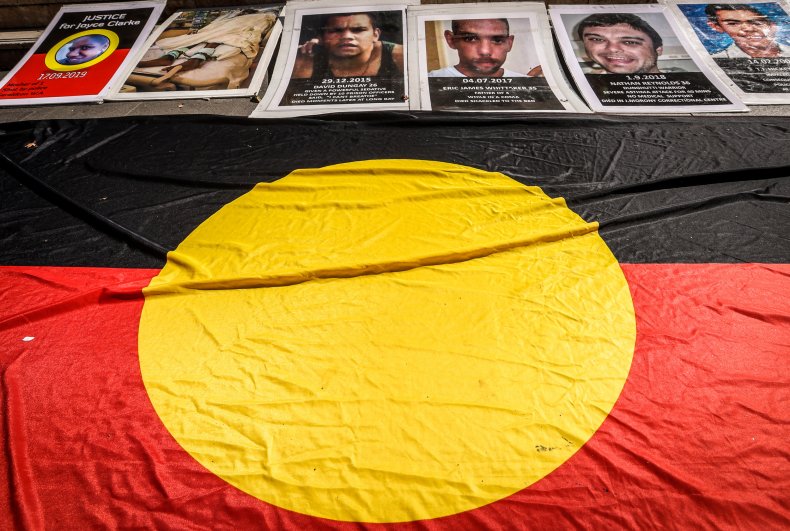 Linda Burney, an Indigenous woman and Labor spokesperson for Indigenous Australians, wants a real-time reporting system for deaths in custody. According to the latest Australian Bureau of Statistics figures, 2,333 per 100,000 Aboriginal and Torres Strait Islander adults were imprisoned (over 10 times higher than the general population) at the time of the survey in December 2020.
"Thirty years after the royal commission, government has overstated the degree to which they've actioned changes. This has led to the over-incarceration of our community and inevitably their death in those prisons, resulting in destruction of kin and community, which affects our communities for generations to come," said Nerita Waight, chief executive officer of Victorian Aboriginal Legal Service. "We are imprisoned and criminalized by a system that works under systemic racism day in-day out. Is it apathy? Incompetence? Racism? It's shameful and it's heartbreaking, and it doesn't feel as if we're truly part of society when this goes on."
Australian Labor Party's Linda Burney, shadow minister for Indigenous Australians, recognized the immense distress within Australia's indigenous community and called on the government to act.
"Thirty years since the royal commission, First Australians remain grossly over-represented in our criminal justice system, and there have been 474 deaths in custody that we know about," Burney said. "The first and most immediate challenge is the lack of transparency of incidents of deaths in custody, and that is why Labor is calling for the urgent implementation of consolidated and real-time data collection of First Nations deaths in custody at a commonwealth level."
Her concern is that the national political conversation on deaths in custody and Indigenous incarceration has favored the criminal justice system as the only solution to crime, rather than consider the socio-economic factors underpinning Indigenous incarceration, such as housing, education, employment and health outcomes.
The Australian government and systems of policing and corrections continue to feed the intergenerational trauma that resulted from institutional, systemic racism. There is still no Treaty, there is no genuine commitment from our prime minister to address the historic and present-day injustices that white Australia inflicted upon Aboriginal and Torres Strait Islander people.
How many more deaths like Dhu's need to happen before our government acknowledges its responsibility to Australia's Indigenous communities, to take holistic action toward policies that bridge the gap and cease our government's human rights violations?
Cat Woods is a freelance writer based in Australia. She writes on art, culture and travel for international publications, and regularly writes on music for both U.S. and Australian publications. When not writing, Cat teaches yoga, Pilates and barre, listens to podcasts, binge watches anything with subtitles, and walks her two highly intelligent, very bossy dogs around her beachside home in the inner south of Melbourne.
The views expressed in this article are the writer's own.