Australia recently announced that the federal government would commit an additional 1 billion Australia dollars on top of AU$2 billion to conserve the Great Barrier Reef for future generations. The pledge is a cynical election ploy that offers funding, and a plan, that leading scientists have claimed is insufficient to address the Great Barrier Reef's most significant and impending catastrophe: global warming because of climate change.
The Great Barrier Reef (GBR) has an "economic, social and icon asset value of $56 billion," according to a report by Deloitte Access Economics. It is "too big to fail." The reef supports jobs, tourism, science, fishing and recreational sectors both as a result of actual activities and visits to the site and as a result of its global brand.
Last year, UNESCO warned that the Great Barrier Reef was "in danger" due to the impact of developmental and coastal land uses, and the confusion that ensues from overlapping jurisdictions responsible for protecting the reef. The GBR, a World Heritage site since 1981, consisted of 2,900 reefs and 900 islands off the coast of Queensland. It hosted "400 types of coral, 1,500 species of fish and 4,000 types of mollusc." UNESCO recommended that the GBR be added to a list of sites in danger—a rare occurrence by the organization in holding a nation directly responsible for lacking measures to reverse climate change effects.
The Great Barrier Reef is of enormous cultural, environmental and economic value. It generates around $AU6.4 billion in tourism, creating over 64,000 jobs. The federal funding commitment is a political ploy, aiming to appease the many tourist operators and the agricultural and fishing sectors which have been engaging in practices that damage and disrupt the reef environment for decades.
Last year, five leading marine scientists penned an open letter to the director general of UNESCO that recognized the importance of limiting global warming to a 1.5 degree rise to protect the GBR from the effects of climate change.
"An 'in Danger' listing for the Great Barrier Reef will focus action on how to limit further damage to the Reef. It presents a challenge to all nations to immediately reduce greenhouse gas emissions," wrote professor Terry Hughes.
The Australian government responded with fierce lobbying of World Heritage Committee members to ensure the removal of the "in danger" recommendation. Australia's Environment Minister Sussan Ley told the Australian Broadcasting Commission (ABC), "You can see the reef from outer space, but not from an office in Paris. The point I made when I visited European world heritage ambassadors last year is, 'Come and have a look.'"
Australia's apathetic attitude to climate change is predicted to result in a 3 degree temperature rise. The International Union for Conservation of Nature and the World Heritage Centre recommended that the reef be added to UNESCO's "in danger" list in July last year, insisting that the reef's recovery required a plan that "provide[s] clear commitments to address threats from climate change" in alignment with the Paris climate agreement, which commits countries to attempt to halt global warming at a maximum of 1.5 degrees Celsius. An additional 1.5 degrees of warming would be devastating for "more than 90 percent of tropical coral reefs [which] will suffer frequent heat stress—their number one threat."
UNESCO recognizes, too, that a rise in global warming is the primary threat to the reef, along with "declining water quality from land-based sources, loss of coastal habitats from coastal development, and some impacts from fishing, illegal fishing and poaching": all issues demanding immediate address by the state and federal governments responsible for protection of the Great Barrier Reef.
"The number one threat to the Great Barrier Reef is climate change. The Australian government is internationally ranked as having one of the poorest climate policies in the world. By continuing to subsidize fossil fuel use at home, and actively supporting the development of new fossil fuel resources for export, the government is actively making the problem worse. Unless we deal with the climate threat by rapidly and deeply reducing emissions this decade, the Great Barrier Reef is doomed," said Lesley Hughes, professor of biology at Macquarie University.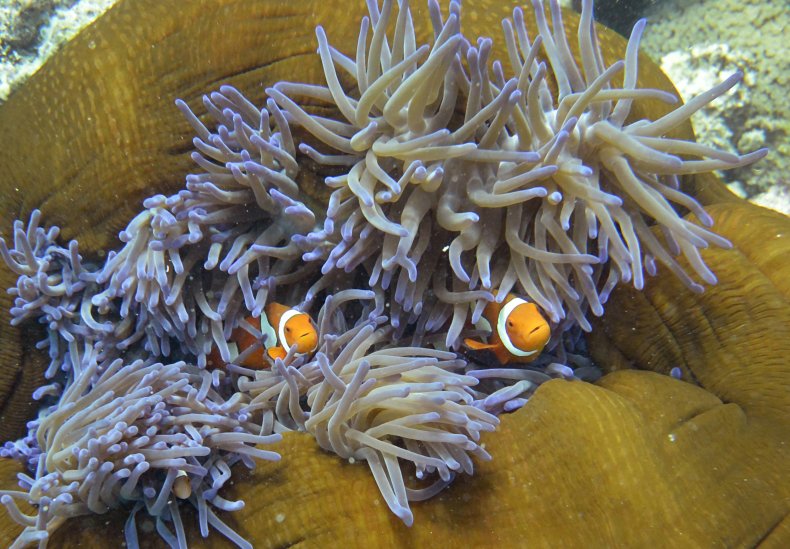 The GBR isn't the only marine environment which the Australian government is taking a roughshod approach to, validating Australian and international media's suspicions that this new funding commitment is purely an election stunt.
Biology professor Adriana Vergés at the University of New South Wales Sydney said the funding for protection of marine environments is too little, and lacks planning and clear intentions.
Australia has many unique and valuable marine ecosystems beyond the Great Barrier Reef that are unfortunately also declining rapidly and receive very small funding, if any.
"We are rapidly losing huge extensions of kelp forests because of climate change. In Tasmania, we have already lost over 90 percent of giant kelp forests, as well as hundreds of kilometers of golden kelp habitat across mainland Australia. When these kelp forests disappear, this has major impacts on jobs and local economies," said Vergés. "Three quarters of the fish and invertebrates found in the kelp forests of Australia are found nowhere else on Earth, so if we lose them from here they are truly gone."
Awareness of the key dangers to the GBR were outlined in a 2009 outlook report published by the Great Barrier Reef Marine Park Authority, which identified port expansions and increases in shipping activity, coastal development and increased commercial land use within the GBR catchment, population growth, illegal fishing and dumping of industrial waste, floods and cyclones as key threats. These all have resulted in accumulated damage to the GBR.
"The GBR remains exposed to the consequences of climate change, including more severe cyclones and more frequent and intense marine heatwaves," according to the Great Barrier Reef Condition Report 2021 published by the Australian Institute of Marine Science, which has been monitoring reefs since 1985.
In the past three decades, the GBR has lost more than half its coral cover, pollution has caused deadly starfish outbreaks and global warming has produced horrific coral bleaching, which causes coral to turn white due to stress. Coastal development also looms as a major threat.
Professor Hughes is adamant that the Australian government's conflicting interests are going to devastate one of the world's most prized environmental treasures.
"One billion dollars promised for the Great Barrier Reef initially sounds like a lot of money. But the Climate Council has calculated that over the next decade, the Australian government will spend 25 times this amount subsidizing the use and development of fossil fuels. If the government was really serious about saving the reef, they would be actively transitioning out of coal and gas-fired power," she said.
Cat Woods is a freelance writer based in Australia. She writes on art, culture and travel for international publications, and regularly writes on music for both U.S. and Australian publications. When not writing, Cat teaches yoga, Pilates and barre, listens to podcasts, binge watches anything with subtitles, and walks her two highly intelligent, very bossy dogs around her beachside home in the inner south of Melbourne.
The views expressed in this article are the writer's own.