Australia's Prime Minister Earns 'F' at Home and Abroad for COP26 Bungling | Opinion
Prime Minister Scott Morrison presented himself and Australia horribly in Glasgow at the United Nations Climate Change Conference (COP26). Australia's 2050 promises are not only too little, too late, but Morrison's rhetoric around how he will achieve those goals (while still championing coal mines) is not based in fact or reality. His stated goal of "net zero by 2050" is based on using technology that does not yet exist, lacking any evidence that it will. He has neither fooled the Australian public nor the international community.
"Scott Morrison and his government are completely out of step both with the international community and the Australian community. Virtually every climate attitude survey of the past few years has put the concern at well over 50 percent," said Lesley Hughes, pro vice-chancellor and distinguished professor of biology at Sydney's Macquarie University. She was one of the founders of the Climate Council of Australia in 2013. "Climate change isn't only an environmental issue, it's a social, economic and health issue as well."
Hughes added that Australia's government "isn't doing nearly enough" to combat climate change.
Things didn't augur well for Australia from the beginning. For weeks leading up to COP26, Prime Minister Morrison refused to confirm whether or not he would attend the conference. Simultaneously, he was in negotiations with the National Party over what commitments the federal government would announce at the summit. His attendance was confirmed on Oct. 15, after allies Boris Johnson, Joe Biden and Prince Charles made clear that non-attendance would be a diplomatic failure.
CNN accurately and appropriately described Australia's government becoming "increasingly isolated in international efforts." They were referring to Morrison's dithering on whether he'd attend or not, but the description equally applies to his own bumbling attendance at the conference and the post-conference response from climate experts, media and international governments.
Lord Deben, chair of the U.K.'s Climate Change Committee, declared Morrison's underwhelming commitments a "great disappointment" on ABC.
"You cannot go forward without signing up to eliminating coal. We can't go on using coal, and Australia has to come to terms with the fact it's changing my climate and the climate of the rest of the world," he added.
Australia, along with Indonesia and Russia, is one of the world's major coal exporters, according to the International Energy Agency. Despite over 40 countries pledging to end reliance on coal, Australia did not commit. Alok Sharma, head of COP26, announced that "the end of coal is in sight."
Not for Australia, Mr. Sharma.
The Australia Institute Climate & Energy Program released new research showing that the new gas and coal projects planned in Australia would result in the equivalent to building over 200 new coal power stations, emitting almost 1.7 billion tons of CO2e emissions annually. This would amount to four times the amount of new coal power stations planned by China.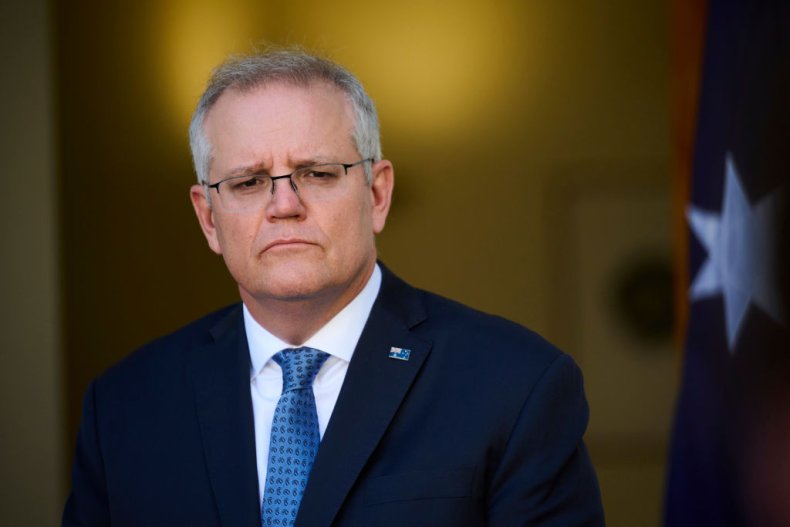 Energy and Emissions Reductions Minister Angus Taylor was also present at the summit, trumpeting the allocation of investing $1 billion in low emissions technology, which he claimed is a step toward Australia reaching net zero by 2050. What those technologies are remains a mystery, to both Taylor and everyone else, despite him announcing this as a "plan". Rather, the government is funding a Technology Investment Framework along with a Technology Investment Advisory Council to lower emissions.
Australians are taking matters into their own hands. Mike Cannon-Brookes, billionaire founder of software company Atlassian, pledged $1.5 billion of his family's fortune toward green investments over the next 10 years. He already invested in the $30 billion Sun Cable initiative that will supply solar energy to Australia from Singapore. Via Twitter, he accused the government's so-called technology driven approach "inaction, misdirection & avoiding choices." He went on to claim there was "no plan. Just more bulls---."
The Climate Council calculated that Australia should reduce its emissions by 75 percent below 2005 levels by 2030 and achieve net zero by 2035. Further, there are additional costs beyond more bushfires, droughts, rising sea levels and floods. Unless drastic cuts are made to emissions before 2030, increases in the costs of climate change are going to impact multiple generations to come. One estimate put global economic losses of failing to act at AU$24.1 trillion per year by 2100—a loss of AU$129 billion per year.
Morrison might brag that he's concerned about jobs in the fossil fuel industry, but this is short-sighted and ignorant of opportunities in renewable technology and the green economy. The Global Commission on Economy and Climate posited that a new climate economy, based in part on circular economy principles, could deliver at least $26 trillion in economic benefits by 2030, compared with business as usual.
Morrison's "Australian way" is worse than business as usual. It's a national and international disgrace.
Cat Woods is a freelance writer based in Australia. She writes on art, culture and travel for international publications, and regularly writes on music for both U.S. and Australian publications. When not writing, Cat teaches yoga, Pilates and barre, listens to podcasts, binge watches anything with subtitles, and walks her two highly intelligent, very bossy dogs around her beachside home in the inner south of Melbourne.
The views expressed in this article are the writer's own.