Austria Will Force Entire Population to Get Vaccine, First European Country to Do So
Austria is set to become the first country in Europe to require its entire population be vaccinated against COVID-19 by law.
Austrian Chancellor Alexander Schallenberg announced during a press conference Friday that from February 1, 2022, it would be a "requirement to get vaccinated" against COVID-19.
"We have not managed to get enough unvaccinated people to get vaccinated. The most recent measures have increased daily vaccinations but not enough," Schallenberg told reporters. "For a long time, it was consensus in the country that a vaccine mandate is not necessary, but we have to face reality."
He separately announced a full national lockdown, effective Monday, November 22, as the country grapples with a record surge in infections.
The full lockdown, agreed to by the country's nine federal states, would be imposed for a "maximum of 20 days," Schallenberg said, as Austria battles a fourth wave of infections.
Supermarkets will remain open, while schools and restaurants will be closed, and cultural events will be canceled, Schallenberg told reporters, adding: "We do not want a fifth wave."
The news comes just days after Austria implemented a lockdown for its unvaccinated residents, which prohibits unvaccinated citizens over the age of 12 from leaving their homes for unessential reasons.
Violators of those measures face fines of up to 1,450 euros, or $1,660.
"We really didn't take this step lightly and I don't think it should be talked down," Schallenberg said in a radio interview at the time.
"My aim is very clearly to get the unvaccinated to get themselves vaccinated and not to lock down the vaccinated. In the long term, the way out of this vicious circle we are in—and it is a vicious circle, we are stumbling from wave to lockdown, and that can't carry on ad infinitum—is only vaccination."
"This a dramatic step—about 2 million people in this country are affected....What we are trying is precisely to reduce contact between the unvaccinated and vaccinated to a minimum, and also contact between the unvaccinated," added Schallenberg.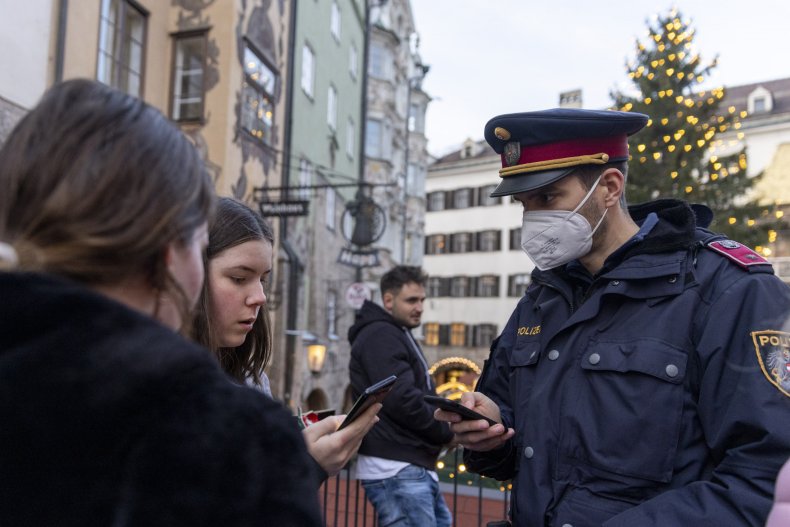 Austria's COVID-19 vaccination rate remains among the lowest in western Europe, with approximately two-thirds of the country's population fully vaccinated against the virus.
Schallenberg previously described Austria's vaccination rate as "shamefully low."
The country on Thursday recorded 15,145 new infections, marking a record high for cases recorded in a single day.
Indonesia, Micronesia and Turkmenistan have made COVID-19 vaccinations mandatory for their adult populations, however, Austria is the first European country to impose such a measure.