'Defeat for Far-Right' in Austria's Presidential Poll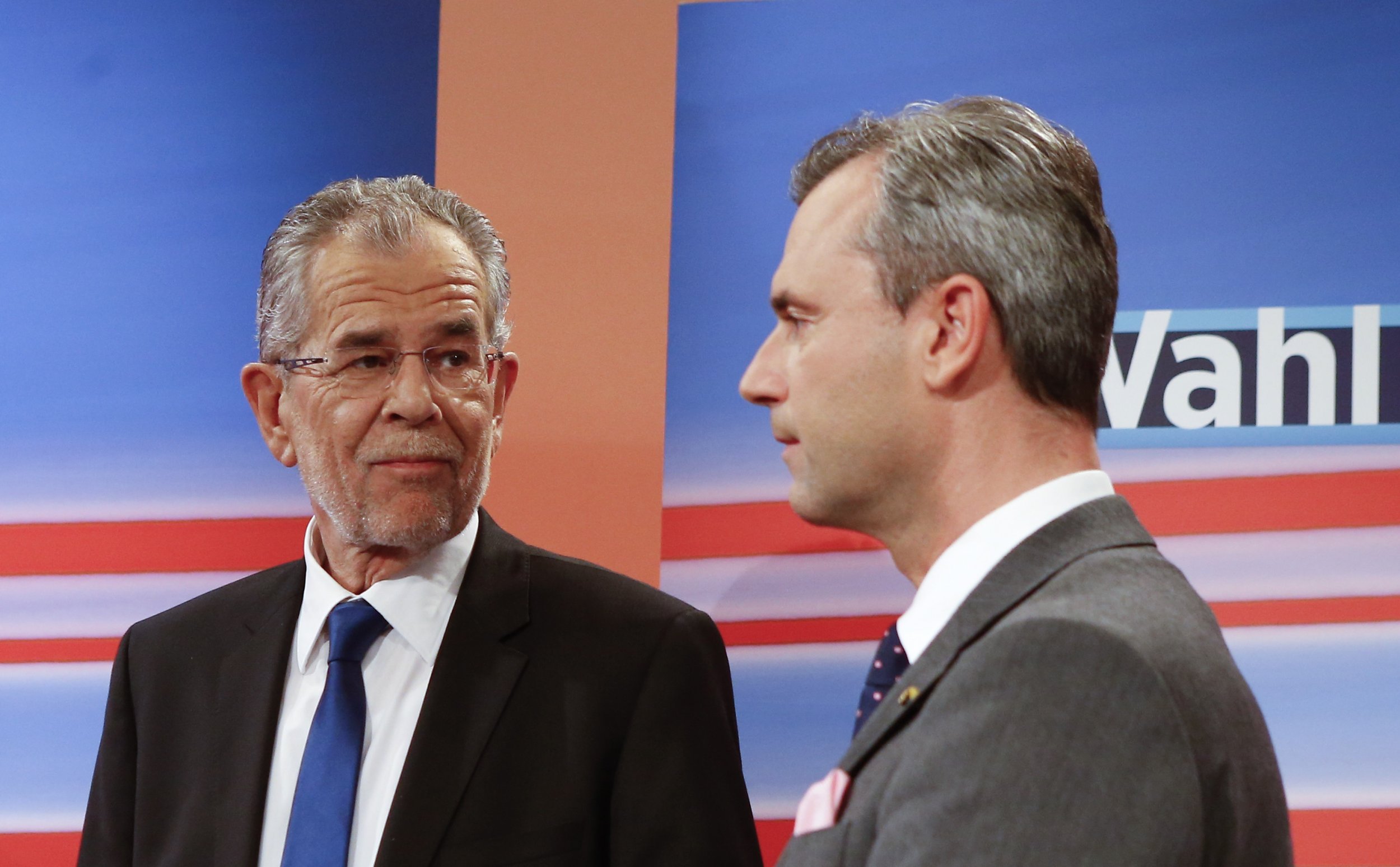 Austria has narrowly avoided becoming the first EU country to elect a far-right head of state, with the anti-immigrant Freedom Party's Norbert Hofer just losing out on the presidency, according to multiple reports.
Hofer had been widely expected to take the role after he beat his closest rival, the independent, Green-supported Alexander Van der Bellen, by a significant margin in the contest's first round last month, taking 35 percent of the vote compared to Van der Bellen's 21 percent.
But according to the BBC and Austrian media, Van der Bellen just scraped ahead after a close-fought contest that saw the two men drawing almost neck-and-neck when votes from polling stations were counted on Sunday, with Hofer only slightly ahead. The final call had to be made after postal votes were counted on Monday.
The Austrian interior ministry could not yet confirm the result when contacted by Newsweek. But Hofer appeared to acknowledge defeat in a statement on his Facebook page, where he spoke of his sadness and thanked his followers.
Analysis of the votes revealed deep division in the electorate. According to the Der Standard newspaper, university-educated voters chose Van der Bellen by a 91 percent to 19 percent margin in votes counted Sunday, while the lower-skilled chose Hofer by 86 percent to 14 percent.
Urban areas were significantly more likely to choose the independent candidate, while the Freedom Party soared ahead in rural districts, according to several reports.
Hofer's victory would have marked the first significant power grab for the Freedom Party since 2000, when it joined a coalition government and provoked sanctions on Austria from other EU member states. The role of president is largely ceremonial in Austria but does theoretically come with the power to appoint or dismiss governments.
The Freedom Party has gained traction with its anti-immigrant and anti-refugee messages. Austria's former chancellor Werner Faymann, a Social Democrat who stood down from the role earlier this month, had initially joined Angela Merkel in adopting a welcoming approach toward asylum seekers before he veered to the right following voter skepticism, introducing border controls to criticism from other states in the passport-free Schengen zone.
But the 72-year-old Van der Bellen, an academic, appeared to benefit from a surge in support from moderates across the political spectrum in the days leading up to the vote. He had sought to paint the poll's final round as a choice between open-minded political cooperation or authoritarian extremism.
This is the first time since 1945 that the president has not come from one of the country's two mainstream center-right and center-left parties.