Photograph of Austrian Chancellor Doctored to Remove Reefer-Smoking Woman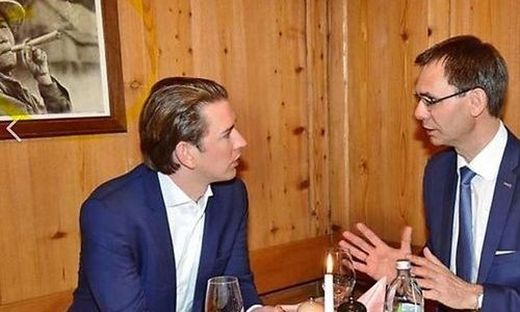 Austrian chancellor Sebastian Kurz is facing ridicule on social media after his press team doctored an official photograph to remove an image of what appears to be an Asian woman smoking a reefer.
The photograph was taken during an official trip by the chancellor to the western Austrian state of Vorarlberg, where he met with its governor Markus Wallner, reported Austrian news outlet Vorarlberg Online.
In the official photograph of the meeting, Kurz and Wallner can be seen chatting earnestly in the foreground, but it is a picture in the background that social media users have drawn attention to.
The image published by government officials immediately after the April 11 meeting shows a black and white picture hanging on the wall behind the men of a woman smoking what appears to be a large reefer-style cigarette.
However, in a version of the image released a few days later, the photo has been photoshopped to remove the image of the smoking woman, and an image of an Alpine mountainscape put in its place.
On Twitter, Austrians have suggested their own photoshop edits of the picture under the #retouchierenwiekurz hashtag, some poking fun at the 31-year-old chancellor's reputation for vanity.
The youngest head of state in the world, Kurz was elected in October 2017 and is the leader of the right-wing Austrian People's Party.
Other versions of the picture have mocked the resemblance between Kurz's anti-immigrant policies and those of President Donald Trump and European populist Prime Minister Viktor Orban of Hungary.