Life in a refugee camp is an unimaginable horror.
It's the reality of thousands of people who fled war-torn countries, poverty, hunger and sometimes death. Greek refugee camps are often overpopulated, with scarce access to water, heat, food, or toilets, set up over contaminated soil. They are the closest thing to hell on Earth.
The pandemic worsened camps on several fronts. There has been a serious uptick in surveillance technologies administered to refugees since the pandemic started. Not only are refugees detained in inhumane conditions, but they are also subjected to strict surveillance inside and outside the camps, serving as guinea pigs for authoritarian technologies that are then used on the general population.
There are plans to increase and implement such invasive and often harmful tech on everyone.
From things that seem quite simple, such as forcing refugees to wear electronic ankle monitors in Canada and implementing voice recognition in Germany to discover migrants' origins, to video border surveillance in Greece and invasive uses of contact tracing technology, Big Brother is keeping tabs on refugees in camps worldwide.
Other technologies, like body heat scanners, iris scanners and social media scraping was used in refugee camps and on borders for years before the pandemic. They were prototyped then, before moving into mainstream use when the pandemic hit.
In January, I interviewed Petra Molnar, director of the International Human Rights Program at the University of Toronto's Faculty of Law. She spent time visiting refugee camps in Greece, on the island of Lesbos.
"The [Greek] government is ... basically weaponizing COVID to use it as an excuse to lock the camps down and make it impossible to do any research," she said.
Molnar said the situation was "quite bad in terms of things like access to health care, water, shelter. ... It's far from ideal. The Kara Tepe camp is windy, it gets flooded, [people have] no access to water. It's difficult to wash hands and isolate in any meaningful way."
The most invasive and harmful tech available, what Molnar called "sexy tech," was not being used within the camps. She said there are plans to use the tech eventually, which is already in use at the Greek border and in Europe.
From drones and cameras to facial recognition and voice recognition, rarely refugees are aware that their data is been collected and freely shared with other countries without their consent, with little care for their privacy and data security.
Refugees are often more concerned with survival and making it through the day than caring about how their biometric data is being collected, stored and shared.
According to Jan Theurich, a German journalist and member of the DunyaCollective who spent several months in Greece, refugees have more pressing needs, such as being able to drink potable water, not freezing to death in windy and humid camps, or not die in a fire caused by the use of smuggled electric heaters.
"This is a political catastrophe and then a humanitarian catastrophe. It's not just the pandemic, but there's a political will behind the situation creating a humanitarian catastrophe," he said.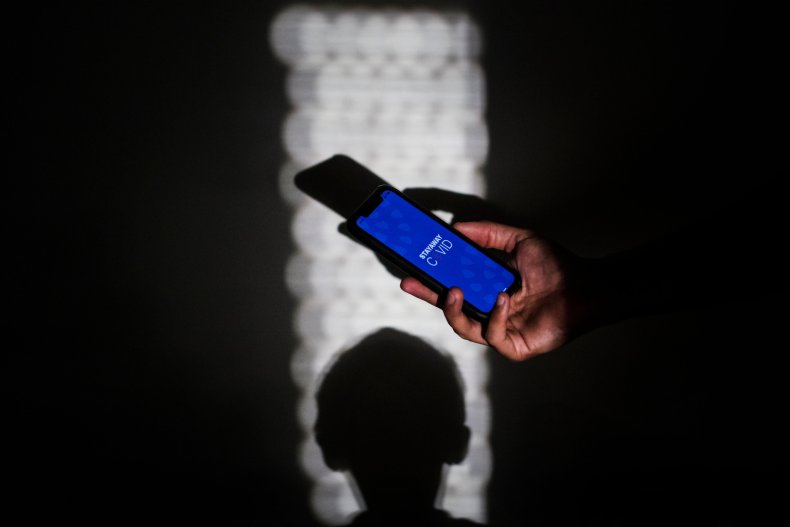 Leaving the camps is not always the best choice as any financial support a refugee gets can run out quickly, causing them to find their own way. In the end, a lot of people decide to stay.
"It's like making a decision between getting the pest and cholera," Theurich said. One must remember that inside the camps, refugees "are the last ones to get information from the outside world. You can imagine the effect this all have on them—there's increase in self-harm behavior, domestic violence, rapes and harassment, also stabbings."
Countries are using surveillance technology to monitor social distancing and quarantine compliance and the spread of COVID-19, according to Marcus Michaelsen, a Marie Skłodowska-Curie postdoctoral fellow at the Vrije Universiteit Brussel.
"If these measures are actually necessary and proportionate to confront the pandemic—if they are subject to public oversight and can be rolled back once the pandemic is over," then they should be implemented, he said.
We don't know what kind of tech is being used on us at any given moment. But we can guess, investigate and denounce governments and companies alike.
One type of tech focuses on contact tracing, with apps installed on our mobile phones to track and limit contagion.
"There are still lots of apps that pose a threat to citizens' right to privacy," said Samuel Woodhams, digital tights researcher at internet research firm Top10VPN.
At least 19 apps, with 4 million downloads combined, don't have dedicated privacy policies according to Woodhams, meaning that users cannot know for sure how their data is managed—or by whom.
Yet here we are discussing the rights of citizens. One can wonder what happens to the data of those who are running for their lives and those living in less-than-democratic countries. But the fact is that even so-called democracies have shady records when it comes to surveillance, which leads many to worry.
Contact tracing apps' location data "are not precise enough to track the spreading of the virus but reveal a lot of personal information. The same is true for credit card data, facial recognition and CCTV cameras in public places," said Michaelsen. He questioned who collects the data and where it will all be stored—and if it will be anonymized to protect against data theft and abuse out of potential economic and political interests.
The answers are generally far from what most people would expect—at least from those who have full confidence in the democratic ideals of their respective countries.
"In authoritarian and illiberal contexts, the pandemic accelerated the decline of internet freedoms, a trend in line with a broader crisis for democracy and shrinking civic space," Michaelsen pointed out.
It is not to say that we don't need the means to track and prevent the spreading of diseases, or that we don't need to monitor borders and protect ourselves from terrorism and potential harm. We need better rules in place, transparency and accountability. Otherwise, the same measures used to protect us will end up harming society and create a virtual police state. We must know who is collecting our data and to what purpose. We as a society must be able to set boundaries and limits.
Otherwise, little by little, the differences between democratic states and authoritarian or illiberal ones will decrease and we will end up unwillingly giving up on our privacy—which is what is happening with refugees today, all over the world. The pandemic is being used to justify expanding sometimes draconian surveillance.
It is interesting that amid such heavy use of authoritarian tech, violation of privacy and 24 hour monitoring, some people prefer to fall for conspiracy theories about microchips in vaccines. Reality in itself is frightening enough.
Raphael Tsavkko Garcia is a Brazilian journalist based in Belgium. He holds a PhD in human rights from the University of Deusto (Spain).
The views expressed in this article are the writer's own.