Is Authoritarianism the New Normal for Asia? | Opinion
Democracy is under heavy assault throughout Asia. In the latest 2022 Freedom in the World report released by Freedom House, the continent is home to the three biggest drops in this year's global freedom index.
Compared to the previous year, junta-ruled Myanmar experienced a depressing 19-point plunge on the report's 100-point scale. This is the largest annual decline since 2014, when neighboring Thailand tanked 21-point after—you guessed it—a military coup. Right behind this depressing accolade is a decline of 17 points for Taliban-controlled Afghanistan, followed by a 9-point drop for Hong Kong, whose few remaining traces of democracy was fully "dismantled" by China's renewed crackdown on dissent.
It is tempting to attribute this decline as part of a global pattern of democratic backsliding—one that has hitherto persisted for the past 16 years, according to Freedom House. However, this has not always been the case for the Asia-Pacific region.
In fact, between 2008 and 2019, the continent, on average, collectively moved up by nearly three points in Freedom House's index while the rest of the world declined by the same amount. Since the beginning of the COVID-19 pandemic, however, this modest yet steady traction in Asian democratization has taken the reverse turn. Today, less than 5 percent of Asian citizens live in a country rated "free"—this figure was 39 percent in 2019.
The pandemic itself has played a significant role in accelerating this trend. As governments were entrusted with unprecedented powers to protect public health, even the continent's strongest democracies failed to guard themselves against abuse of power.
For instance, Australia's heavy-handed response to the pandemic saw the country losing its accolade as the "freest" country in the Asia-Pacific region, a title it has held since 2013. In the past two years, under the pretext of COVID-19 prevention, Australian authorities had not shied away from strong-arm tactics to forcefully intimidate and crack down on civil society and dissidents—be it anti-lockdown activists or peaceful Indigenous protestors calling for social justice.
These thinly veiled crackdowns on dissent had echoed across the region, from India, Thailand to the Philippines, and most notably, Myanmar, where the democratically-elected leader Aung San Suu Kyi was overthrown and imprisoned by the military junta on bogus charges of breaching COVID rules.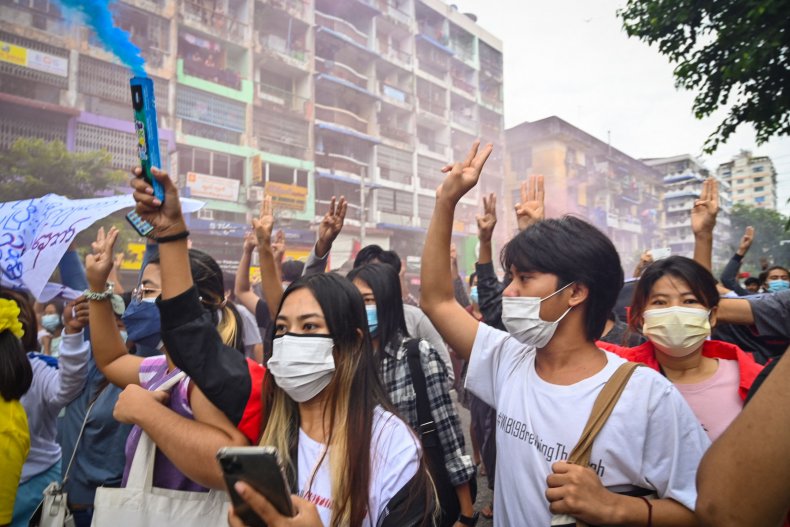 As Asia-Pacific's democratic strongholds began to rattle, the Chinese government, itself a notorious rights violator that needs no introduction, was keen to step up and promote a "non-interference" principle that normalizes abuses of human rights and democratic norms. As a demonstration of this strategy, China had increasingly warmed up to both Myanmar's Tatmadaw and Afghanistan's Taliban, the latter of which received an unexpected visit from Chinese foreign minister Wang Yi just one day after the militant group backtracked on its promise to allow Afghan girls to return to school.
It seems that Beijing has succeeded in pushing the region toward its "business-as-usual" attitude with oppressive regimes. Other than the symbolic and unprecedented barring of Myanmar's top general Min Aung Hlaing from the Association of Southeast Asian Nations (ASEAN) summit last October, Southeast Asian countries failed to put any pressure on the country's junta.
No meaningful progress has been made by the military toward implementing ASEAN's Five-Point Consensus peace plan for Myanmar, which recently reached its one-year anniversary last month. Activists accused the Southeast Asian leaders, none of whom had placed any sanction against the junta, of being complacent to an illegitimate regime that has killed 1,500 people and imprisoned nearly 9,000 since the start of the coup last year.
Meanwhile, Asian "beacons of democracy" like Australia and Japan, which have been swift in imposing sanctions on Russia in response to its invasion of Ukraine, still remain unwilling to punish the Tatmadaw. Perhaps to avoid these rhetorical contradictions, both countries had been careful in framing their support for Ukraine as to defend its sovereignty rather than promoting the view of a "battle for democracy" often seen in the West.
As if the erosion of democratic institutions since the pandemic was not enough, the war in Ukraine represented a further boost to the region's autocracy. While many saw the emergence of a Beijing-Moscow authoritarian axis as the greatest threat to the liberal world order, it is actually complacency and inaction toward illiberal regimes—many of which has already benefitted from reduced scrutiny as the world focuses its attention on Ukraine—that poses an existential threat for democracy in Asia.
Le Dong Hai Nguyen is the founding chair of the Global Association of Economics Education, a fellow of the Royal Society of Arts and a postgraduate student at Georgetown University's School of Foreign Service. You can follow him on Twitter @nguyenledonghai.
The views expressed in this article are the writer's own.