FBI, Justice Department Will Investigate Spring Valley High School Video of Police Officer Flipping Student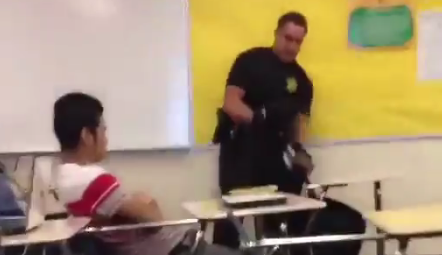 Updated | The United States Justice Department and the FBI opened a civil rights investigation at the request of a South Carolina sheriff after a video of a white police officer flipping over and wrestling a black female student at a local high school went viral online Monday.
In the incident that the local school district and sheriff's department are now investigating, a student at Spring Valley High School in Columbia, South Carolina, who has not been identified by authorities, had been asked to leave by a teacher and school administrator. She refused, and a Richland County sheriff's deputy, who was assigned as a school resource officer and has been identified by students as Ben Fields, was brought in.
The video, which is quickly catching fire online, shows the student sitting at her desk in a classroom, surrounded by other students. Fields is seen in the video grabbing the girl's arm, putting his hand on her neck and then pushing the student and her desk backward to the floor. While the student is on the ground, the officer drags her to the front of the classroom. He then instructs her to put her hands behind her back.
The girl, along with another student, was arrested on suspicion of disturbing the peace, according to sheriff's department spokesman Lieutenant Curtis Wilson, the newspaper The State reported. The girl involved in the incident was later released to her parents, television station WLTX reported.
Since the video was posted online, Fields has been suspended without pay and will no longer be assigned to any school, The State reported. According to the paper, the student was not hurt in the incident.
"It's very disturbing what happened today. It's something I have to deal with, and that's what we're going to be doing," Sheriff Leon Lott told local news channel WLTX. The FBI's Columbia office will collect evidence to determine if a federal law was violated in the incident.
"I wanted to throw up when I saw the initial video," Lott said at a press conference on Tuesday evening. "The student was wrong in what she did, but do her actions meet the level of what this officer did? That's what we will decide." Lott said she student "bears some responsibility" the incident. The sheriff said he is unsure if race was a factor in the incident.
Steve Benjamin, the city's mayor, is also calling for an independent investigation. "We cannot and will not accept this kind of behavior from any law enforcement officer, and I firmly believe that we need an independent investigation to get to the bottom of this incident and see that justice is done," he said. Speaking with MSNBC, Benjamin noted that "this type of activity completely erodes that trust and we have to see an end to it swiftly and immediately."
The video grabbed the attention of numerous prominent watchdogs, including local politicians and media personalities. "The police officer should be fired, and the police department should be sued," tweeted the Reverend Jesse Jackson. Shaun King, a reporter and activist with Justice Together, posted the sheriff's contact information, urging those outraged to reach out.
"I've never seen anything so nasty looking, so sick to the point that you know, other students are turning away, don't know what to do, and are just scared for their lives," Tony Robinson Junior, who recorded the video, told WLTX. "That's supposed to be somebody that's going to protect us. Not somebody that we need to be scared of or afraid."
This story has been updated to include new information about the investigation.