Authorities Rush to Get Tainted Cocaine Off Streets After 23 People Die
At least 23 people have died and 84 hospitalized in Buenos Aires, Argentina, after they ingested cocaine mixed with what appeared to be a synthetic opioid.
Authorities scrambled to get the dangerous substance off the streets, pleading with the public to throw out any cocaine they might have acquired in the past few days to prevent further poisonings, the Buenos Aires Times reported. According to the Associated Press, officials say this is Argentina's first drug poisoning tragedy at such a large scale.
Buenos Aires Province Security Minister Sergio Berni told reporters that while the toxicology report has not yet determined the exact substance the cocaine was laced with, experts know it was an opioid because patients in the hospital reacted after being treated with an opioid antidote, AP reported.
According to a 2019 study by the Organization of American States' Inter-American Drug Abuse Control Commission, Argentina is tied with Uruguay for the second-highest cocaine consumption rate per person in North and South America, trailing only the United States.
In Argentina, possession and personal consumption of the drug is legal, though transporting and selling it remains illegal, Al-Jazeera reported.
According to the Buenos Aires Times, authorities believe the tainted cocaine was sold from a house in Puerta 8, a poor neighborhood in the Tres de Febrero district. The report said police raided the house, seized cocaine packets similar to the ones victims' families described and arrested 10 people.
In a statement, Buenos Aires province's federal crimes unit said police had confiscated 15,000 small bags of the tainted cocaine as of Thursday, AP reported.
Berni's office told the Buenos Aires Times on Wednesday that emergency services were still finding people in "critical condition" and taking them to hospitals late that day.
Authorities said 18 of the hospitalized people had to be intubated, Al-Jazeera reported.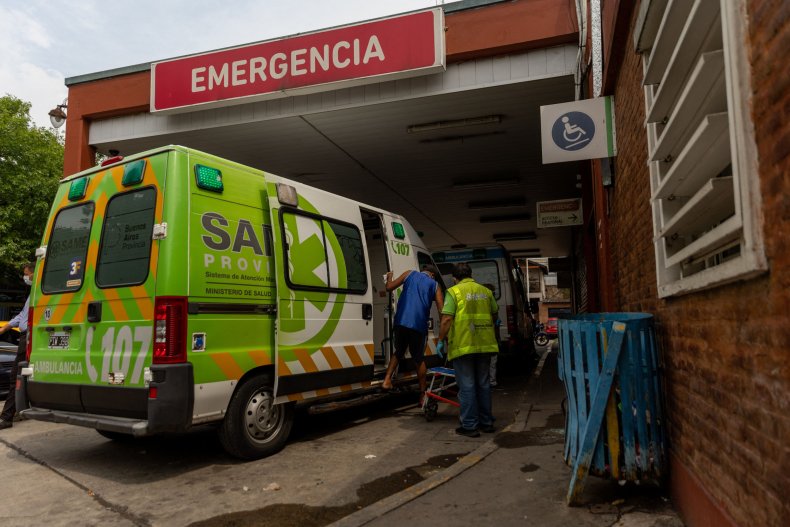 Beatriz Mercado, the mother of one of the victims, told the AFP news agency that she found her 31-year-old son lying face-down on the kitchen floor not breathing and with his eyes rolling back. He was hospitalized and is on life support.
"I hope in God, nothing else, a miracle," Mercado said.
Authorities are not yet sure why the cocaine has been tainted. Berni told reporters that one of the people police arrested was the presumed leader of the drug ring that sold the cocaine, Joaquín Aquino, also known as "El Paisa," according to AP.
Some judicial officials have hypothesized that it was an intentional act to settle a score between opposing drug traffickers, the AP reported.
However, while San Martín Public Prosecutor Marcelo Lapargo said in a BBC report that authorities think the harmful substance was added "deliberately," he told Radio Mitre that the drug trafficker conflict theory is just "conjecture" at this point in the investigation.
Lapargo added that as the death toll could still rise, authorities' top concern is "to be able to communicate, so that those who are in possession of this poison know that they should not consume it."
Update 2/3/22, 5:50 p.m. ET: This article was updated to show the new number of deaths and hospitalizations, and to add other new information.