Authorities Search More Homes in Northern Mexico After Finding 17 Bodies
The search continues after volunteers in Northern Mexico, hoping to find missing friends and family who may have fallen into the hands of ruthless drug cartels, dug up a grisly finding in one housing development.
Authorities confirmed on Sunday that volunteer searchers were able to lead them to 17 bodies buried in a low-income housing development in the state of Sonora. The bodies, ranging from relatively intact to skeletal, were found stacked up in four burial plots, located in backyards and under patios, according to the Associated Press. Authorities also said that searches of the area would continue into Monday.
The local prosecutor's office in the city of Ciudad Obregón said that the houses where the bodies were buried had been abandoned, with the victims believing to have died between six months to a year ago.
The Sonora prosecutor's office shared photos, viewed by the AP, showing the volunteers digging up backyards and building foundations with backhoes and their bare hands. The bodies found, the office added, will be subject to special forensic and genetic testing to determine more about them. This most recent discovery comes a week after 11 other bodies were found in burial pits near the state's border with Arizona.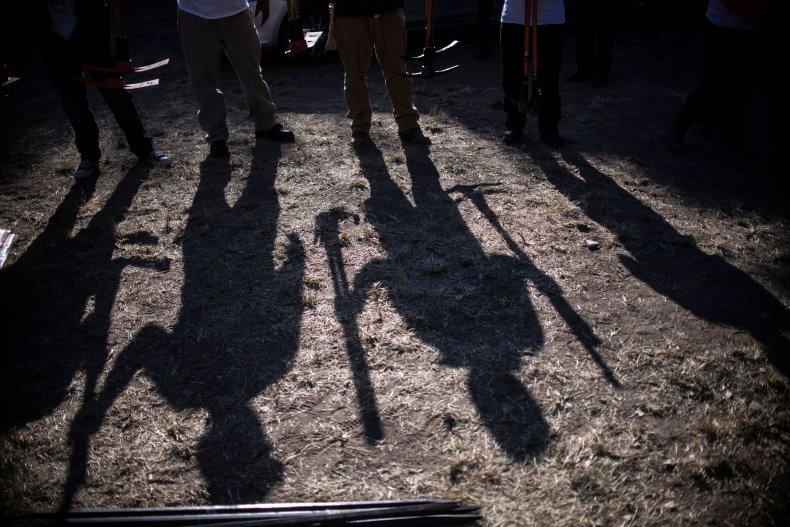 Burial pits have unfortunately become a frequent occurrence in Sonora, with three drug cartels locked in conflict over the territory. The victims found in the pits tend to be suspected rivals of a rival cartel or victims of a kidnapping.
With over 98,000 people missing in Mexico amid the ongoing cartel conflicts, many relatives and friends, mostly women, have formed their own volunteer search groups to search for mass burials. Often, law enforcement is unable or unwilling to help carry out these searches. So far, roughly 52,000 bodies that have been turned up have yet to be identified.
In November, a group known as the Searching Mothers of Sonora found over 20 bodies spread across 16 unmarked graves near the state capital of Hermosillo. Like the most recent findings, some of the bodies were decomposed while some were still intact with their clothes.
In a video, Patricia Cecilia Flores Armenta, leader of the Searching Mothers of Sonora, called for the United Nations' Committee on Enforced Disappearance to lend their support to the search efforts.
"It's so painful to think that the body you're digging up could be your son," she said in an earlier interview with The Arizona Republic. "You try to dig it out with as much love as you can, as if it was your son, treat him in the same way."