More than $12 million worth of cocaine and methamphetamine was seized during a traffic stop in Arizona, police said.
The Bullhead Police Department said officers with the department's narcotics team pulled over a tractor-trailer on Interstate 40 near Kingman, Arizona, at around 6.30 p.m. last Thursday.
With help from K9 units from the Arizona Department of Public Safety and Mohave County Sheriff's Office, detectives found 370 pounds of cocaine and 220 pounds of methamphetamine in the tractor-trailer.
The combined street value of the drugs is about $12,700,000, police said.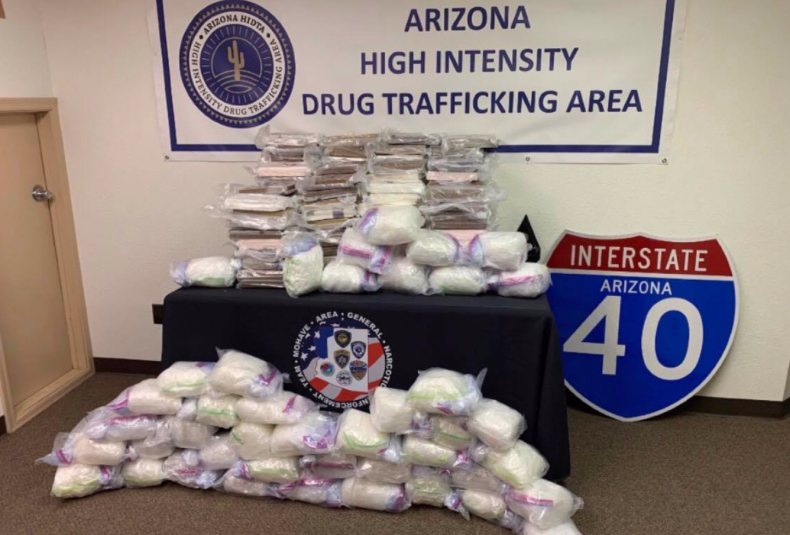 Bullhead police said two men were arrested after the drugs were seized.
Beyan Mohammed Beyan, 30, and Samatar Shafi Ahmed, 36, were booked into the Mohave County Jail in Kingman on charges of transporting dangerous drugs and narcotic drugs for sale.
The seizures come after authorities seized more than $18 million worth of hard drugs—including mostly methamphetamine, but also heroin and cocaine—which were found hidden in a shipment of fresh broccoli aboard a tractor-trailer at the U.S.-Mexico border.
The U.S. Customs and Border Protection (CBP) said officers at the Pharr International Bridge cargo facility in Pharr, Texas said they intercepted the tractor-trailer that was hauling the commercial shipment of vegetables on February 16.
A CBP officer had referred the trailer for further examination and officers then used non-intrusive imaging equipment to discover that a "significant" amount of hard narcotics had been hidden inside the trailer.
Earlier this month, a Florida man was charged after troopers found 78 pounds of methamphetamine hidden inside his rental minivan when he was pulled over for speeding in Montana.
Nicholas Imhoff was arrested after he was stopped by a Montana Highway Patrol trooper on Interstate 90 near Columbus for driving six miles above the 80 mph speed limit on February 11.
After a K-9 unit alerted the trooper to drugs in the minivan, the vehicle was seized and the methamphetamine was found under floor storage compartments in garbage bags, with some wrapped in duct tape.
A recent government report said methamphetamine is the drug that is most commonly linked to overdose deaths in almost half of the country, including Arizona, the Associated Press reported.
The report by the Centers for Disease Control and Prevention (CDC) last year, which utilized data from 2017, found fentanyl was the drug that was driving overdose deaths in the U.S overall.
But it also revealed that methamphetamine was the biggest killer in 19 states west of the Mississippi River.