CBP Officers Seize 895 Pounds of Meth Worth $18 Million Hidden in Fresh Broccoli Shipment
More than $18 million worth of hard drugs—including mostly methamphetamine, but also heroin and cocaine—have been seized after being found hidden in a shipment of fresh broccoli aboard a tractor-trailer at the U.S.-Mexico border.
U.S. Customs and Border Protection said officers at the Pharr International Bridge cargo facility in Pharr, Texas intercepted the tractor-trailer that was hauling the commercial shipment of vegetables on February 16.
A CBP officer had referred the trailer for further examination, the agency said in a news release. Officers then used non-intrusive imaging equipment to discover that a "significant" amount of hard narcotics had been hidden inside the trailer.
They removed 432 packages of suspected methamphetamine, heroin, cocaine and marijuana, valued at $18,418,500.
The CBP said 341 of the seized packages contained alleged methamphetamine, weighing 895 pounds and valued at $18 million.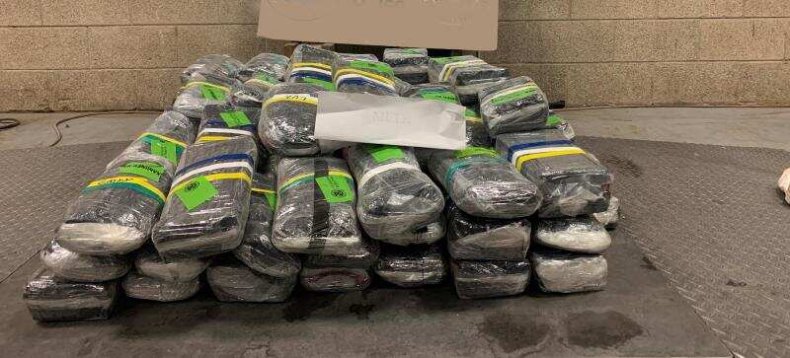 The agency said it also seized 87 packages of alleged marijuana weighing 202 pounds which was valued at $40,000, three packages of alleged heroin with a weight of 8.82 pounds that was valued at $353,000 as well as one package of alleged cocaine weighing 3.31 pounds that was valued at $25,500.
The drugs and the tractor-trailer were seized by the CBP and the case is being investigated by Homeland Security Investigations (HSI).
"This was truly a notable seizure in the commercial environment," said Port Director Carlos Rodriguez, Port of Hidalgo/Pharr/ Anzalduas. "Our officers' ability to maintain an excellent enforcement posture while keeping trade flowing and uninterrupted is one of our main priorities."
The CBP and HSI have been contacted for additional comment.
It's not the first time authorities have intercepted drugs or cash being smuggled into the county in commercial shipments.
In June last year, authorities seized 333 pounds of cocaine, with an estimated street value of $10 million, hidden inside a shipping container filled with beach chairs.
The shipping container had arrived from China through Panama when it was searched by authorities at the Port of Baltimore. As well as the chairs, they found four black bags filled with 125 bricks of cocaine inside the container.
In December, police in North Carolina seized millions of dollars in cash hidden inside barrels containing raw pork shoulders. That discovery was made after a tractor-trailer being driven down Interstate 85 was stopped by officers in Cleveland County for traffic violations.
Around $3 million in cash was found in barrels aboard the tractor-trailer, with pictures showing that the money had been wrapped in cellophane before being hidden in the barrels filled with raw meat.