The Big Three automakers in the U.S.—General Motors, Ford and Stellantis—could see another 18,000 workers walk off the job as early as next Tuesday, just days after the United Auto Workers (UAW) strike began.
Unifor, the union representing Canadian auto workers at the Big Three, has been negotiating with the companies since August 10, but no agreement has been reached. Existing contracts expire at 11:59 p.m. Monday, meaning more employees could strike if a deal cannot be reached.
The ongoing bargaining comes as tens of thousands of UAW workers walked out of plants in Missouri, Michigan and Ohio on Friday. The contracts of roughly 150,000 workers expired at 11:59 p.m. Thursday, although it's estimated fewer than 13,000 are withholding labor as talks heat up.
It is the first time in history that unionized workers are striking at all three automakers at the same time, and it's been estimated that a strike lasting longer than 10 days could result in an economic loss of more than $5 billion. The auto industry accounts for about 3 percent of the U.S. economy's gross domestic product.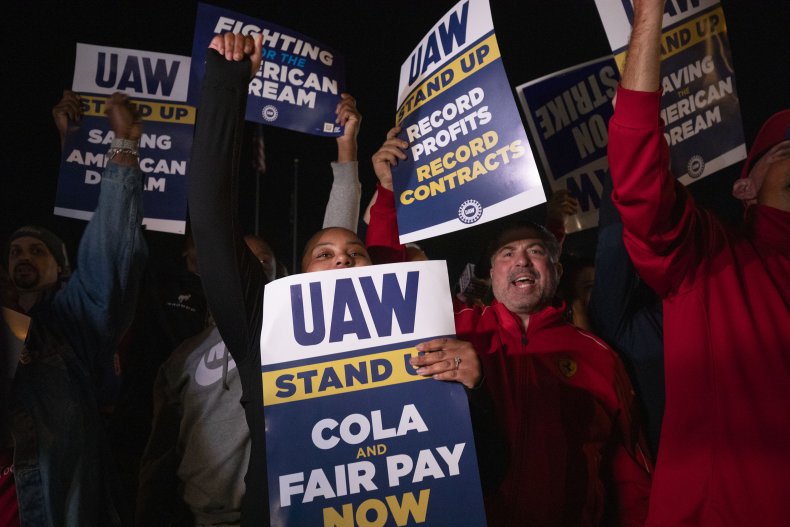 The strike is also expected to test President Joe Biden, who has touted himself as the most pro-union president in history and whose presidency has faced difficult economic challenges.
Unifor chose Ford as its target at the end of August, so negotiations with the other two companies have paused until the union strikes a deal with Ford that could be used as a blueprint for General Motors and Stellantis.
Unifor President Lana Payne suggested that both sides remained far from reaching an agreement on Thursday night, announcing that the union rejected two offers from Ford but that the talks are ongoing.
"Those offers did not come close to meeting our expectations," Payne said, adding that the negotiations have centered around pensions, wage packages and the transition to electric vehicles—similar concerns to those expressed by UAW. Things are moving, but we are certainly not there yet. Yes, we are having constructive dialogue and we are making progress in certain areas, but I want you to know we are meeting resistance from Ford on priority issues for our members.
"There is no deal with Ford until there is a final deal that can be supported by rank-and-file leaders here. We don't have an agreement on anything until we have an agreement on everything."
Ford Canada told Newsweek: "Just as Lana said in her webcast the other evening, these discussions are best left at the bargaining table. We're focused on Canada and the bargaining here that is well underway with Unifor."
Speaking about the strike of their American counterparts, the Canadian union said it doesn't know what the extent of the UAW labor action's impact will be but that it is "assessing the situation by the hour."
Payne said Unifor has offered its "support and solidarity" to the American union and its president, Shawn Fain, but emphasized key differences between the two, including Canada's universal health care, higher wages and stronger worker protection laws.
"We are in unprecedented times," Payne said on Thursday. "The auto industry is undergoing a historic transformation with significant impacts on our jobs, our skills and the entire supply chain. We must ensure that this transition works for us with good unionized jobs and secure work for all auto workers in Canada."
Update 9/15/23, 2:31 p.m. ET: This story was updated with comment from Ford Canada.