Automatic Zen Garden? This Connected Kinetic Sand Table Is Modern Relaxation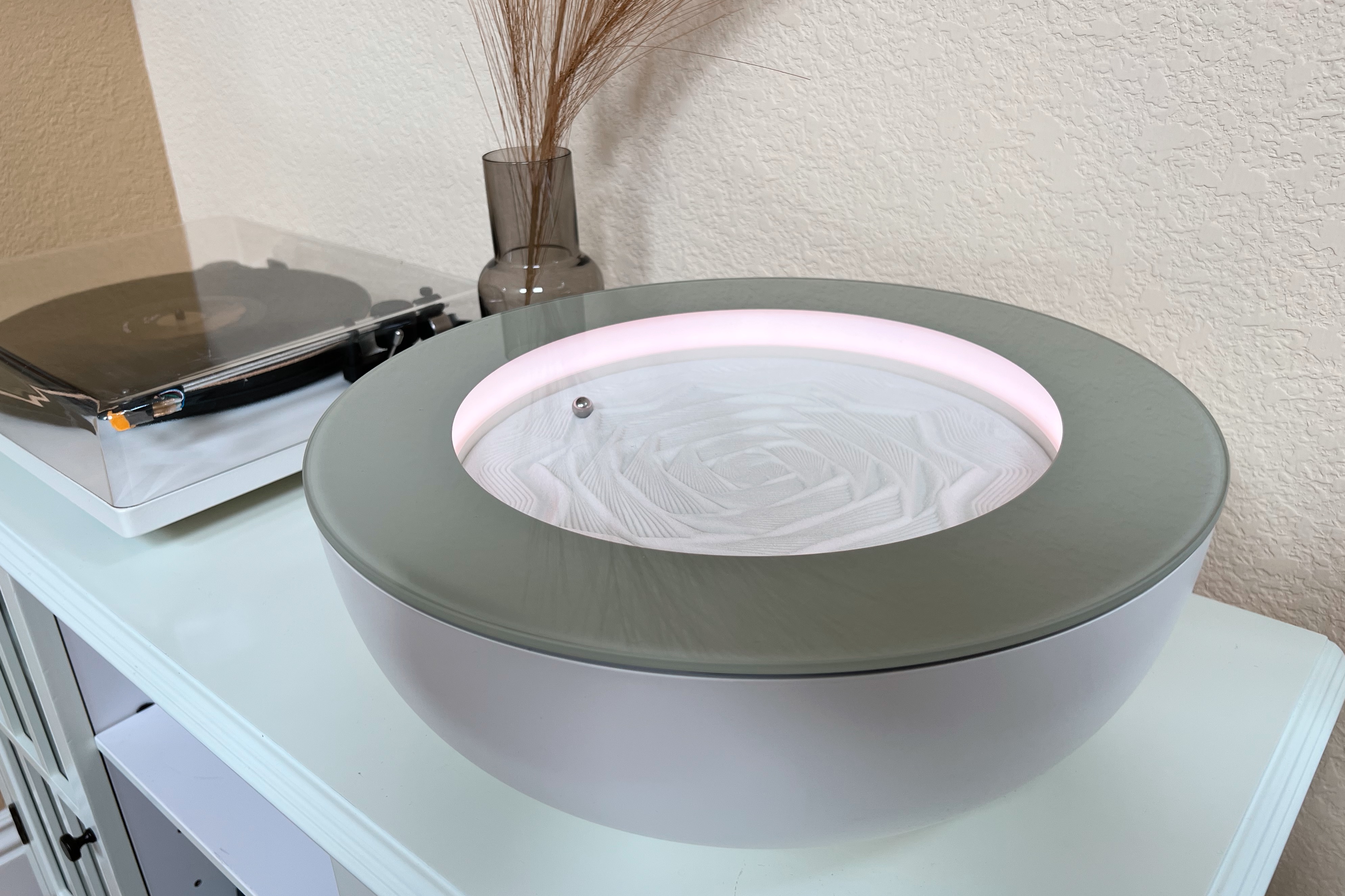 There might not be another product with a bigger disconnect between how mundane it sounds when described and how cool it actually is when in use than the HoMedics Drift kinetic sand table. The basic premise is that a small metal ball rolls around in the sand to create patterns. The first moment the pattern being created emerges in the sand, however, there is an aha moment that feels a little bit like seeing a shooting star in the night sky. It's like seeing a magic trick performed in slow motion, but still not understanding how it was accomplished.
Instead of manually raking a Zen garden of rocks or sand, Drift does the work automatically. The passive wellness device connects to a mobile device over Bluetooth and can download different patterns. Using it feels like being able to print a design in sand.
I was first exposed to the idea of a kinetic sand table through a "Dope Tech" video from YouTuber MKBHD. He had a large and very expensive version. The HoMedics Drift is a smaller and more affordable option that may be able to find a place in the living room, bedroom or small business.
TL;DR
Pros:
Fifty-plus patterns to choose from
Ability to design playlist and schedule features to keep Drift going all day
Cons:
No custom sand designs
Even the smaller 16-inch size can be large for some homes
Buy at HoMedics.
What Does a Kinetic Sand Table Do?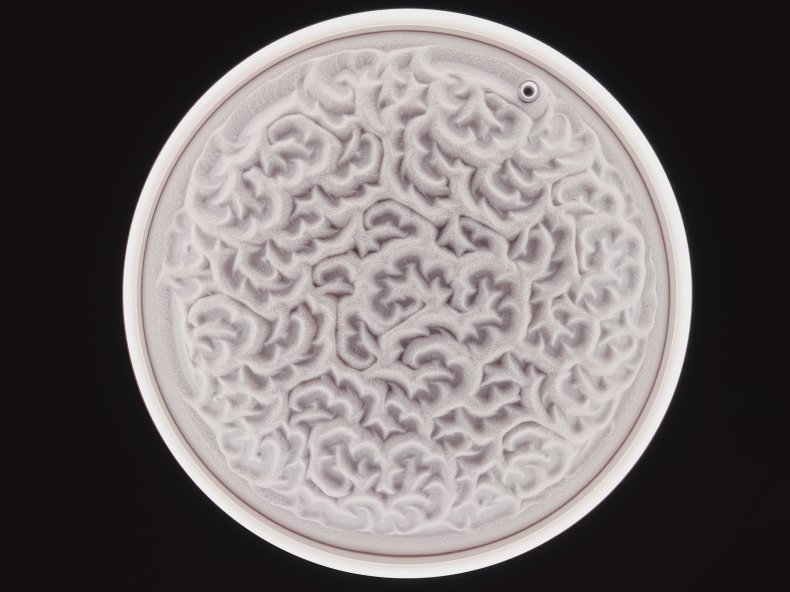 Out of the box, there is some setup required for Drift, but it's minimal. Sand needs to be poured into the bowl-like base before adding the metal ball and setting the glass lid on top. After the device is set up and plugged into power, it needs to be connected to its mobile app, which is now available for iOS. (The Android version is coming soon.)
On first powering up, Drift started creating a clean circular pattern. It was a mesmerizing display, and it wasn't even doing anything more difficult than rolling the ball in circles, expanding out from the center. (For those curious, a magnet under the surface pulls the ball through the sand.)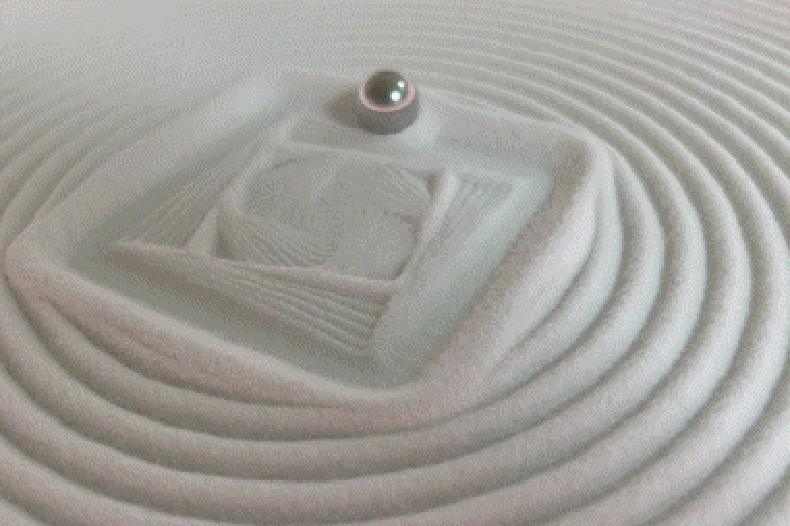 The Drift mobile app is the main point of control over the device and connects to your phone over Bluetooth. The app allows you to choose the sand patterns and the light color around the edge of the sand table. You can also control the speed with which the patterns are created and the brightness of the light—and whether the light "breathes" (pulses).
To get the metal ball rolling, you simply need to select a pattern and then tap play. Once it's completed, the design stays until another one is chosen. There's also a playlist feature where the sand table will start on a new design as soon as it finishes. This allows it to be moving and creating continually without any direct supervision.
Using HoMedics Drift Sand Table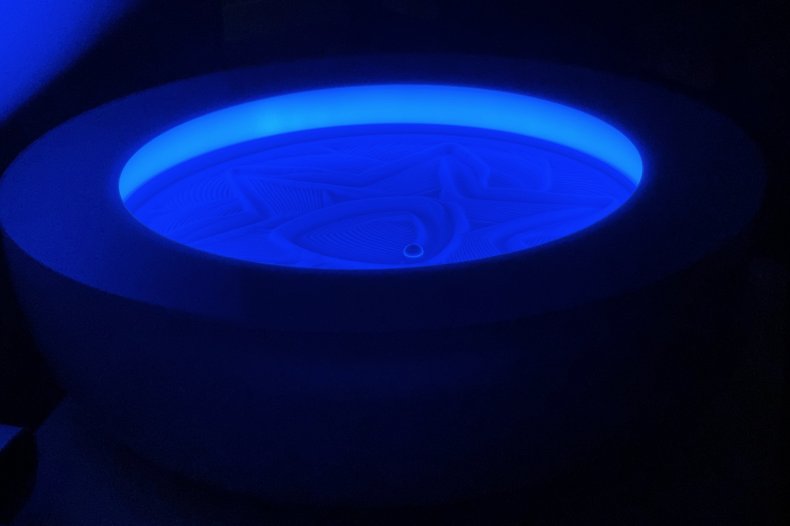 Drift comes in 16-inch and 21-inch diameter versions. Even the 16-inch white sand table I tried is quite large. You'll need to have a specific place for it to reside. Another consideration for its placement is the power cable running out of its backside. As cool as it might be in the center of a room, it's just not practical with a thick power cable running across the floor.
I put Drift next to a record player, and it paired nicely with this old way of listening to music. At first, I set Drift's light to pulse and change colors every 60 seconds. The novelty of that lighting combination wore off fast, but I did find that changing the lighting color and hue does have a real effect on how the patterns look and the feelings they produce. After some time, I found myself gravitating toward a warm light hue for most uses.
At night, the Drift can function as an accent light. It's not quite bright enough to be a lamp for a whole room, not even a bedroom, but it does cast a glow in larger spaces.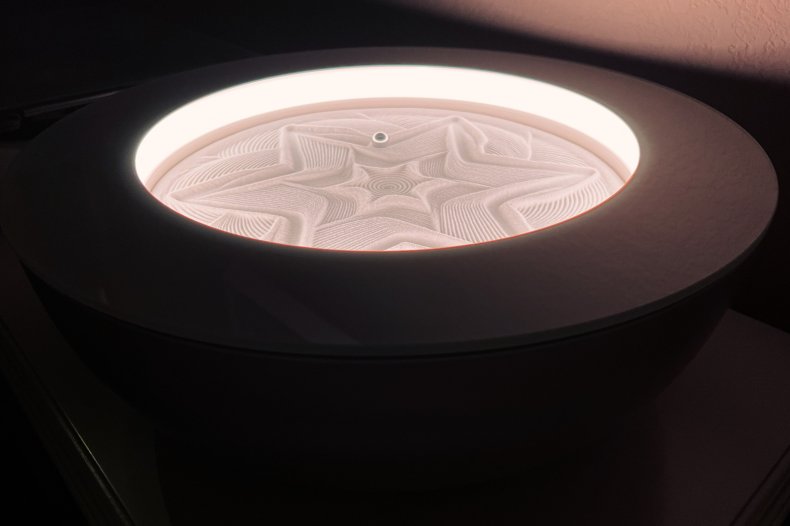 Within the first day of use, I had tapped play on close to a dozen designs. It's addicting to watch the little sphere roll around and make intricate patterns come to life. HoMedics positions the device as one for wellness. Watching it is supposed to promote mindfulness and a calming feeling. I can see how Drift could do that for some people. For me, it was much less about a calming presence and more about a neat piece of decoration. It's modern and simple enough to blend in, but with its light, it can be as attention-grabbing as you want it to be.
I had no problem running the device day after day. I'm not sure it will break down eventually over extended use, but for now, that little ball keeps plowing through the sand. It's quite enough to run all day long. Unless the room is dead silent, I can't hear it creating a pattern. When the room is completely quiet, my daughter likened the little bit of sound it does make to that of light rain. It's completely personal whether this noise level is acceptable at night in a bedroom.
While I have yet to run out of fresh patterns for the Drift to make, there isn't an infinite amount. I currently count 51 designs available. I think that number is perfectly fine. It would be nice if more were made available in the app in the future, and the company says additional will come, but even if that never happens I think people will be satisfied by the amount of variation currently available.
It should be noted that there isn't a way to create custom sand designs yet. I'm not sure whether I would want to spend the time creating a custom pattern even if the feature were available. Still it seems it would be natural to be able to manipulate the sand from your phone one day.
Should You Buy the HoMedics Drift?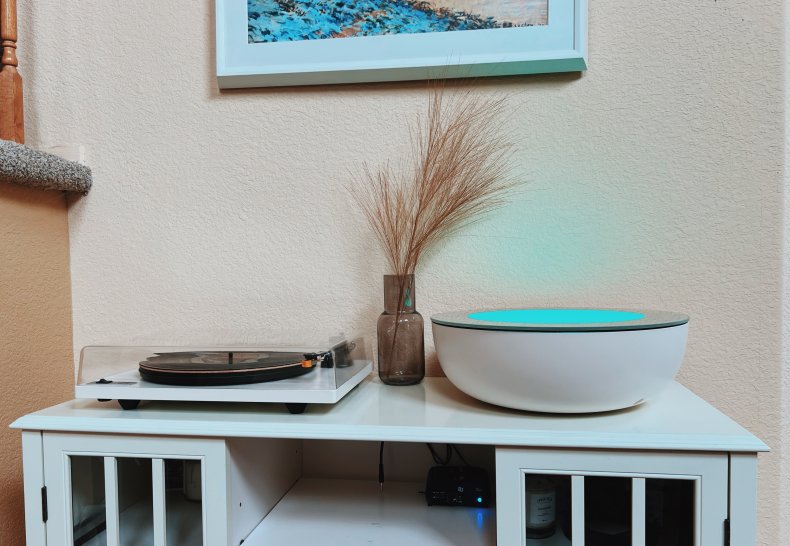 In some sense, the HoMedics Drift does nothing. It's a blank page that keeps changing. On the other hand, the device offers plenty of reminders of some basic philosophies: Attention to detail produces great results, and steady progress can lead to accomplishing a big goal.
I wasn't expecting to be so impressed with this kinetic sand table from HoMedics, but I have been pleasantly surprised. I suspect that as long as you don't put a weight of expectations on it, you'll likely be plenty happy and amazed with it, as well.
Buy at HoMedics from $349.99.
Newsweek may earn a commission from links on this page, but we only recommend products we back. We participate in various affiliate marketing programs, which means we may get paid commissions on editorially chosen products purchased through our links to retailer sites.