Hidden Camera Shows Nursing Home Staff Allegedly Abusing Patient, Hurling Ethnic Slurs
An 89-year-old man's family is suing a Michigan nursing home after a hidden camera revealed several staff members hurling both his body and ethnic slurs.
The family of Husein Younes says they noticed bruises, weight loss and cuts on their nearly nonagenarian father in 2015 while he was a resident at the Autumnwood of Livonia nursing home in Livonia, Michigan. Salim Younes tells WDIV-TV that he hid a camera in his father's alarm clock next to the bed and captured employees and nurses abusing and cursing at the elderly Lebanese-American man.
"What happened to me and my dad and my family is unbearable," Younes, 51, told WDIV-TV on Monday. "We agreed to put a hidden camera in a clock, an alarm clock next to his bed to see what was going on."
The Younes family attorney, Jonathan Marko, says the Autumnwood staff's abuse of the 89-year-old resident was racially motivated. The hidden-camera videos he provided to WDIV-TV show two African-American women appearing to slap Younes around in his wheelchair before tossing him into his bed.
"I know [inaudible] indignity, but the thing is his morals don't stay up long enough for [inaudible] dignity issue for his ass," one employee can be heard saying to another as they prepare to place Younes in bed. "Every morning. My thing is be on your own shit."
"Ya do that shit all damn day, out of your mother f**kin room. Get your ass up here, I used to throw people like that," the female employee says as she roughly removes Younes from his wheelchair and tosses him into the bed sitting next to the hidden camera.
The family alleges in their lawsuit that Younes was routinely denied water and staff took away his "call button" to notify them of any needs or potential emergencies.
Younes said there are more than 100 secretly recorded video clips of abuse and neglect from the nursing home employees over the course of just two days. One clip provided by the family's attorney shows an aide rolling the 89-year-old into a closet.
Autumnwood lawyers said the employees seen in the video have since been fired and remaining staff and new hires are receiving additional training. The family removed their father from the facility in December 2015 and claim that Autumnwood of Livonia administrators and attorneys attempted to keep the videos of the abuse secret from the public.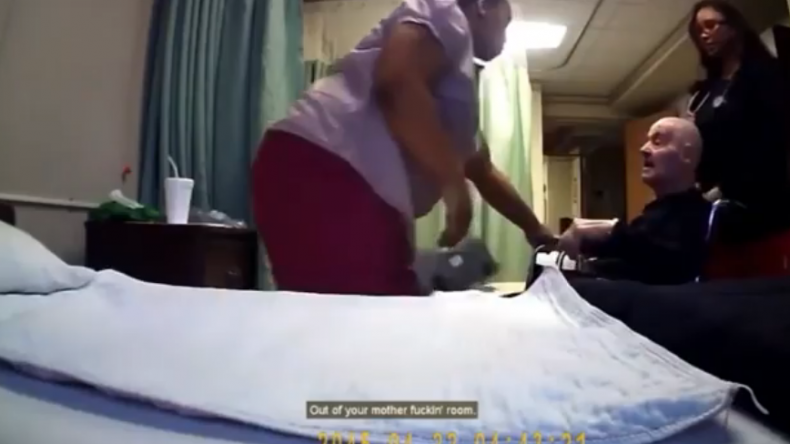 "They don't want people to know. They went in court and argued this should be kept secret," Marko said, adding that he thinks the abuse targeted Younes because he's a Lebanese immigrant.
"He's an elderly Lebanese gentleman who was born and grew up in Lebanon," Marko told WDIV. "He's an Arab-American, and because of that, he was targeted at this nursing home and horribly abused."
Lawyers representing Autumnwood released a statement saying an internal investigation conducted at the nursing home was "unable to substantiate the allegations with the information we had at the time." The attorneys said the facility properly handed over all evidence to law enforcement and their response was "consistent with state and federal regulations."
"As the family has filed a civil complaint and the matter is in litigation, Autumnwood cannot comment any further," the attorneys concluded.