Netflix is out here doing God's work. The studio just announced a live-action Avatar: The Last Airbender series. The downside? It could be the devil's work if it's as bad as M. Night Shyamalan's Avatar movie.
Netflix describes the series as a "reimagined" story, which sounds promising. Netflix NX, the account geared toward the streaming service's science fiction and "geek" properties, seemed to anticipate fans' fears. "I can confirm that the original creators, Michael Dante DiMartino and Bryan Konietzko, will be back to take on the live action. THIS IS WHAT WE'VE BEEN TRAINING FOR ALL THESE YEARS."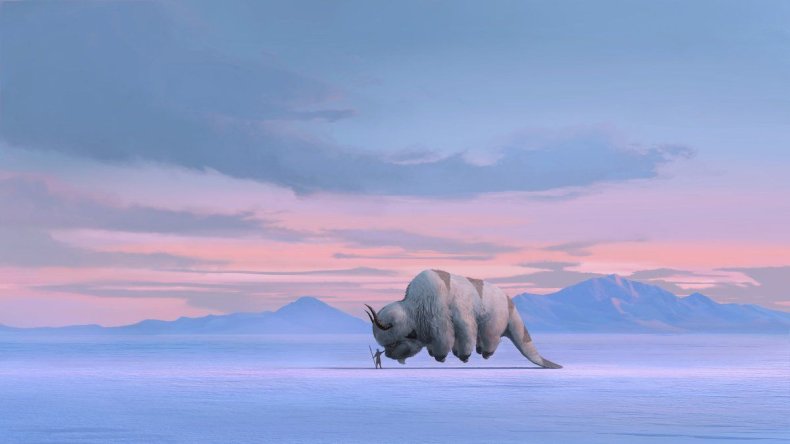 In a press release, Netflix confirmed the project is a collaboration with Nickelodeon. DiMartino and Konietzko will also serve as showrunners and executive producers. In a joint statement, they promised a non-whitewashed cast.
"We're thrilled for the opportunity to helm this live-action adaptation of Avatar: The Last Airbender. We can't wait to realize Aang's world as cinematically as we always imagined it to be, and with a culturally appropriate, non-whitewashed cast. It's a once-in-a-lifetime chance to build upon everyone's great work on the original animated series and go even deeper into the characters, story, action, and world-building," the pair said. "Netflix is wholly dedicated to manifesting our vision for this retelling, and we're incredibly grateful to be partnering with them."
Netflix also provided some concept art form John Staub. The image shows Aang with Appa, his sky bison, in tow. Netflix did not specify a release window, but since Avatar: The Legend of Aang has been off-air since 2008, the only pressure should be to get it right.
Both Avatar: The Legend of Aang and The Legend of Korra (the sequel airing from 2012-2014) follow "benders," people who can manipulate one of four classical elements—water, earth, fire or air. The Avatar is the only person who bend all four, and it's their duty to keep the peace between The Earth Kingdom, the Fire Nation, The Water Tribe and the Air Nomads.
To celebrate Avatar: The Last Airbender 's 10-year anniversary, Newsgeek's Andrew Whalen spoke with the creators, who gave an oral history of the finale episode. Read it here, and let us know how you feel about the forthcoming Netflix series in the comments.