Michael Avenatti Blasts 'Shameful' Susan Collins as She Announces Kavanaugh Vote: 'We Shall Never Forget'
Attorney Michael Avenatti, who represents one of Brett Kavanaugh's sexual misconduct accusers, ripped GOP Senator Susan Collins of Maine after she announced her support for the judge in the upcoming vote on his Supreme Court nomination.
Avenatti tweeted at about the same time Collins brought up accounts of drugging women and gang rape alleged by Julie Swetnick against Kavanaugh in the early 1980s. He said Collins was only auditioning for future, lucrative work in Washington.
"@SenatorCollins is channeling Donald Trump. Entirely disingenuous and shameful. Where was she when Judge Garland could not even get an up or down vote? This is all about her post-office job opportunities on K street. We shall never forget. Not in Nov. Not in 2020. Not ever," Avenatti tweeted.
Avenatti took umbrage at Collins's questioning of Swetnick and her accusations against Kavanaugh, as well as those of Christine Blasey Ford.
He said that "@SenatorCollins should be ashamed of herself for attacking my client and Dr. Ford. How did she make a credibility determination as to my client? How is she qualified to do that without ANY investigation? She did ZERO to determine whether my client and her witnesses were credible."
Avenatti has repeatedly criticized Senate Republicans for how they have handled the accusations against Kavanaugh. After Ford, a college professor, and Deborah Ramirez, a former Yale classmate of Kavanaugh's, came forward, Swetnick followed suit.
Avenatti had called for the FBI to question his client about her claims about gang rape taking place during parties that Kavanaugh attended. Swetnick said Kavanaugh was responsible for drugging women and spiking drinks, though she never said Kavanaugh had raped her. The FBI did not question Swetnick.
Kavanaugh had thoroughly denied all three women's claims, including during his angry testimony before the Senate last week.
Collins was delivering an hourlong speech about the wild confirmation process endured by Kavanaugh, the Senate and the entire country. She cited Kavanaugh's experience as an attorney, judge and member of George W. Bush's administration, while also bringing up recent Supreme Court nominations and how the Senate has previously worked together in a much more bipartisan way.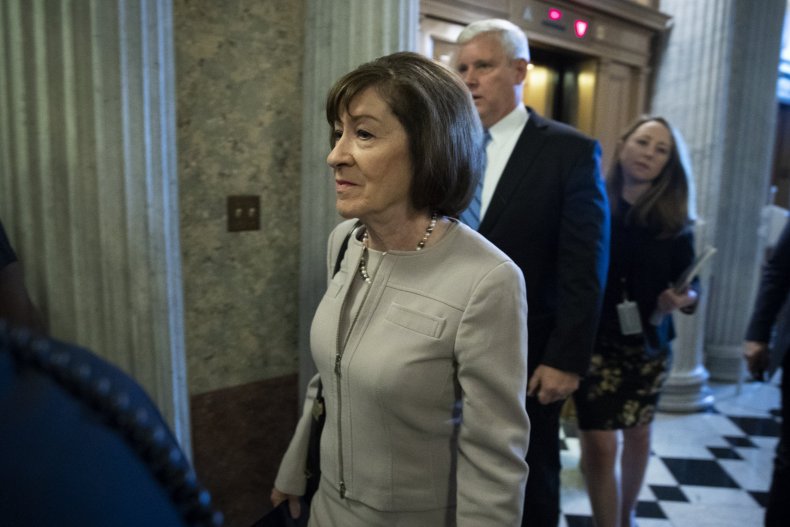 Collins also levied criticism against the person who, she said, leaked Ford's name to the press and ultimately tarnished the confirmation process for Supreme Court justices.
Collins said she believed Ford's testimony but still defended Kavanaugh. She concluded her speech by saying she would vote to confirm the federal judge for the top court.
Collins, along with Senator Jeff Flake of Arizona, is one of the key votes that Republicans need to secure a second Supreme Court justice during President Donald Trump's first term.