New 'Avengers: Endgame' Trailer Released; Tickets On Sale Now
Tickets to Avengers: Endgame, the culmination of 10 years of storytelling on the big screen are now available. And to celebrate, Marvel Studios released a new trailer with never-before-seen footage of our heroes as they take the fight to Thanos.
Check out the latest Avengers: Endgame trailer below.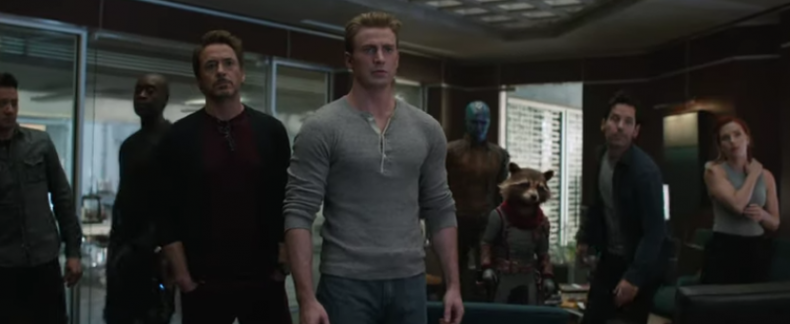 Tickets for Avengers: Endgame are now on sale on Fandango and Atom Tickets. If you purchase through Atom Tickets, you'll receive an exclusive poster from Bosslogic while supplies last. Take a look at Bosslogic's Avengers: Endgame poster below.
The new Endgame trailer begins with Bruce Banner (Mark Ruffalo) telling the team that if they go after Thanos they will be short-handed. War Machine (Don Cheadle) says, "You mean because he killed all our friends?"
Fans are treated to scened and interactions not previously seen in other Avengers: Endgame trailers. We see Rocket with Nebula holding hands, presumably talking about what happened to the rest of the Guardians of the Galaxy. There's a shot of Tony Stark (Robert Downey Jr.) hugging Pepper Potts (Gwyneth Paltrow), showing that Iron Man does make it back to Earth - unsurprisingly - after hovering around space following the events of Infinity War.
"It's not about how much we lost. It's about how much we have left," Stark says. "We're the Avengers. We're here to finish this."
We then see Tony asking Steve Rogers (Chris Evans) if he trusts him. Captain America responds, "I do" before the two shake hands finally bringing the two leaders together after the team splintered in Captain America: Civil War.
The Avengers - with Captain Marvel - use a ship to travel to where Thanos is. And what about the Mad Titan? A shot of the villain (voiced by Josh Brolin) is shown as he says "You could not live with your own failure. Where did that bring you? Back to me."
The trailer ends with Iron Man, Captain America and Thor walking up to Thanos on a battlefield.
Avengers: Endgame will release in theaters on April 26.
What did you think of this latest trailer? Are you planning to watch the movie on the first weekend? Let us know in the comments section below.