All aboard the hype train! Just after 8 a.m. EST, Marvel Studios released the first official trailer for Avengers 4: Endgame. And if you're expecting the familiar, color-saturated comic-book spectacle we've come to expect from the studio in the last ten years, you might be surprised by the trailer's rather reflective tone.
On the heels of a frankly underwhelming Game of Thrones Season 8 teaser that revealed next to nothing about the final episodes of the much-loved HBO show, our first look at Avengers: Endgame serves up some juicy new info about the film.
The trailer opens with a somber Tony Stark (Robert Downey, Jr.) in space, adrift and without power to get home after the events of Infinity War. He talks to his busted Iron Man mask sentimentally and sweetly, and it's clear he's probably talking to Pepper Potts instead, not good old Jarvis.
Elsewhere we see Black Widow (Scarlett Johansson) and Captain America (Chris Evans) discussing the heavy losses they--and the rest of the world--have suffered from Thanos. In the vaguest of terms, they discuss some kind of big plan, but it's not clear whether that means reversing what Thanos did, or simply killing him.
The new Endgame footage includes a couple quick shots of Thor (Chris Hemsworth) and Hawkeye (Jeremy Renner), but it's not too clear yet what either of them will be up against in the upcoming film, other than some profound, contemplative squinting. The final seconds of the trailer are the most surprising of all; Scott Lang (Paul Rudd) shows up outside the house where Natalia and Cap are staying, so it seems like Ant-Man will be a major player in this sweeping conclusion to the Avengers saga.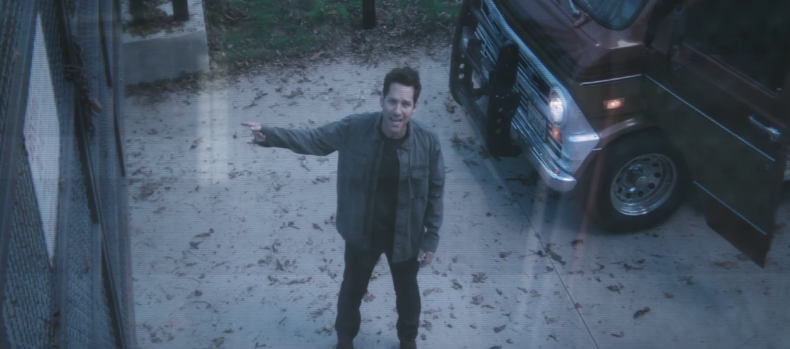 UPDATE: Avengers: Endgame will release April 26, 2019. Marvel Studios also revealed a new teaser poster of the film on Friday, shown below.