Average Gas Prices Drop Below $4 in These States
After months of historic high gasoline prices across the United States, average costs at the pump have declined in recent weeks, with 25 states now recording averages below $4 a gallon.
The national gas average hit a historic high of $5.01 on June 14, according to the American Automobile Association (AAA), but has been declining consistently over the last two months, reaching a nationwide average of $4.059 as of August 8, which is down from $4.212 just a week ago.
While some states continue to see higher averages, including California at $5.446 a gallon as of Monday, 25 states have recorded average prices of less than $4 a gallon.
According to data collected by GasBuddy, these 25 states include:
Texas ($3.501)
Oklahoma ($3.536)
South Carolina ($3.568)
Arkansas ($3.571)
Tennessee ($3.589)
Georgia ($3.597)
Mississippi ($3.591)
Alabama ($3.617)
Louisiana ($3.627)
Kansas ($3.646)
Kentucky ($3.664)
Iowa ($3.671)
Missouri ($3.686)
Wisconsin ($3.707)
Ohio ($3.726)
North Carolina ($3.724)
Florida ($3.743)
New Mexico ($3.764)
Virginia ($3.836)
Nebraska ($3.875)
Delaware ($3.925)
North Dakota ($3.940)
Indiana ($3.952)
South Dakota ($3.940)
Minnesota ($3.971)
Head of petroleum analysis at GasBuddy, Patrick De Haan, said on Monday, "The national average is poised to fall back under $4 per gallon as early as today as we see the decline in gas prices enter its eighth straight week. By the end of the week, one hundred thousand stations will be at $3.99 or less."
De Haan added that diesel will soon be under the $5 a gallon threshold as well, having seen a record high of $5.816 in June.
"We've even seen nearly a dozen stations in low-priced states fall under $2.99, a welcome return to some lucky motorists in areas of Texas, Oklahoma, Kansas and Iowa. The groundwork is laid for a ninth week of decline, with areas of the West Coast soon ditching the $5 per gallon average," he said. "While I'm upbeat the drop can continue for another couple weeks, we're starting to see some activity in the tropics, which may increase risk of potential disruption."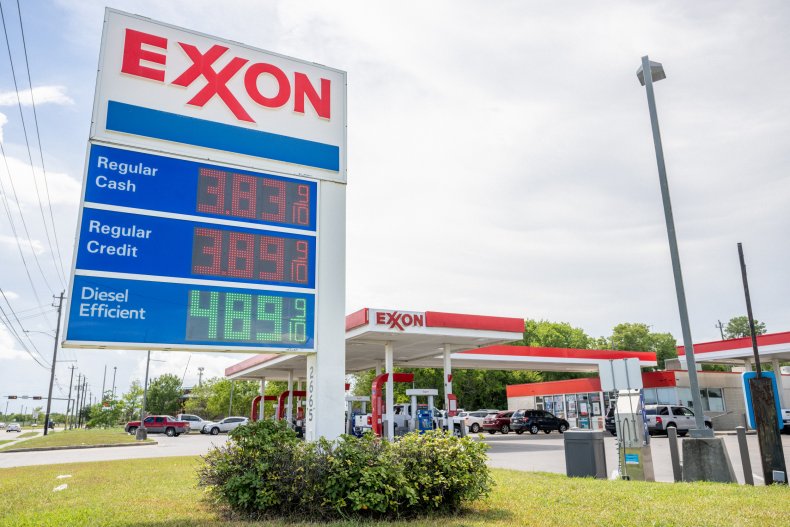 Last week, President Joe Biden celebrated the decrease in gas prices on Twitter, writing, "More than half of all gas stations across the United States now offer gas for less than $4 a gallon."
Transportation Secretary Pete Buttigieg also commented recently on the prices at the pump, telling Mika Brzezinski during an appearance on MSNBC's Morning Joe last week: "We're seeing it go under four bucks in more and more places, but not everywhere and, of course, we want to see it continue to go down past that."
"I do think a lot of the settling in oil prices has been influenced by the leadership that the president showed earlier this summer," he added. "It's funny that there are some folks out there who wanted you to think that it was completely up to the president what the gas prices were when they were going up and have been silent now that they have been going back down every single day for 50 days."
Newsweek reached out to De Haan for comment.