The Average Woman Loses $407,760 Because of the Gender Wage Gap Over Her Lifetime
Equal Pay Day—how far into a new year the average woman has to work to earn what the average man made the previous year—falls on March 31 this year, a couple of days earlier than in 2019. Progress? Hardly, especially in a leap year.
At the current rate, it will take until 2059 for U.S. women to reach parity with men, says the Institute for Women's Policy Research. And it will take even longer for women in many other countries: Projecting current trends into the future, the World Economic Forum projects it will be nearly 100 years before women in the 107 countries it continuously follows will reach parity.
Here are some other telling numbers that shed light on the persistent gender wage gap.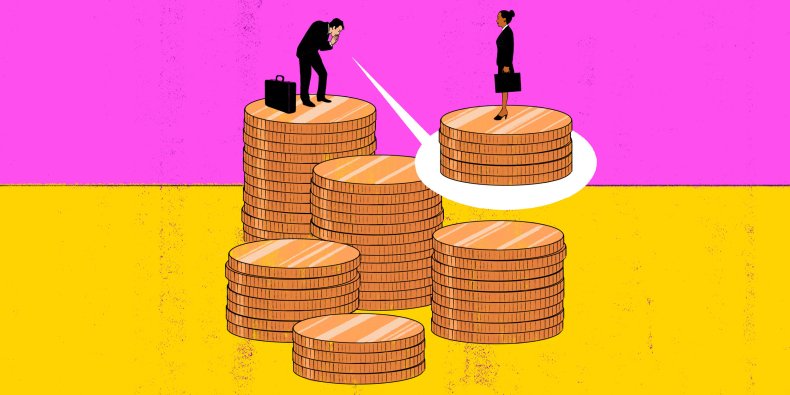 $407,760
How much money a typical woman in the U.S. loses over the course of a 40-year career due to the gender wage gap. For women of color, the losses are even worse: $944,800 for black women; $1,121,440, for Latinas.
82 cents
How much the average woman in the U.S. now makes compared to every dollar a man brings home. Over the course of a year, Lean In reports, the average woman loses $10,122 as a result of the gender pay gap.
The Gender Wage Gap, By Age
The older a woman gets, the less she makes relative to a typical man
Women's earnings, as a percentage of men's earnings:
20–24: 89%
25–34: 87%
35–44: 80%
45–54: 78%
55–64: 75%
The Gender Wage Gap, By Ethnicity
How much a typical woman earns for every dollar that a man earns:
Asian women: 90 cents
White women: 79 cents
Black women: 62 cents
Native American women: 58 cents
Latinas: 55 cents
The 2020 Equal Pay Day Calendar
How far into the year various women need to work to make as much the average man earned last year:
Asian-American women: February 11, 2020
All U.S. women: March 31, 2020
Black women: August 13, 2020
Native American women: October 1, 2020
Latina women: October 29, 2020
23%
How much less women are paid than men, on average, worldwide
257
The number of years it will take to close the economic opportunity and participation gender gap worldwide if the slow rate of progress experienced over the period from 2006 to 2020 continues
70 cents
How much the average working mom in the U.S. earns for every dollar that a working dad makes, sometimes called "the motherhood penalty"
More Education, Bigger Wage Gap
How much less women typically make than men, by level of education (women's weekly earnings/men's weekly earnings):
Less than high school: 23%
(Weekly earnings: women, $495; men, $644)
High school degree: 25%
(Weekly earnings: women, $633; men, $845)
Bachelor's degree: 24%
(Weekly earnings: women, $1,098; men, $1,444)
Advanced degree: 27%
(Weekly earnings: women, $1,367; men, $1,861)
16%
The percentage of Americans who think U.S. companies are doing enough to close the gender wage gap
Why is there a pay gap?
65% of women say it's because of workplace biases
53% of men say it's because of workplace biases
23% of Americans say it's because of the choices women make
Where the Gap Is Biggest/Smallest, By State
Women's earnings as a percentage of men's earnings
Smallest gap is in California/Washington D.C.: 89%
Biggest gap is in Louisiana: 69%
Sources: National Women's Law Center, American Association of University Women, EqualPayToday.org, Lean In, Organisation for Economic Development & Cooperation, World Economic Forum, Survey Monkey, U.S. Census Bureau