Winter Storm Avery Snowfall Totals: How Much Snow Did New York, New Jersey, Maine Get?
Winter storm Avery took much of the East Coast and the mid-Atlantic by surprise Thursday afternoon, lasting through the evening and into Friday morning. The storm brought wet snow and icy rain to the region, resulting in downed tree limbs, hazardous driving conditions and strong wind gusts.
The storm caused early dismissals at schools from Virginia and Delaware to Connecticut as it made its approach.
Avery was predicted to bring as little as an inch of snow in some areas, such as New York City, and anywhere from 8 to 12 inches farther north and more inland.
Washington, D.C., was one of the first areas hit after the storm swept over states farther south, such as Tennessee and West Virginia. In the nation's capitlal, total snowfall ranged from about 1.5 inches to 2 inches, which disappeared by the end of the morning.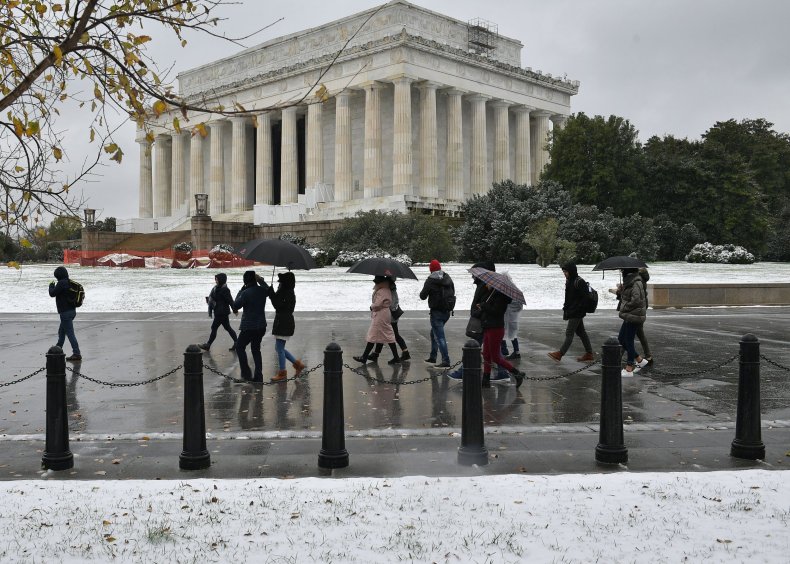 But the storm exceeded predictions in other areas. By Thursday night the storm had brought more than 6 inches of heavy wet snow and ice to New York's Central Park before changing to rain, reported the National Weather Service. Friday morning was still windy and rainy, but the snow had stopped and some sun was even beginning to peek through the cloudy sky.
After a stopover in the Big Apple, Avery then continued north up the I-95 corridor, where it continued to bring wintry precipitation to New York, Connecticut, Massachusetts, New Hampshire and Vermont.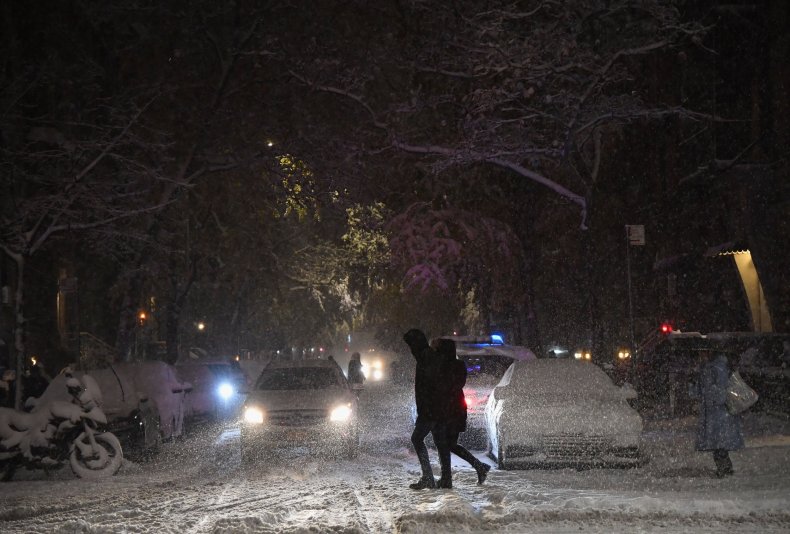 Some areas were still getting snow Friday, with the National Weather Service listing total snowfalls online. Mount Hope, New York, received the most snow as of Friday morning, with 18.3 inches recorded at 10:45 p.m. Thursday. Other parts of the state had anywhere from 3 inches to more than 10.
In New Jersey, the largest snow amount recorded was 7.8 inches in Westwood, noted at 9:15 p.m. Thursday. Hoboken had 4.7 inches as of Thursday evening at 7:15, and Newark Liberty International Airport had a reported 6.4 inches, according to the National Weather Service. Connecticut saw 10.9 inches of snow in New Fairfield and 4.6 in New Haven, which is closer to the coast.
More snow was expected to fall Friday morning in northern Connecticut and central Massachusetts. Rain was expected to turn to snow quickly, and possibly become heavy at times, according to a special weather statement from the National Weather Service.
In Massachusetts, recorded snow totals were highest in Worcester and Middlesex counties, which saw 9 inches of snow recorded in Clinton as of 1:15 a.m. Friday, and 9.2 inches recorded in Billerica. Boston had a recorded 2.4 inches as of midnight, while Springfield had about 7 inches.
The storm rolled into Maine overnight, and the latest totals were around 6 to 8 inches in some areas. Snow was still falling across the state that morning, and the totals were expected to increase.
Winter weather warnings and watches were still in effect for several states, and those living in the Northeast should keep an eye on their local forecast and pay attention to warnings issued by officials.
​​