How To Maintain Clothing Over Time From 'Downton Abbey' Vintage Supplier
While many of us are looking to be more sustainable when it comes to our wardrobe, it can be easy to fall into the "fast fashion" trap of buying cheap clothes only for them to fall apart in a matter of months.
One way of avoiding this is buying second hand or investing in pieces from truly eco-friendly brands, which can often be considerably more expensive than high-street pieces.
So, how can consumers who are hesitant about investing in pieces ensure their clothing stands the test of time?
Anita Lo, 28, from Cheshire, England, is the founder of Clara's Box—an online vintage store specializing in clothing from the 1800s to the 1990s and antique objects.
Her global customer base includes various high-profile clients including the Downton Abbey costume design team and American fashion designer Conner Ives.
The store, founded in December 2020, currently sells a number of antique bodices from the 1800s and Anita sources, washes, mends, photographs, sells and packs all items individually and gets "great satisfaction in rehoming preloved items that are full of history."
Here, Anita shares her top advice on making clothing last over the years, from ensuring to purchase quality fabric to avoiding moths and correctly removing stains.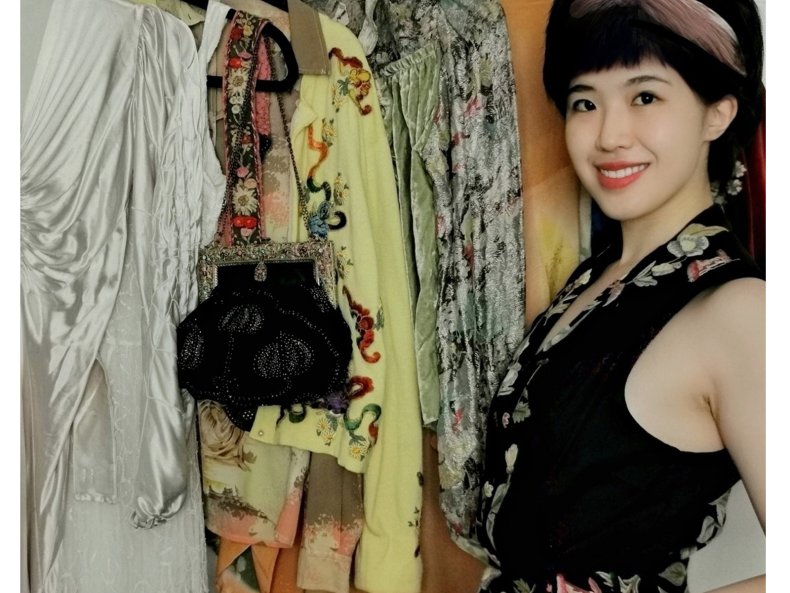 1. Check the fabric
Before making any purchases, Anita advises checking the care label and the fabric to ensure you'll properly be able to care for the piece.
She said: "Some textiles are costly or require more effort to maintain such as vintage and antique clothing and items made from chiffon, silk, and satin. For example, the label might say no tumble drying, dry clean or hand wash only.
"Clothing made post-1960 are more hardwearing and made from durable fabric, typically synthetic and manmade, that can survive a cycle in the washing machine.
"However, items made pre-1950s should be dry cleaned or carefully hand washed in cold to lukewarm water and then naturally air-dried.
"High temperatures and a spin cycle will permanently damage or even tear apart the fabric. Like new clothing, pre-loved fashion should be washed or dry cleaned to avoid moth damage."
2. Avoiding moths
The common webbing moth, or clothes moth, will attack and damage textiles if they make their way into your wardrobe, so it's essential to avoid an infestation if you want to properly maintain pieces over time.
Anita explained: "Moths are attracted to natural fibers and dirty clothing! So, if neither dry cleaning or hand washing are possible, at least steam clean your clothes.
"Purchase some cedar tablets for your wardrobe and store your vintage items separately from your washed items. Consider purchasing a steam cleaner to clean fragile and dry clean only items.
"There is a wide variety available on the market, sold at affordable prices, they are a great investment that will be an everyday essential to remove creases and freshen up the appearance of clothing."
3. Stain removal
A common reason for discarding clothes is because of stubborn stains—but Anita said there are plenty of ways to remove marks, while still properly caring for your clothing.
She said: "The key to successful stain removal is to act quickly. When stains occur, wet the garment in cold water immediately and apply a stain remover such as Vanish or Napisan, and then wash as appropriate.
"There are also lots of natural stain removers available that are kinder to clothes such as white vinegar, lemon, and bicarbonate of soda.
"Items with older or tougher stains will require overnight soaking and for the process to be repeated. If the stain will not budge, consider dying the clothing to a darker shade or attaching an applique to the area to give it a new breath of life.
"Another option is to carefully bleach the item if it's pure white and made from cotton. Color bleeding is a nightmare and almost irreversible.
"A simple test is to wet a cotton swab and rub it on a hidden area of the clothing before it goes in the wash. See if the dye transfers if it does hand wash the item separately. Where the item consists of several colors, avoid washing, either spot clean or dry clean."
4. Make clothes last in the wash
While some garments are suitable for the machine, washing certain garments with the wrong items, using the wrong temperature, or tumble drying certain pieces can all cause damage to clothing.
"It's nothing new—wash your items with similar colors. Once sorted, turn dark-colored clothes inside out before washing to avoid abrasion and wear to fabric, which causes dull appearances," Anita explained.
"If you mix different colored items they can color run and stain items, whether they're hand washed or machine washed, but there are products to help prevent this such as color catching squares that can be placed inside the washing machine."
Anita said it's crucial to check the care labels of each item to make sure you're using the correct water temperature, warning: "Going beyond the recommendation can damage fibers and will accelerate the deterioration in the appearance of your clothes.
"Cold water works best for delicate fabrics, vintage clothing, items that might shrink, and sensitive dark colors that are susceptible to bleeding. Plus, it also saves money by reducing the cost of utilities.
"Do not put delicate clothing in the tumble dryer. On the other hand, warm water should be used for moderately soiled clothing and manmade fabrics. Bedding, towels, baby's clothing, cotton whites, oil or grease-stained manmade fabrics should be washed using high temperatures."
5. Choosing detergents
When it comes to which detergent to use, Anita suggested using pods and tablets, which though are more expensive, prevent putting too much liquid or powder into your washing machine.
She explained: "Traditional powdered detergents are cheaper than liquids or pods and can be used with general loads, but they can leave white residue on fabrics. The powder cannot dissolve properly in cold water.
"Liquid detergents contain enzymes and are good for pre-treating stains and also come in a variety of fragrances. More enzymes in the formula mean better cleaning power.
"Consumers are encouraged to use more detergent by brands, but the average household is guilty of overdosing and it's probably why your front load washer emits an awful smell.
"This actually results in a build-up of dirt that eventually redeposits on washed clothes. So, opt for using half of the recommended dose on the packaging."
Anita advised purchasing biological detergents containing enzymes to help to break down dirt and stains, however, using a non-bio detergent that doesn't contain enzymes is generally kinder to sensitive skin.
Update 07/05/22 at 9:30 a.m. ET: This article was updated to add information about Anita's website.