Avril Lavigne's Connection to the Kardashians Baffles Internet
A TikTok user posted a hilarious video pointing out all the ways Avril Lavigne was linked to different people in the Kardashian and Jenner families.
Lavigne, 38, was seen getting cozy with the rapper Tyga at the Mugler x Hunter Schafer party at Paris Fashion Week on Monday after first being spotted dining together in Los Angeles the week before.
The new couple shocked everyone not because of their unlikely pairing but also because she had just split with her rocker fiancé, Mod Sun, a few weeks ago.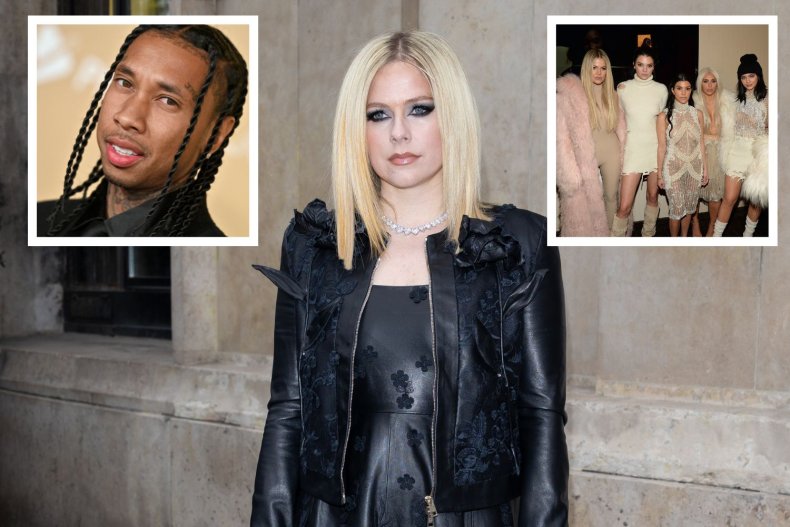 Tyga and Lavigne's surprise relationship is "a big deal," according to TikToker Abbzbon, aka Abbey Bonadies, who racked up 24.4 million views and 3 million likes on her video explaining their links.
Using a sharpie and a piece of paper, Bonadies drew a flow chart showing the many different ways Lavigne and Tyga were connected to the Kardashian/Jenners.
"Let's begin, Tyga is now dating Avril Lavigne. Why is this a big deal? Let me show you," she started.
While many people might be aware of Tyga's connection to Kylie Jenner, whom he dated for years, and her step-brother Robert Kardashian who dated his ex Blac Chyna, Bonadies reminded her followers that Lavigne also dated someone in the famous family.
"Tyga used to be with, and has a baby with Blac Chyna. Blac Chyna used to be with and has a baby with Rob Kardashian. Rob Kardashian is half siblings with Kylie Jenner. Why does that matter? Kylie Jenner used to date Tyga," the TikToker explained. "Kylie Jenner also has another half sibling named, Brody Jenner, who we all know from The Hills and Laguna Beach.
"Why is that a big deal? Brody Jenner and Avril Lavigne used to be in a very serious relationship. So serious, that they actually went to Kim Kardashian's wedding together when she married Kris Humphries."
Brody and Lavigne dated from 2010 after she split from her first ex-husband, Sum 41 front man Deryck Whibley. They attended Kim's $10 million wedding to the NBA player in 2011. Kim and Humphries marriage famously lasted for only 72 days.
Then "going back to Tyga," Bonadies reminded her followers that he was once married to Jordan Craig.
"You may not know who that is, but Jordan Craig used to be with and has the first baby of Third Trimester Thompson also known as Tristan Thompson, who he also don't like to talk about," she explained.
"Tristan as we know used to be with Khloe Kardashian and has two babies."
Bonadies reminded her followers that Khloe is a sibling of Kim, Brody, Kylie, Rob, and "also with Kourtney Kardashian, who's married to Travis Barker."
"Travis Barker is a musician as we all know," she continued. "And one of his proteges is someone named Mod Sun who used to be engaged to Avril Lavigne even a few weeks ago."
"And Avril Lavigne is signed to Travis Barker's record label."
Bonadies concluded the complicated explanation: "There you have it folks."
Other TikTok users thanked Bonadies for explaining their connections to the famous family in the comments and also pointed out some links she missed. But many were more shocked that the hip hop star and famous rocker were even dating at all.
"I'm sorry I'm still stuck on Tyga and Avril dating," commented one person.
Another wrote: "In what world do Avril and Tyga have anything in common."
A third pointed out: "You forgot to mention that Kylie Jenner was a model in Avril Lavigne clothing line."
And a fourth hilariously added: "reduce reuse recycle."
Newsweek reached out to Bonadies for comment.
This story was updated on 3/9/23 at 8.56 a.m. E.T. to add some more information.