'Away' Canceled: Why the Netflix Show is Ending After One Season
Away, Netflix's space traveling drama starring Hillary Swank has been canceled by Netflix after one season according to Deadline. This is the latest in a series of shock cancelations by Netflix, who has canceled more shows after one season than ever this year. The cancelation of Away has come as a surprise to many, as the show was believed to be a substantial hit for the service.
Released in early September, according to Netflix's own TV series charts, the show was the second most-watched series on the streamer in September, spending 24 days in the U.S. top 10 and an impressive 12 days at number one—usually a reliable sign that a show will be renewed.
The show also spent a number of weeks in the streaming top 10 compiled by viewing figures compiler, Nielsen.
The show was not only a hit in America. Per FlixPatrol, Away is the 18th most-watched show in the world on Netflix this year, beating major shows like Outer Banks, Never Have I Ever and Outer Banks, all of which got renewed for more episodes.
However, Away's cancelation proves that these charts can be misleading. After all, Netflix has revealed that their definition of a "view" is anything watched for over two minutes, which means a show can get a lot of "views" without anyone really watching it.
One possibility is that a lot of people started watching away, but not many finished it—something that we know Netflix also considers when deciding whether to renew a show.
Per Deadline, another factor may have been how much Away cost to make. As a sci-fi show about the voyage to Mars lead by a two-time Oscar winner, Away is likely a pricy show for Netflix, and we know that Netflix takes into account how much a show costs to make versus how big an audience it is bringing to the streaming service—and clearly, this comparison did not work out in Away's favor.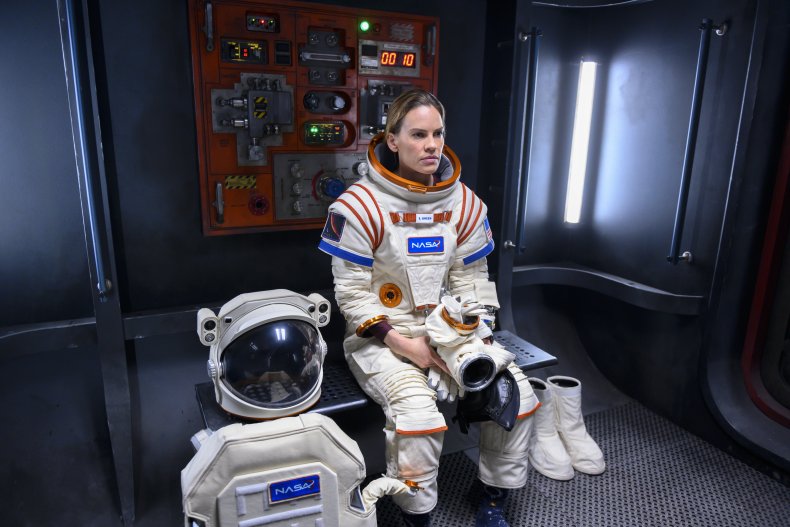 Netflix has infamously become more and more willing to axe its shows after one season as the years go on.
For example, so far this year the streamer has ended the runs of over a dozen English-language scripted shows, with The Society, The Dark Crystal: Age of Resistance, V Wars, Soundtrack, Messiah, Spinning Out, October Faction, White Lines, Turn Up Charlie, Merry Happy Whatever, Astronomy Club, AJ and the Queen, The Big Show Show and Teenage Bounty Hunters ending after one batch of episodes.
However, Away is the first show this year to end after one season despite reaching the top of the Netflix series chart in the U.S.
Away is streaming now on Netflix.