As he was questioning Democratic Representative Joaquin Castro on Thursday, MSNBC contributor Noah Rothman asked the congressman about comments he made at a Fox News town hall regarding the Trump administration's posture toward Iran. There turned out to be one hitch: The person who made those comments was Julián Castro, Joaquin's identical twin brother and a 2020 presidential candidate.
"You had said at a Fox News town hall that it is your impression that this administration is 'hell bent on moving towards war with Iran,'" Rothman recounted to the congressman on MSNBC's Morning Joe. "In the interim, we've had now multiple attacks on commercial shipping and an attack on an American drone, and the administration's response seems relatively restrained. So what is your view as to why it's the administration that is being bellicose here and not Tehran?"
A patient Joaquin looked on into the camera, waiting for Rothman to finish his question.
"Well, the first thing is, I have to correct you," the congressman told Rothman. "The person that did the Fox News town hall was my twin brother Julián, who is running for president."
Rothman, who is an associate editor at the conservative Commentary Magazine, immediately interjected: "Oh, I apologize."
"That is a truly awful confusion on my part," he confessed, adding that this probably was "not the first time this has happened."
Joaquin, who represents half of San Antonio in Congress, appeared to take the mistake in stride, chuckling through Rothman's apology.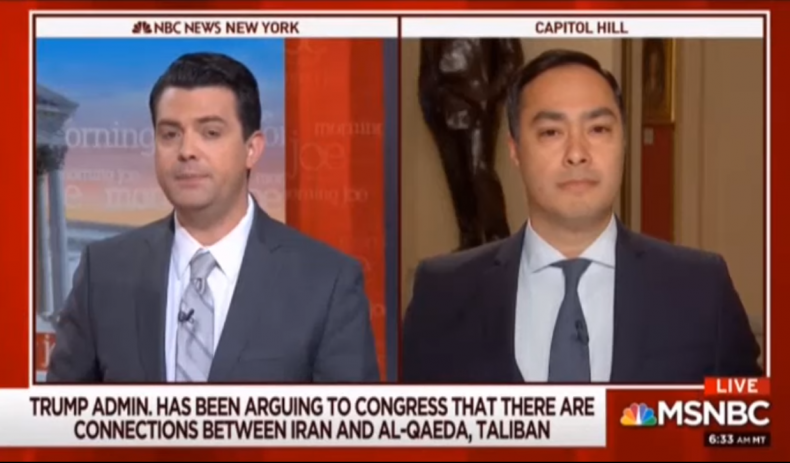 The high-profile political twins have endured their fair share of mix-ups before. At a She The People candidate forum in April, the event's program used a picture of Joaquin to represent his brother, who served for more than two years as the Secretary of Housing and Urban Development under President Barack Obama.
At a San Antonio parade during the Obama administration, Julián, then a candidate for the city's mayor, had to cancel his appearance and instead allowed his brother, then a state representative, to stand in for him. As Joaquin strolled down the parade route, people began to wave, shouting "Julián."
"He would say, 'No, it's Joaquin,' but you can't really yell at 200,000 people along the route," Julián told the Houston Chronicle.
In February, MSNBC host Chris Hayes asked Joaquin if he was growing a beard "so that people don't confuse" him with his twin brother.
"I said that I would try not to look like a certain presidential candidate," Joaquin joked. "So, I hope you like the beard here."
Despite their attempts to differentiate themselves in terms of appearance, the brothers will be in close proximity to each other throughout the primaries. Joaquin is the chairman of Julián's campaign.