'Ocean's 8' Star Awkwafina on Her Breakout Year and Rising Star Anxiety
Tucked into the A-list-loaded credits for Ocean's 8 (Sandra Bullock, Cate Blanchett, Anne Hathaway, Rihanna...) is a name that might throw some for a loop: Awkwafina.
The 28-year-old rapper from Queens, born Nora Lum, is best known for her 2012 video "My Vag," a tongue-in-cheek ode to exactly what it sounds like. ("My vag a chrome Range Rover/Yo vag hatchback '81 Toyota.") Now she's breaking into the mainstream with a vengeance, starring in not one but two of this summer's blockbusters. The blockbuster-assured Ocean's 8, a jewel heist, is slated to open June 8, and in August, she plays the best friend to Constance Wu in the film adaptation of Kevin Kwan's bestseller, Crazy Rich Asians.
Raised by her first-generation Chinese father and her grandmother, she got a performing arts education at LaGuardia High School (the alma mater of Nicki Minaj, Azealia Banks, and Timothée Chalamet). There, she developed her hip-hop persona: "Awkwafina." Her second EP, In Fina We Trust, is set to drop June 8. It's her first release in four years, but clearly, she's stayed busy on "hiatus." Before director Gary Ross cast her as the expert pickpocket in Ocean's 8, Awkwafina had a web talk show, a role on MTV's Girl Code, a small part in Neighbors 2 and a larger one in the 2018 Netflix comedy Dude.
The rapper and actor told Newsweek that while she's grateful to hear "2018 is her year," that sentiment also breeds anxiety: "I hope that it's not the biggest year, you know? I always want to thrive for that bigger year."
What were you doing before "My Vag" went viral?
I was working at an office job. YouTube wasn't really a thing when I made the video, so I sent it to a couple of friends; I never wanted it to go beyond that. Then I got fired for the content of the video! After that, I had nothing to lose, so I put it [on YouTube]. Before I pushed that publish button, I thought, "There is a chance that I will never be able to walk into a job interview again."
What's the story with Awkwafina?
I came up with it when I was 15. I always thought Aquafina [the water] was such a weird name. I never imagined anyone would literally call me that. When someone says, "Awkwafina!" I'm still like, "Who is that?" Every day on social media, people tell me the name is ridiculous. There are entire subreddits dedicated to that! [Laughs.] But I've learned to love it.
What's been the most challenging part of your quick rise to fame in Hollywood?
A lot of stress comes with it. I keep having these dreams where I say something weird in an interview and it comes to haunt me, and it's all over Twitter. I had this really vivid dream of a Facebook post and with this one comment about me that got 905 likes, which basically said, "She's terrible." I have dreams like that almost every night. I guess that means that I have something that I don't want to lose.
When and where were you when you got the call that you got the part in Ocean's 8?
I was in my bedroom. When your agent, your manager and your lawyer call you, it's either something horrible or something awesome, but that was one of the best calls I've ever gotten in my life. I was in my bedroom, wearing pajamas, just hanging out. I hung up and I was just like, "Oh, oh, oh."
Who was the first person you told?
Probably my boyfriend at the time, who was just like, "Oh, cool."
So then you moved on from him, I assume?
[Laughs.]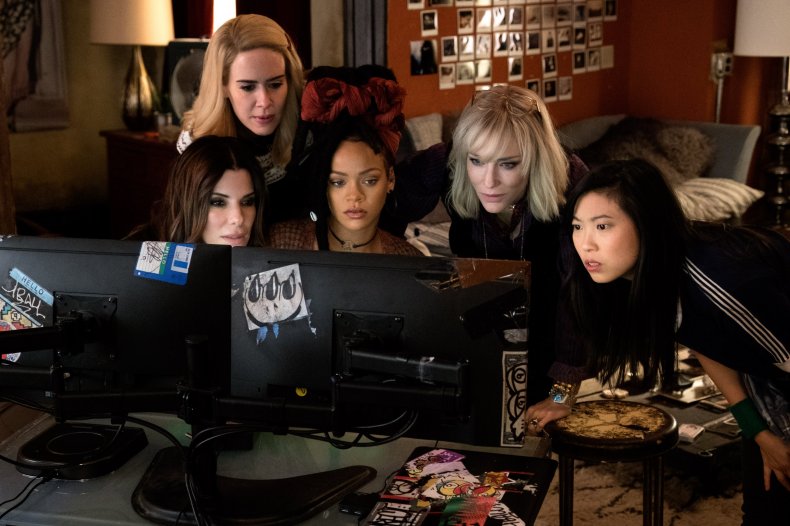 Tell me a little about your character, the pickpocket named Constance.
Constance is someone I've never seen on the screen before. That's not to say that I've never seen a pickpocket or an Asian American woman, but she's a very unique character. She's a product of New York City, of Queens. We shot scenes in neighborhoods very close to where I grew up, places I used to visit as a kid, so that connection was really cool. Obviously, as the pickpocket, she's good with her hands, and she can play Three Card Monty really well.
Who were you closest to in the Oceans 8 cast?
Everyone! We had a lot of group shots, we did it all in this one location in Brooklyn. That location became like a home. We're all still very close. We have a group chat and it's lit! There's a lot of GIF action in the group chat.
Is there a memory that stands out to you on set?
One of the most fun memories I have is when we all broke out into a dance circle, rapping this huge group-thought song. I think that was led by Sarah Paulson—obviously, she's the best.
That, and one night we were shooting outside of that office job that I worked at. I was walking to my trailer, wrapping up this incredible movie, and I saw the building where I had worked in the night sky—the office that I was essentially disgraced from. I had come full circle.
I imagine you don't have to worry about money quite as much now.
Yeah. I'm not used to being off on a Tuesday, and not worrying about, "Oh my god, I have to go and work right now. What the hell am I doing?" I'm still getting used to that, but I still live in the same apartment that I've always lived in. I'm still really, really cheap—like an Asian grandma cheap. The nicest thing I bought was a Gucci fanny pack. I'm scared to spend lumps of money because in the back of my head I still don't know what's going to happen in my future.
What was it like working with Constance Wu on Crazy Rich Asians?
Oh man, it's amazing. What you see on the screen is what we were actually like. We would be gabbing on, and they'd be like "OK, we need to like shoot now." I loved getting her advice. Sometimes when I act, especially with such brilliant actors, I'm like, "Oh my god, am I doing this right?" Constance was just like, "You're doing great. Trust me." Constance is not the kind of person who would bullshit you on something like that. Having her validation was really cool.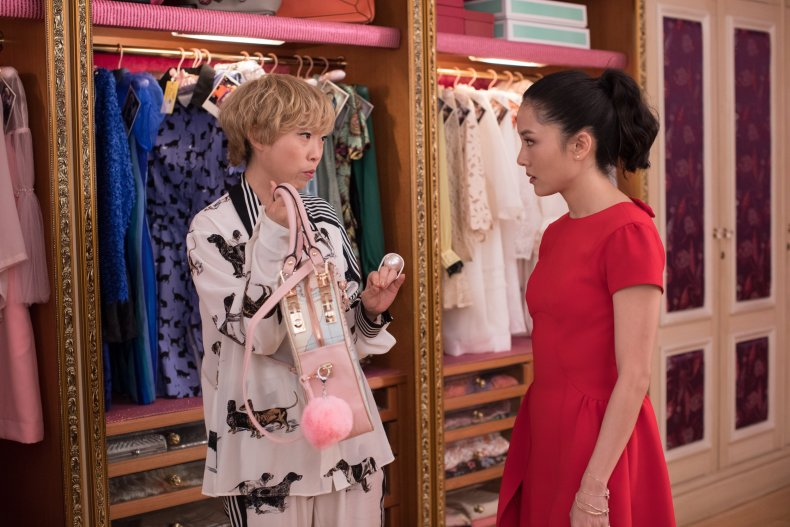 One of the reasons that movie is such a big deal is the lack of Asian representation in film and TV. Have you seen that improve in your lifetime?
Yeah. When I started acting, I didn't have to go through a lot of things other Asian American actors went through in the past, but when I was growing up, representation was practically non-existent. I can literally count all the actors that I saw that were like me on one hand. Now, it's different. That's not to say that there's a ton of movies like Crazy Rich—this is definitely one of the first of its kind—but it's symbolic of this larger change Hollywood. If not for that change, Awkwafina wouldn't exist.
And you're part of that change for Asian Americans who come after you.
People have told me that. I used to say at the beginning that I didn't want to always be known as the Asian American, I wanted to be known as Awkwafina. I don't want that burden, because what if I mess up? I don't want to look bad for everyone just because I was Asian. But then I played a show at Sarah Lawrence College, and a very young Asian American girl came up to me. She said, "Thank you for existing because now I know it's possible." When she said that to me, I realized that there is something that I'm doing that people are reacting to. That's what Margaret Cho was for me. Awkwafina would not exist in a world without Margaret Cho. You need that sometimes. If I can inspire someone to do what I'm doing, then I love that.
I've read that you have a litmus test whether or not you'll take a role these days?
I do a word search for my character to see how many times she comes up. If I am going to act in any sort of prominence, I need to be able to speak. Luckily, I've seen a shift in the scripts I'm getting. The characters are not tied by their race, they're just characters. Those are the roles that I'm really attracted to—and especially ones that allow me to speak. That's important.
Tell me about your EP, In Fina We Trust, that's coming out on the same day as Oceans 8.
I haven't released an album since 2014, and I think people were wondering why I hadn't been doing music. Now they think, "Oh, it's because she was doing movies," which is partly true, but at the same time, I wanted to find my voice. I refused to release anything until that product got there. I have a lot of fans that don't even know I was a rapper and others who are really mad that I haven't put out music. [Laughs.] It will feel really good to get that out there.
What can you say about this half-hour narrative pilot you're developing for Comedy Central, tentatively titled Awkwafina?
It's a show that is set in New York, told by a native New Yorker, about a native New Yorker. It's reflective of my own personal life. We will represent Queens in a way that we've never seen it. We've seen shows that are set in New York but not told by natives, so that's what I think is going to be interesting about it—trying to display this New York that I know and that I'm used to.
Which actors on your dream list to work with?
Cloris Leachman. So good. The cast of Steel Magnolias—Shirley McClain, but as Weezer, because Weezer is the best. A Steel Magnolias sequel would be so dope.