Awkward: Stormy Daniels Will Perform Near White House as Trump Announces SCOTUS Pick
Adult film star Stormy Daniels is set to perform at a strip show close to the White House on Monday night, bringing her act right to President Donald Trump's doorstep.
News of Daniels's proximity to Trump, whom she claims to have had an extra-marital affair with in 2006, comes as the president is set to announce his pick for Supreme Court Justice—with his announcement coming live from the White House at 9 p.m., a stone's throw from Daniels's show.
According to The Washington Post, the star is performing at the official grand opening of The Cloakroom, a club set between the capitol and the White House, after canceling a June visit to the city, supposedly due to scheduling conflicts.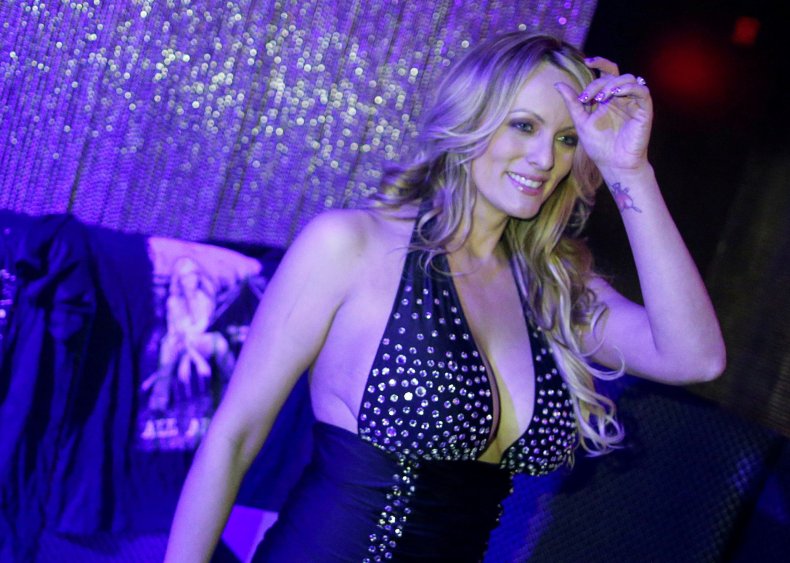 The club's owner Andre de Moya told The Post that the star would be performing two shows on Monday and Tuesday nights for an act entitled "All Things Revealed," which does not appear to be an official part of Daniels's Make America Horny Again tour.
"This is a high-class gentlemen's club," de Moya told the newspaper, suggesting there would be no lap dances from the star, although he did not elaborate on what the show might contain.
On Daniels's official tour, strange requests from audiences have seen the performer crunching up Cheetos underfoot (supposedly in reference to the orange hue of the president's tan), with Daniels revealing a crowd of men paid her to tread on the orange snack.
"Money was exchanged, Cheetos were scattered, and the hardworking porn star turned international news story ground them to orange powder beneath her high-heeled stripper shoes," an extract from Daniels's May interview with Penthouse, shared by The Daily Beast, said.
Daniels shot to fame after sharing details of an affair she claims to have had with Trump in 2006, shortly after the birth of Trump's son Barron, whom he shares with wife Melania Trump, and explaining she had been paid $130,000 in "hush money" by Trump's then lawyer Michael Cohen in 2016.
The star has also claimed that a previous attempt to speak out about the alleged affair led to her being threatened in a car park in Las Vegas in 2011 when she was considering going public with her story.
In an interview with 60 Minutes, Daniels claimed she was approached by a man who told her: "Leave Trump alone. Forget the story."