Republicans Remain White, Male as Democrats Shatter Diversity Records Ahead of 2018 Midterm Elections
Ayanna Pressley clinched an unexpected primary victory in Massachusetts Tuesday night against 10-term incumbent Congressman Michael Capuano. She is now set to become the first black Congressmember representing the state as she will not face a Republican opponent in the general election this November.
"I knew I would be demonized as entitled and what no woman can ever be—ambitious," said Pressley in her victory speech. "Well, it seems like change is on the way."
Pressley is following in the footsteps of New York's Alexandria Ocasio-Cortez, who beat out high-ranking Democratic Congressman Joe Crowley and Florida's Andrew Gillum, the black Tallahassee mayor who upset former U.S. Representative Gwen Graham in the state's gubernatorial Democratic primary.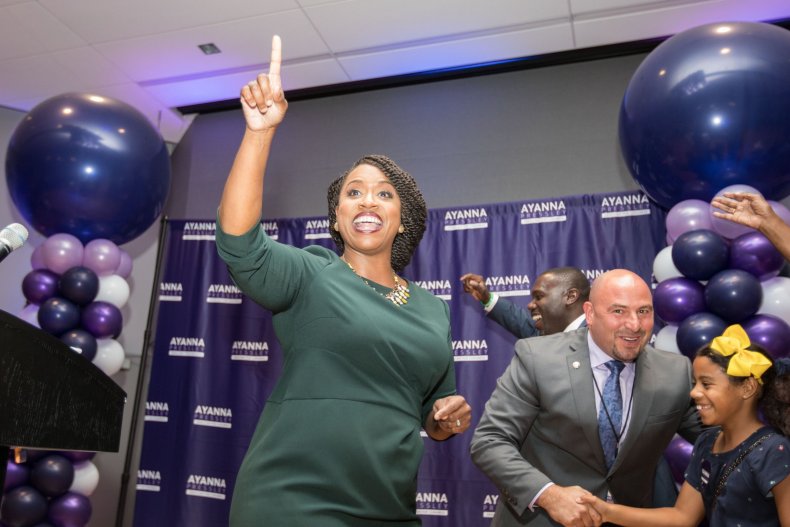 She also highlights a trend within the Democratic party of an increasingly diverse representative body.
But as the left diversifies, the right has been slow to catch up. An analysis of the current 115th Congress reveals a stark difference in the makeup of the two parties. About one-third of House Democrats are female, while women make up only 9 percent of the Republican body. Democrats also have about six times more minority members in the House than Republicans.
The vast majority of Republicans in Congress—about two-thirds—are white men over the age of 50. Around 40 percent of House Democrats also fall into that category.
Those gaps will likely widen in the next Congressional class.
About 86 percent of Republican representatives are white and male, and that percentage will likely grow this year, said David Wasserman of the nonpartisan Cook Political Report. The 41 percent share of white male House Democrats, meanwhile, is falling.
"You don't want to run against a Democratic woman this year," said Representative John Yarmuth of Kentucky after fighter pilot Amy McGrath beat out her Democratic opponent, a two-term mayor who had a 70 percent approval rating.
As of September 5th, 179 women have won their House Democratic primaries, beating all previous records. Republican women, meanwhile, only have 51 primary wins, according to data collected by the Center for American Women in Politics at Rutgers University.
Democrats are also far more likely to have positive views of growing diversity in the United States, according to a recent Pew survey.
"Demography is destiny," said Brad Bannon, a Democratic political analyst. "The Democratic Party looks like that America while the GOP looks like the America of 1950. The motto of the Republican Party should be: diversify or die."
By electing representatives that better represent the makeup of the country, Democrats are ensuring they retain power in the future, said Bannon. "The U.S. is becoming more and more diverse racially and Democratic primary results reflect this trend. The U.S. Census Bureau estimates the nation will be majority non-white by 2044," he explained.