Ayanna Pressley Accuses Mitch McConnell of a 'Cover Up' Over Trump's Acquittal, Says President is 'Forever Impeached'
Massachusetts Democratic Congresswoman Ayanna Pressley accused Senate Majority Leader Mitch McConnell on Wednesday afternoon of engaging in a "cover up" to acquit President Donald Trump in his Senate impeachment trial.
"What just transpired in the Senate was anything but a fair trial—it was a cover up coordinated by Mitch McConnell on behalf of the Occupant of the White House," Pressley said in a series of tweets. "While this is a dark day, I have not lost faith in the resiliency of this nation."
"I find solace in the fact that Donald Trump is forever impeached by the House of Representatives," Pressley added. "I'll continue to fight to affirm equality and justice for all Americans and use Congress's oversight powers to address the rampant racism, misogyny, and xenophobia of this White House."
Newsweek attempted to contact Pressley's office via phone for comment but received no response.
McConnell told Fox News in December 2019 that he would be "coordinating with the White House counsel" during the ongoing impeachment proceedings against Trump. "There will be no difference between the president's position and our position as to how to handle this, to the extent that we can," McConnell said.
Trump's impeachment trial ended Wednesday with the U.S. Senate voting to acquit Trump of both charges against him. Utah Senator Mitt Romney was the only Republican to vote to convict Trump while all other lawmakers followed party lines.
Pressley became the first woman of color to represent Massachusetts in Congress when she was elected in 2018. Pressley is part of a group of freshman congresswomen, informally known as "The Squad," which also includes New York Representative Alexandria Ocasio-Cortez, Michigan Representative Rashida Tlaib and Minnesota Representative Ilhan Omar.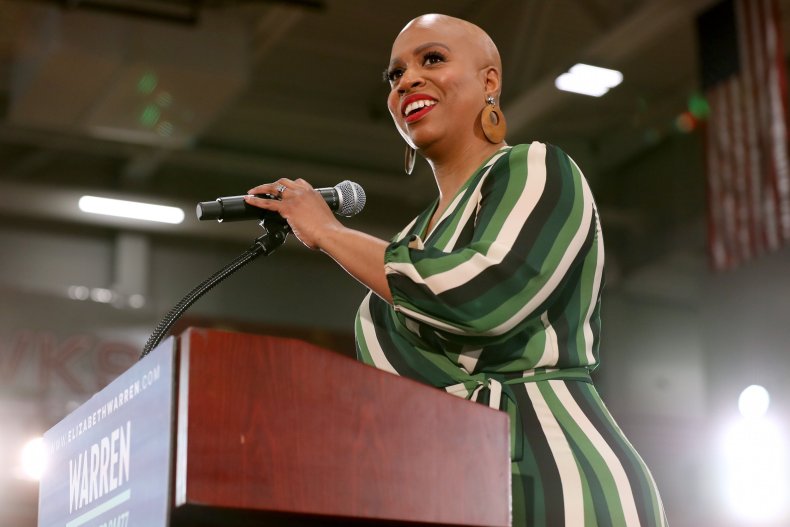 Pressley joined Ocasio-Cortez on Tuesday night in boycotting Trump's State of the Union address. "I cannot in good conscience attend a sham State of the Union when I have seen firsthand the damage Donald J. Trump's rhetoric and policies have inflicted on those I love and those I represent," she said in a statement.
Trump appeared to attack Pressley and her colleagues in a series of July tweets. "So interesting to see 'Progressive' Democrat Congresswomen, who originally came from countries whose governments are a complete and total catastrophe, the worst, most corrupt and inept anywhere in the world (if they even have a functioning government at all)," the president shared on Twitter last year, "now loudly and viciously telling the people of the United States, the greatest and most powerful Nation on earth, how our government is to be run."
"Why don't they go back and help fix the totally broken and crime infested places from which they came," Trump continued. "Then come back and show us how it is done. These places need your help badly, you can't leave fast enough. I'm sure that Nancy Pelosi would be very happy to quickly work out free travel arrangements!"
During a July press conference at the U.S. Capitol, Pressley responded by calling Trump's statements "xenophobic, bigoted remarks from the occupant of the White House."
"I will always refer to him as 'the occupant' as he is only occupying space," Pressley said. "He does not embody the grace, the empathy, the compassion, the integrity that that office requires and that the American people deserve."
Trump is expected to make a public statement about the results of the impeachment trial on Thursday.